Text by Vanitha Pavapathi
#1 Use windows to your advantage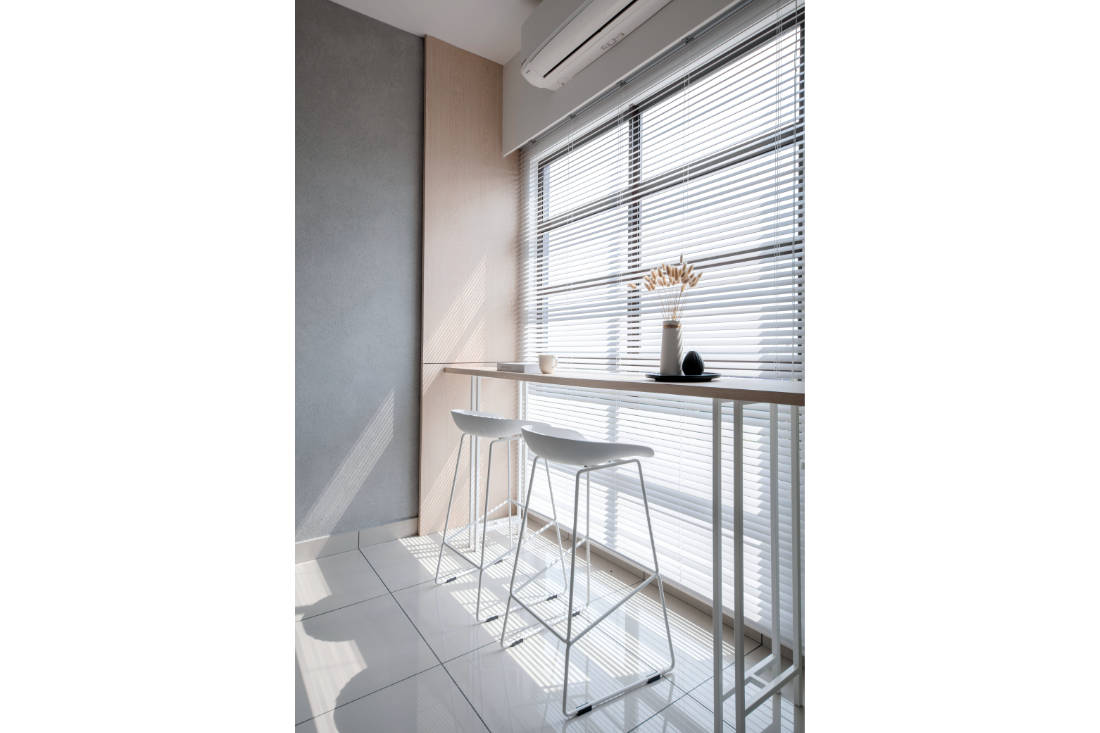 Trying to squeeze a round, square or rectangular dining table in a small or non-existent dining space is a futile attempt. Take a cue from cafes and consider building a bar table by the windows. It takes up minimal space and can be used as a breakfast nook and work desk too. It'll even afford the feeling of alfresco dining as you get to enjoy the views outside.
Design by Pins Studio
#2 Use shelves as a divider

Instead of a standard wall to divide your rooms, why not consider a double-sided shelving unit like this one. It not only serves to demarcate the dining room from the bedroom, but offers up more space to store and showcase items as well.
Design by Artistroom. See full home feature here.
#3 Build a loft

To make small spaces appear larger, it seems like the only way to move is up. So if you're blessed with high ceilings, don't let them go to waste. Expand your home's usable space with a study or bedroom loft, like that of a capsule hotel.
Design by Third Avenue Studio. See full home feature here.
#4 Opt for moveable walls

Moveable walls are a really good invention and can work wonders in even the tiniest of homes. Instead of actual concrete walls that box up a home, moveable walls can be used to demarcate areas, allowing you to create an open-concept when necessary or close up the space when required, and alter the square footage of each space.
Design by MKCA
#5 Get a tankless toilet

People don't often pay much attention to the toilet, but a well-designed one makes a big difference in a cramped bathroom. Opt for a tankless model that's sleek and stylish like this one designed by Jaime Hayon. And because it's smaller than the traditional toilet that parks a sizeable tank behind the toilet bowl, it saves on space without sacrificing on performance. When mounted onto the wall with space clearance beneath, it makes the bathroom appear even larger.
TOTO x Jaime Hayon toilet is available at W. Atelier
#6 Create platform storage

A bed dominates the bedroom with the space beneath going unused. So why not build an elevated platform to maximise the floor area while creating extra storage space. Bulky items like suitcases now have a proper space to be put away. Even 'bedside tables' and electrical outlets can be hidden beneath the platform so wires and unappealing objects stay out of sight.
Design by Chalk Architects. See full home feature here.
#7 Make use of cabinet doors

Lack countertop surface? Then make your kitchen cabinet doors do double duty. Instead of a swing door, opt for a flip-up door that also functions as additional tabletop space.
Design by Rhiss Interior. See full home feature here.
#8 Use stairs as hidden storage

The tiny space beneath each step of a staircase is great as additional storage space for books, shoes or whatever items you wish to keep in there. Produce has successfully incorporated this ingenious idea within a traditional staircase design.
Design by PRODUCE. See full home feature here.
#9 Use books as furniture

Why buy bookshelves to keep your collection of books when the latter can store itself. Stack your books vertically to save on square footage and the need to spend on another piece of furniture that takes up space that you don't already have. When stacked neatly, they can serve as bedside tables or 'stools' to display beautiful objects all around your home.
Design by UPSTAIRS_
#10 Utilise the bay window

Bay windows are becoming a common sight in many condominiums and HDB flats. While some use the space as a reading nook and study desk, we suggest converting this otherwise wasted space into a television console. akiHAUS Design Studio has done this brilliantly by building a feature wall and flanking it with open shelves that still allow daylight to pass through. This clever intervention makes it look like the bay window does not even exist.
Design by akiHAUS Design Studio
We think you may also like 5 ways to create more storage space in your home
---
---