Home Type: 3-bedroom condominium unit
---
Text by Vanitha Pavapathi
Upon seeing the successful transformation of her relative's home, the owner of this condominium unit enlisted the same design firm to remodel her home too. Her requirements weren't many but specific. "She asked for a sense of spaciousness in her apartment, lots of storage space, a private study area, enclosed altars and a guest room for her niece who visits occasionally," say the design team from Artistroom.
The wall that separated the kitchen from the dining and living areas has been demolished, giving way to a semi open-plan living space that ultimately improves the airflow within the space. Since the layout of the kitchen is pretty much fixed and cannot be expanded any further, the design team explain that they had to "meticulously plan adequate storage within this space." Likewise, this fastidious approach is applied in different areas of the apartment.
At the living area, a customised TV storage wall panelling with marble serves as a divider between the living area and guest bedroom. The design team also created a fixed glass panel within the divider to allow light to pass through both spaces, as well as establishing additional visual impact.
Given the guest room's largely open scheme thanks to the fixed glass panel as well as the full-height metal-framed glass door and wall, venetian blinds and privacy curtains are installed. When not used as a guest room, the space serves as a library, where the owner's collection of books takes pride of place in the tea-tinted glass cabinets here.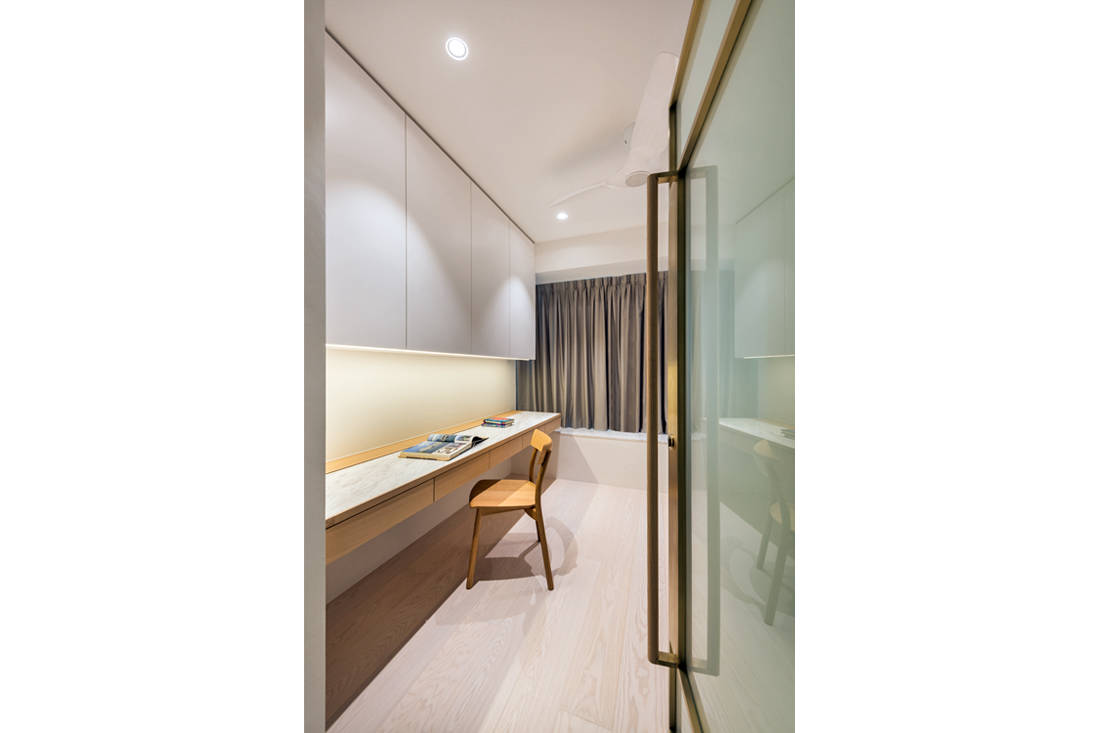 Since the owner is a mature woman with a classy taste, the apartment's neutral material palette of oak veneer cabinetry, large format stone-like floor tiles, white Calacatta marble countertops and wall cladding is apt. Further injecting a sense of luxury while maintaining design uniformity, metal-framed glass doors are used as bedroom doors and as a yard door.
In the master bedroom, however, white wood flooring is used to separate the private quarter from the communal areas. Here, the owner enjoys having a study, a walk-in wardrobe and a sleeping area where she can take respite.
Artistroom
www.artistroom.com.sg
We think you may also like HDB flat turned bachelorette dream home
---
---