We're proud to announce the five projects that are in the running to be named "Best Space for Entertaining" at Lookbox Design Awards 2018.
Find out which project will take home the gold at our Gala Night on Thursday 22 November. Book your tickets here!
These are the projects our international judging panel has picked as some of the most stylish entertaining spaces in Singapore homes: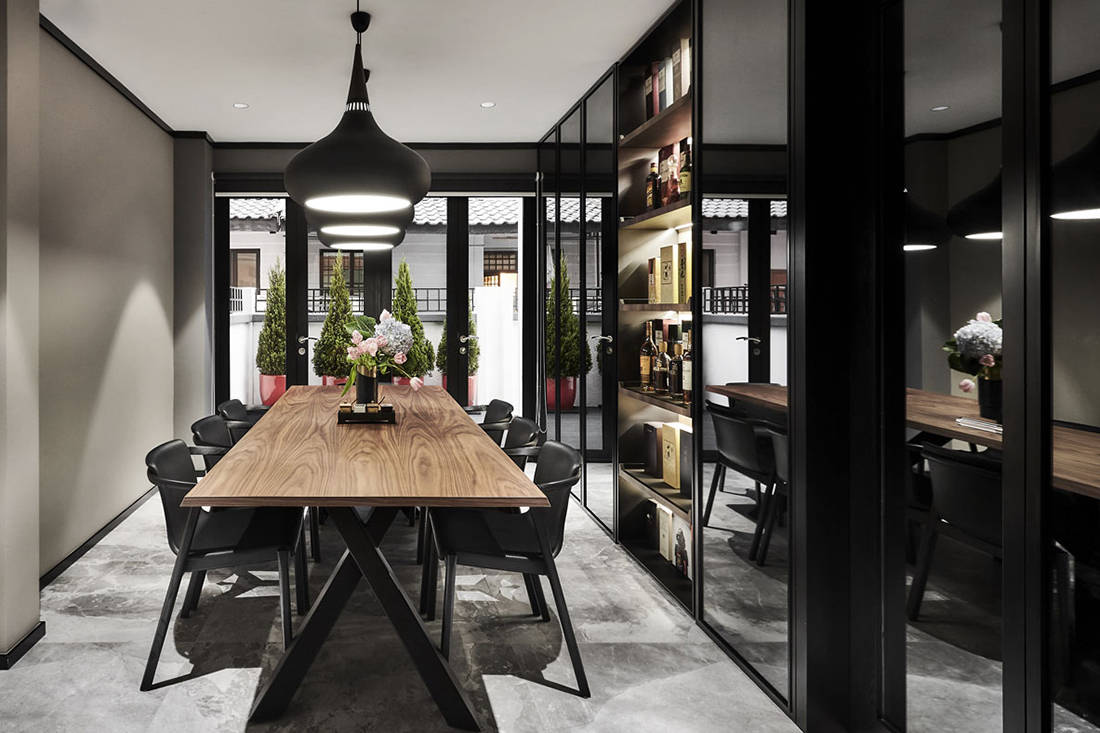 1) Project name: Highgate Crescent
Project type: Terrace house
Firm: akiHAUS Design Studio
The house itself is designed as pocket of spaces, restricting guests to individual spaces. But the large window opening on the mezzanine level encourages interaction between the family space and living area. The same strategy was applied in the basement, where an open concept kitchen is in direct connection to the dining room.
2) Project name: Borrowed Scenery
Project type: 4-room HDB flat
Firm: ARKHILITE
To create a home that connects the dining, study and music studio, while still able to function separately when needed, openings are carved out within the walls. To play up the possibility of entertaining large group of people, a 3.6m-long table straddles between the study and dining spaces through the opening. The opening of the jamming studio is affixed with glass to enable visual connectivity while keeping sound contained.
3) Project name: The House of Light
Project type: 5-bedroom condominium
Firm: Hall Interiors
The intent was to design a sanctuary that is light and airy, which could accommodate a family of seven and regular gatherings. One of the bedrooms were opened up and converted into a living area, hence establishing a connection to the dry kitchen and dining space. To capitalise on the double volume height of the unit, a loft is added to house a large collection of books, with the space beneath serving as a study room. 
4) Project name: The Shoe Collector's Home
Project type: 5-room HDB flat
Firm: Home Journal
Designed to address current and near future needs, the non-conformist spatial layout of this flat features a long dining table in the heart of the space, which also serves various functions, and blurs the boundaries between the kitchen, dining and living areas. Woodgrain laminates are heavily used throughout to create a warm and cosy environment. Dimmable lighting further adds to the overall ambience.
5) Project name: Hillion Residences
Project type: Studio apartment
Firm: METRE Architects
The client desired a home that could cover the requirements of Live, Work and Play. To create a variety of functions in this petite 43sqm apartment, a singular multi-functional space was designed with the most distinct feature being a single sculptural landscape that forms the bed, sofa, work and dining space. Volumes beneath this sculptural form also offer up loads of practical storage. See the full house feature here.
Also see:
Outstanding HDB Flat
Outstanding Private Apartment
Outstanding Landed Home
Best Space for Retreat
Best Open-Plan Concept
Most Dramatic Transformation
Outstanding Space: Old Home Conversion
Interior Design Firm of the Year
---
---