Text by Janice Seow
Project type: HDB maisonette
Floor area: 1,400sqft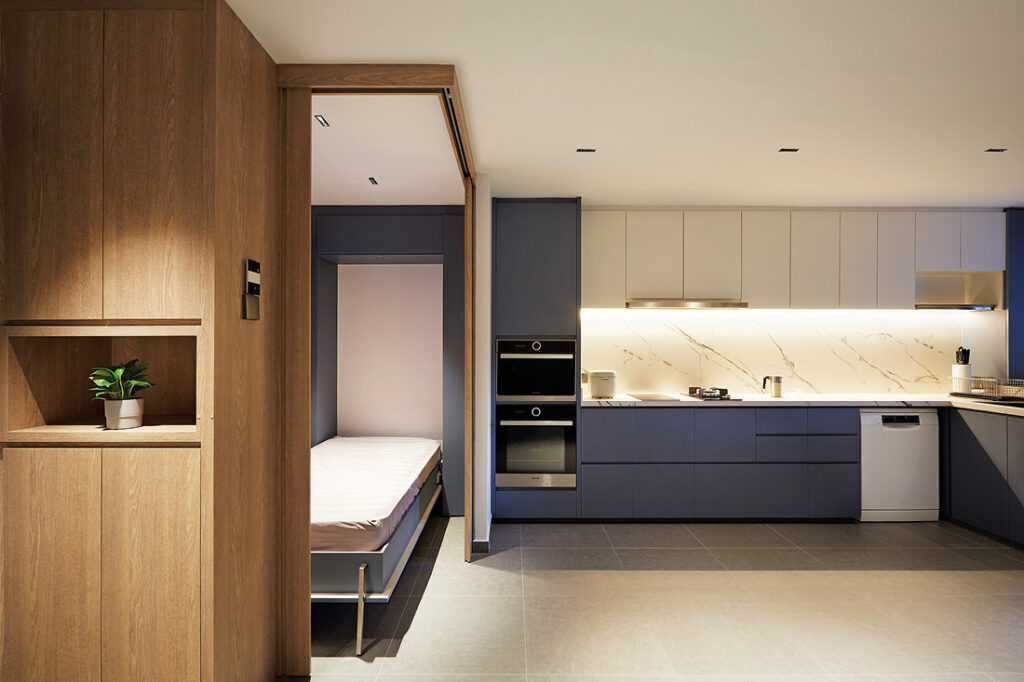 As desired by the homeowners, this maisonette enjoys a minimalist yet contemporary style, with clean lines and a soothing colour palette to inspire a sense of calm. The peninsula kitchen counter offers adequate storage and accommodates a wine chiller, which was essential to the brief. The utility room has also been converted into a spare room large enough to accommodate a single bed.
The once enclosed kitchen has been made open concept, with the peninsula counter now extending into the dining area. With this move, the living space feels more spacious and connected. "The homeowners wanted their home to embody harmony and tranquility, and to be welcoming and clutter-free," says the designer, who fulfilled the brief with thoughtful space planning and simple but functional features.
The design is kept alluringly simple and plays up on negative space. Furnishings are well curated but kept minimal to ensure a calm and airy atmosphere. The family can enjoy their garden out in the balcony or head upstairs for some alone time. Besides the minimalist approach, lighting is used to project cosy moods in different corners.
Light and visibility were important considerations for the bedrooms on level two. "The newly inserted glass window in the master bedroom adds a touch of openness and filters natural light into the living hall below," says interior designer Andrew Ching from D5 Studio Image. By also inserting a glass panel in the kid's newly combined bedrooms on the other end, the couple can conveniently keep an eye on their three young children even while relaxing in their own room.
In the bright and spacious master bedroom, a wooden wall panel neatly separates the rest zone from the walk-in wardrobe and en suite bathroom. Simple half-height cabinets by the window provide ample storage and help to maintain the room's uncluttered appeal.
The dark colour palette imbues the master bathroom with a sense of cosiness and intimacy. Mirrored surfaces help to enhance the illusion of space in this relatively compact area. The full-height mirror in the walk-in wardrobe just beyond the bathroom can function as a simple vanity and also reflects the bedroom so one can take in the space when getting ready.
D5 Studio Image
www.d5studioimage.com
www.facebook.com/d5studioimage
www.instagram.com/d5studioimage
Featured in Lookbox Annual 2023
---
---