Text by Stephanie Peh
Project type: Inter-terrace house
Floor area: 2,600sqft
As the design brief was about finding a common ground between varying styles that the homeowner enjoys, this house hosts a charming mix of colonial, Scandinavian, mid century modern and Hamptons- style elements – harmonised by soft neutral tones. Bold decorative accents such as rounded poufs and wainscoting lend character.
As epitomised in the open-concept kitchen, the house features a timeless-looking base palette of white walls and light natural textures – generating a cosy and calming atmosphere. Black accents, as seen with the bar stools, kitchen shelves and lighting draw out a slight edge.
A big part of the design brief was to open up the house to invite more light into a previously dim and tired-looking space. By removing various walls, the designers were able to vastly improve the circulation of natural light and ventilation in the home, and imbue it with a sense of warmth and homely comfort.
Although intangible, natural light was considered a core 'material'. The use of glass enabled the designers to bring in more natural light without completely exposing its inhabitants to the elements. The addition of a glass roof and skylight further enhances light and space quality. During the day, the house is bathed in sunlight, creating a bright and airy feeling.
As a space that facilitates spatial transitions, the staircase is a subtle introduction to the varied palette
on the second floor where dark textures become more prominent. Steps, railings and floors hint at a transition into a more private section of the house. Visual consistency is maintained between the top and bottom floors with large white surfaces and wainscoting features.
Truly the ultimate sanctuary with a generous skylight roof that bathes the user in daylight, the bathroom walls feature seamless large format tiles in a light and off-white shade with subtle grains. This look emphasising openness and the beauty of space in the lofty bathroom carries a quiet opulence.
In the master bedroom, white colonial-inspired cabinetry fulfils form and function complemented by black flooring. Cantilever steps into the bathroom bestow an artful finish. According to the designers, a challenge they faced was to find the ideal balance and proportion for the built-in elements while selecting the right surfaces throughout the house.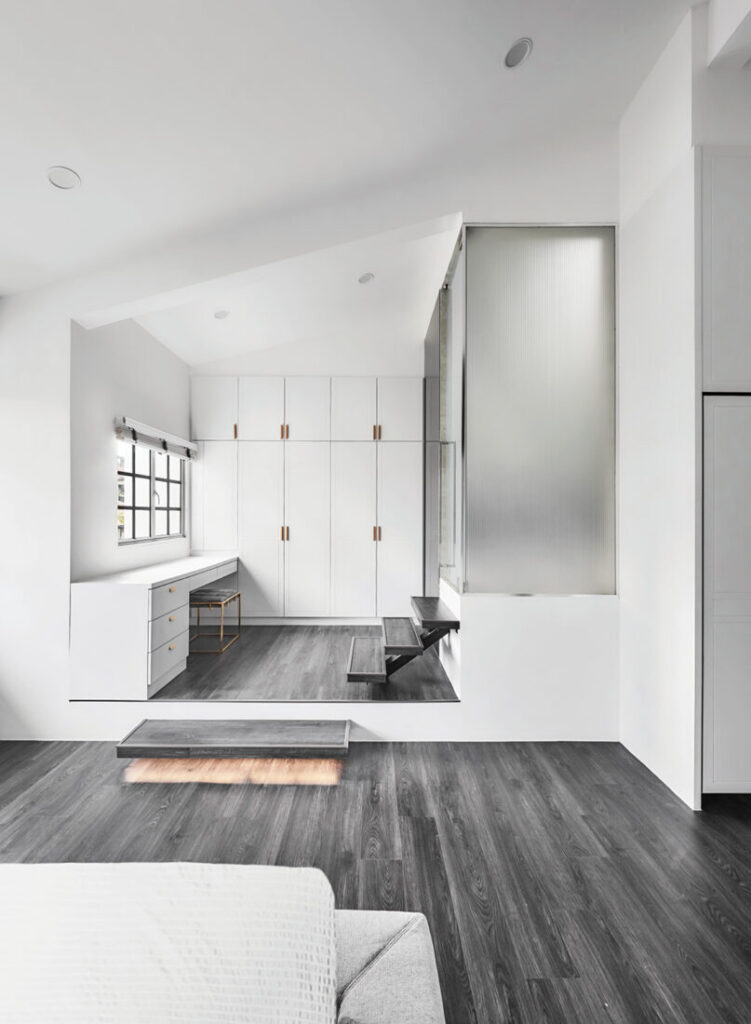 Breaking up the monotony of the black-and-white scheme, a bright Klein blue wall and subtle gold accents delight the eyes and create a contemporary look and feel. Expansive grid windows invite greenery and natural light in, promoting moments of quiet contemplation in this private sanctuary for two.
Space Sense Studio
www.spacesensestudio.com.sg
www.instagram.com/kelvin_spacesense
Featured in Lookbox Annual 2023
---
---