Text by Janice Seow
The wardrobe can be a simple piece of furniture or an entire room. When done well, it can even be a main feature or influence the entire layout of your space. Here we've picked a diverse range of wardrobe ideas to fit different types of homes, lifestyles and closet needs.
#1 Two sides in
How's this for wardrobe ideas? In this 2,000-square-foot apartment, the walk-in closet (top image) is positioned at the entrance to the master bedroom, and from the spacious closet are two entryways from which to reach the bedroom/sleeping quarters. The elevated floor serves as storage space. The wall is travertine, displayed on its back side and backlit, and it emits a warm, gentle glow when the light is turned on.
Project: 2-storey walk-up apartment. Design by LAANK
#2 The luxury that surrounds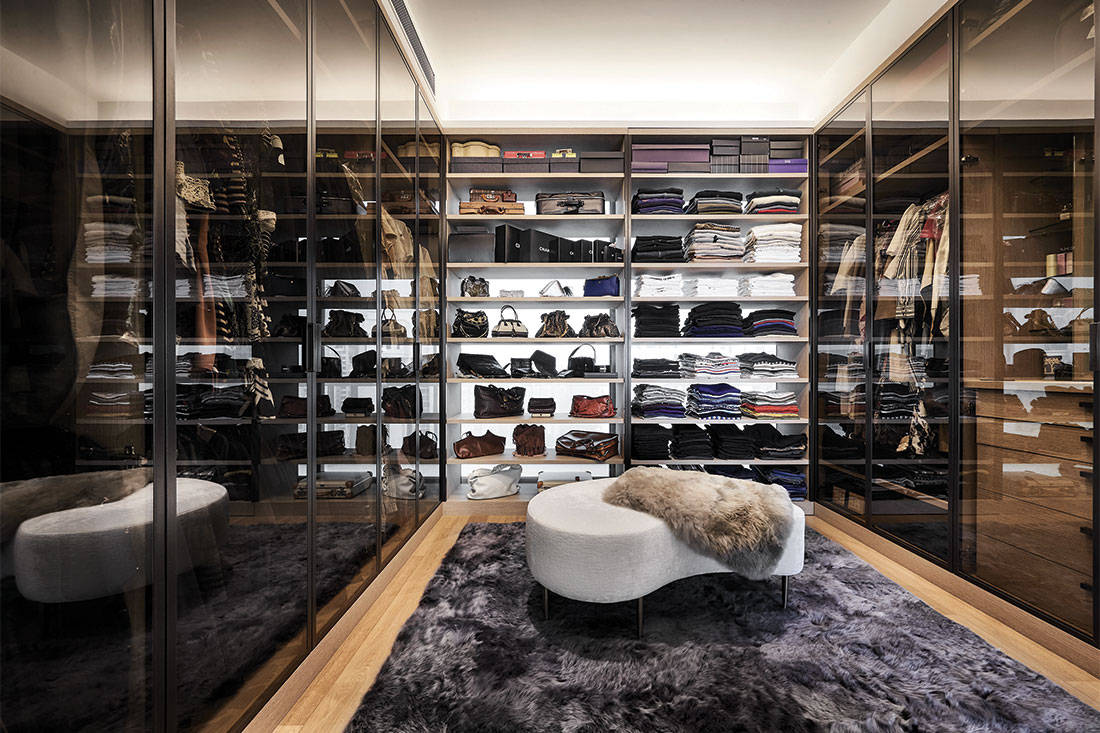 If your bags and clothes are your prized possessions, you treat them as such! This wardrobe personifies modern luxury with the floor covered in a soft alpaca rug and the three-sided see-through shelves enabling the owner to view and more easily decide the outfit of the day.
Project: Four-bedroom condo. Design by Elliot James Interiors
See the full feature here
#3 Out in the open
In this flat, the master bedroom has been completely gutted and made into an open and free-flowing space. In that spirit, everything is out in the open – with the open wardrobe and display unit sandwiched between the bed and reading nook. Raised platforms subtly define the zones. Everything is within view and clothes conveniently within reach.
Project: Four-room HDB flat. Design by Ethereall
See the full feature here
#4 Subtly hidden
In a conventional setup, the bed is set against a wall. But in this small apartment, the bed has been positioned in the middle of the room in an 'island concept', and the wardrobe and storage cabinet placed along the room's periphery. The reeded glass panel creates clearly defined sleeping and dressing zones, while enabling light to filter through. The wardrobe is a versatile wall-hung system, with shelving and modules that can be moved around easily to suit the homeowners' needs.
Project: One-bedroom apartment. Design by Craftsmen Studio
See the full feature here
#5 Like a runway
As far as wardrobe ideas go, yours can go on like a runway if you have the luxury of space and more clothes than you can count. In this 3,500-square-foot apartment, a warm and handsome space is achieved with rich timbered surfaces, ambient lighting and carpeting underfoot. There's also a soft bench from which to choose outfits in comfort or simply to relax. It leads through to the vanity area and a sophisticated, marbled bathroom sanctuary. This is even better than what you'd find in most hotel suites.
Project: A 3,500sqft apartment. Design by Brewin Design Office
See the full feature here
We think you may also like 12 cool and creative kids' bedrooms you wish you had
---
---