Home Type: 3-storey cluster house
---
Text by Asih Jenie
This three-storey home comes with a rooftop pool and a roomy basement, making it the ideal for raising a big family. The homeowners envisaged it as their 'forever home', and design studio Rhiss Interior stepped in to transform the place into a liveable space. The designers mixed old and new, so as to accommodate the multi-generational family. They also managed to show that childproofing can be effective, chic and timeless.
The owners have plans to live and raise a big family in this home. They are also social butterflies who love entertaining friends at home. As such, the house has been designed with minimal furnishing to maximise flow and movement. The existing marble floor has been retained while the ceiling is bereft of hanging lights to create a feeling of airiness.
Designer Wincy Tang of Rhiss Interior has injected some personality into the home via a variety of finishes and subtle textures that stand out against its mostly white surfaces. The bar counter serves as an informal dining spot. It nicely pairs wood and marble textures with leather and brass of the barstools from Sam & Sara Home.
"We purposely didn't use hanging lights in key areas to maximise the ceiling height," says Wincy. This strategy is constant throughout the home. In this dining room, only recessed architectural lights are used. "Architectural lights are so underrated. They can create an ambience just as effectively, and they are quite friendly on the eyes," she elaborates. During the day, light filters in via narrow openings on the wall.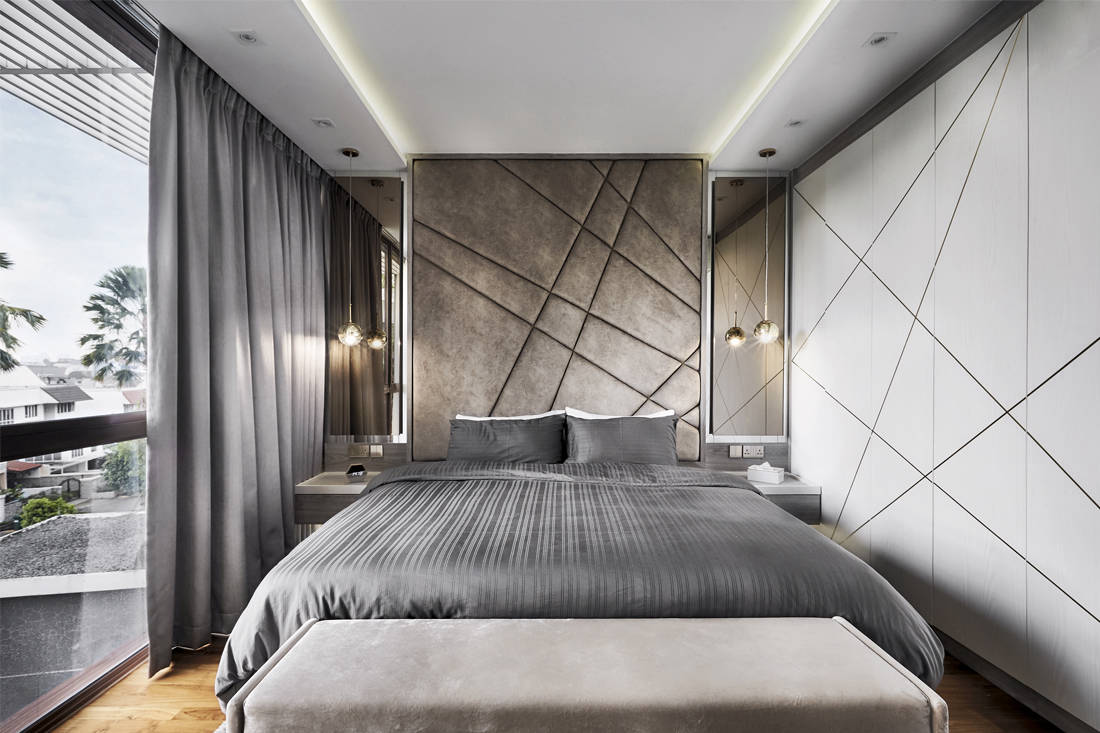 The owners' personality shines through in the master bedroom via effective use of subtle graphic patterns. The padded feature wall sports diagonal lines that are repeated on the wall and multiplied by the dark mirror panels on either sides of the bed. Two of the very few pendant lights in the home are suspended above the bedside tables – decorative but unobtrusive; while architectural lights are embedded on the ceiling recesses like runway lights, setting a restful mood.
The loftiness continues in the bathroom, which has been finished in black and white. The shower area is partitioned with a clear glass panel with a thin black metal frame. The splash areas feature easy-to maintain dark tiles, serving as a background that highlights the sculptural quality of the white sanitary-ware.
In this home, the childproofing efforts are felt, not seen. Strategic finishes have paddings, furniture pieces have rounded corners, cables and wires are neatly hidden, and cabinets and storage spaces, such as those in the study, are either designed out of children's reach or have a childproof locking mechanism built in them.
Rhiss Interior
www.rhissinterior.com
www.facebook.com/rhissinteriordesign

We think you may also like A house with uniquely textured walls
---
---