Home Type: 4-room HDB BTO flat
---
Text by Disa Tan
Like a rich piece of tapestry, Principal Designer Wan Ismail and his team from Fatema Design Studio weaved in masses of textures and captivating patterns into this family home to four. They worked in incredible depth and warmth with contrasting layers of modernity and elaborate Moorish-inspired accents. Other than the decorative elements, they first focused on creating an open-concept setting for the living, dining and kitchen zones. The original boundary wall which separated the kitchen is removed and this immediately presents a spacious and airy look.
Decorative tile work is one of the most recognisable elements of Moroccan interiors and it is reflected on the feature wall of the living room. By using patterned tiles with textile-look motifs, the feature wall lights up the entire living space with a bold statement. Wan and his team also carved out a cosy corner by putting up a tinted glass divider paired with mirrored panels to project a wider impression of space.
To let the strong Moorish motifs stand out even more, the other walls are painted in a neutral shade of grey. This contemporary tone also works well with the homogeneous floor tiles with marble-like veining for a touch of luxe.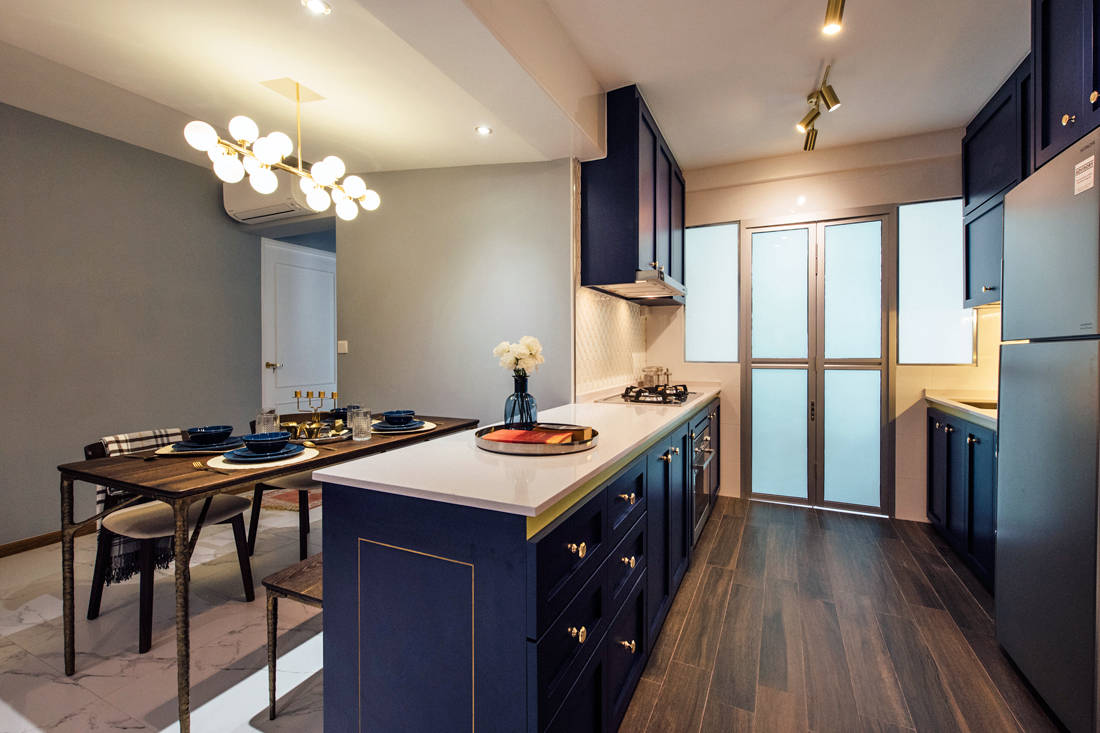 In the open-concept kitchen, cabinets in dark navy laminates are embellished with ornate-looking steel handles in a gold finish. To complete the picture of sophistication, stone-look quartz countertops sit atop the cabinets, echoing the marble-effect tiled flooring.
The backsplash, on the other hand, features honeycomb patterned tiles. The lustrous finish contrasts beautifully with the dark laminates. When the recessed lighting is turned on, it highlights the tiles' distinctive details and the three-dimensional effect as well.
Moroccan metalwork is evident in the corridor leading towards the private rooms. A geometric patterned screen dresses the otherwise plain-looking ceiling, and when the cove lighting is turned on, it projects beautiful shadows through this ceiling feature of intricate details.
The master bedroom takes on a prominent contemporary style. Here, grey walls and wood-effect vinyl flooring dominate, creating a cosy and classy ambience. To up the visual appeal, the design team installed a headboard with warm lighting, further adding texture and an inviting focal point to the room.
Beautiful tile art is also reflected in the bathroom's shower stall. Other than bold patterned tiles with foliage motifs, the design team introduced a white tile border to add definition and a more layered style take to this wall feature. In the dry zone, the vanity cabinet in navy blue with gold handles echoes the design of the kitchen cabinets. With their keen eye for detail and a focus on design consistency, the designers have created a family home that shines with a modern Moroccan flair.
Fatema Design Studio
www.fatemadesignstudio.com
We think you may also like A glam and luxurious executive apartment
---
---