Home Type: 5-room HDB flat
---
Text by Jasmine Goh
A minimalist design is not as simple as it looks, according to designer Glenn Loh from D5 Studio Image. So when the homeowners of this new flat approached him to design their home in a minimalist, Japanese-inspired style a la Muji, Glenn knew he had his work cut out for him.
An atmosphere of serenity is felt the moment one enters the residence, home to a young couple who not only loves the minimalist Japanese style, but is also able to speak and write the Japanese language. Wood-patterned vinyl flooring from Wood Culture is used throughout, offering a sense of warmth and unifying the different parts of the home together in a cohesive style.
In line with the homeowners' vision of a clean, minimalist design modelled after Japanese homes, this flat is bright and airy while being quiet and calming at the same time. To create a sense of flow from one space to another, Glenn extended part of the kitchen into the dining area. The cabinets and white-tiled backsplash seen in the cooking area now function as a feature in the dining area.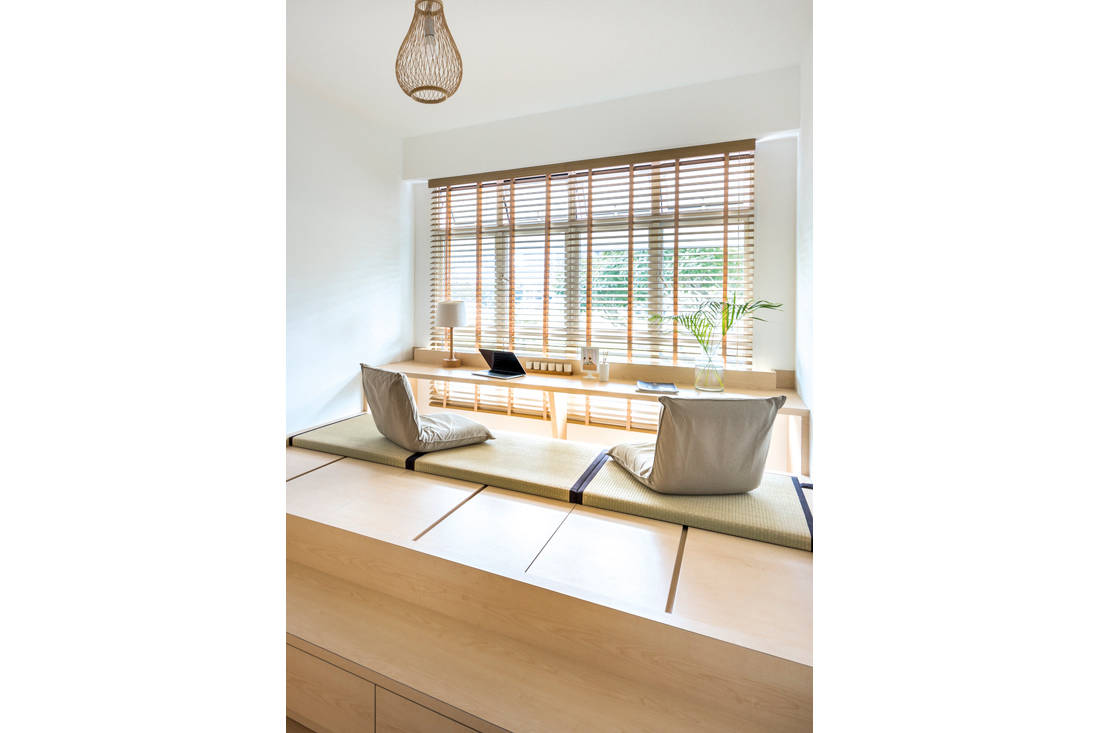 Instead of a typical desk and chair set up, the study room is designed with a tatami platform. This unique arrangement makes cultural reference to the Japanese way of sitting, and is no doubt a conversation starter. Glenn designed the platform with hidden storage compartments to provide the homeowners with a convenient way to access office materials without cluttering the workspace.
Simply furnished with built-in cabinets and a futon, the last bedroom is used for relaxation and meditation. It can be easily converted into a bedroom for hosting overnight guests if needed. A row of built-in cabinets sits beneath the window, creating another quiet spot in this room.
Clean lines dominate even in the privacy of the master bedroom. Since the couple prefers a minimalistic look, the designers knew that sufficient storage space is essential in maintaining this desired style. The bed frame and headboard are thus built with hidden storage areas for the couple to keep all bedding and personal items out of sight but within easy reach.
In the same vein as the flat's overall Muji style, the bathroom is decked out in greys and the same woodgrain laminates. Glenn needed to always be mindful of the desired outcome as it was tempting to combine patterns. The result of that discipline is a beautiful space that supports the minimalist lifestyle of the homeowners.
D5 Studio Image
www.d5studioimage.com
We think you may also like How to live like a minimalist in a Singaporean home (with a Scandinavian twist)
---
---