---
Many Singaporeans seem to have the wrong idea about minimalism when it comes to interior design. To them, a minimalist home is one that's clean-cut, has an open configuration, and shows a restraint hand when it comes to picking furniture. In truth, the real minimalist home should be pared back, bare bones and, basically, empty. Forget feature walls, textured surfaces or built-in carpentry!
With that said, there's nothing wrong with being inspired by the minimalist movement. In this brand new 4-room HDB flat, the homeowners were taken by the concept of minimalism, and wanted to convey it in their home. At the same time, they wanted to incorporate the creature comforts of a modern setting, and elevate the look with design ideas inspired by Scandinavian homes.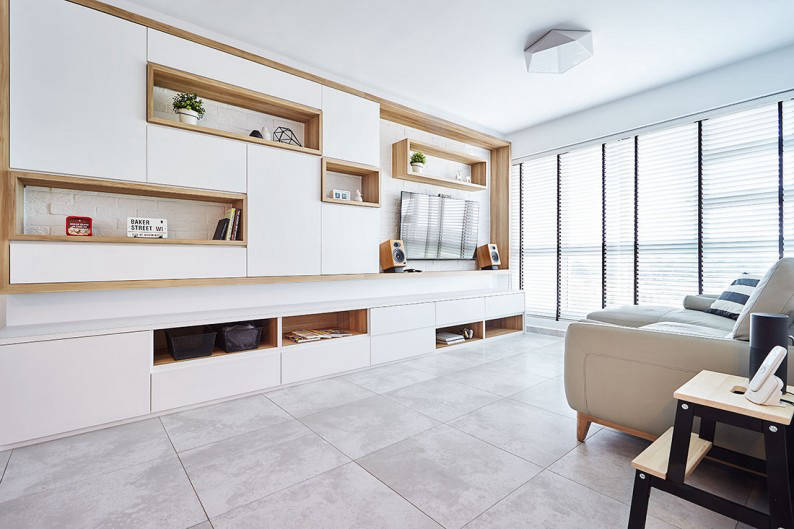 With a clear starting point, designer Dave Wee from D5 Studio Image crafted a look that fits these requirements while keeping the home functional and practical. He chose a palette of white and light-coloured wood grains for the basis, applying the colour scheme in both communal areas and private quarters. Walls were replaced with clear glass and black metal frames, allowing light to filter through gloriously. Adding to the Scandinavian vibes are the white brick wall that flanks the dining area.
Instead of bulky, space-hogging built-ins and feature walls, the D5 Studio Image team focused on textures and surfaces to make an impact. Take the kitchen floor for example. Hexagonal tiles in a mix of black, white and grey bring a dash of quirkiness to the home. Similarly, wood-like vinyl floors in the master bedroom add to the clean-cut and fuss-free look.
As in any minimalist home, built-in carpentry helps to reduce the amount of square footage used. In the living room, customised storage compartments form a entire wall of storage and display spaces, all set in an alluring manner. The study room (which was converted from a spare bedroom) even boasts of his-and-hers workstations that have been customised to fir the space. Here, clever design ideas help to keep the room feeling light and spacious: cantilevered desks, top-hung cabinets and no built-in drawers that would have weighed down the space.
---
---