---
Text by Sandra Campbell
Created by director Aaron Poh of AP Concept, one quickly forgets that the 800sqft design studio, filled with furniture, lighting, and creative accents actually sits in an industrial area. "I've designed a total-concept home environment that not only shows how far one can take design, but also answers the demand for quality and craftsmanship in a limited space," says Aaron.
What's more, the design studio runs on a voice-activated smart home system incorporating Google Home; so people know AP Concept can do the same in all of its projects. "Here in this studio, the lights, air-conditioner and TV turns on and off with voice command," Aaron adds.
The display cabinet-cum-discussion area is the highlight of AP Concept's design studio. The wooden strips, individually handcrafted, give it a very linear feel. Using compressed solid plywood and EDL natural maple laminate, the workmanship is sophisticated and meticulous. And the handle-free doors run on BLUM Tip-on Blumotion (touch to open and push to effortlessly close). Aaron added the decor pieces from 3littlepicks to soften the overall look.
The feature wall conceals the storeroom and the staircase while making the living area appear larger than it is. "To break up the monotony and also reflect the raw industrial feel of the design studio's location, I had a concrete-look wallpaper from Hello Circus applied on the staircase wall," explains Aaron.
The kitchen's marble-like quartz countertop complements the homogeneous flooring. Designed to look like they're contained within a pod, the kitchen cabinets are surrounded by wood panelling on all sides, which Aaron feels brings an extraordinary look to the kitchen space.
Nevertheless, the bathroom is Aaron's favourite spot in the design studio. "The fish scale wall tiles and honeycomb flooring at the shower area are simply fantastic!" he exclaims of the contrasting patterns and textures that lend an incredible visual and tactile experience. The wooden shelves and greenery help soften the look, while adding warmth and colour to the bathroom.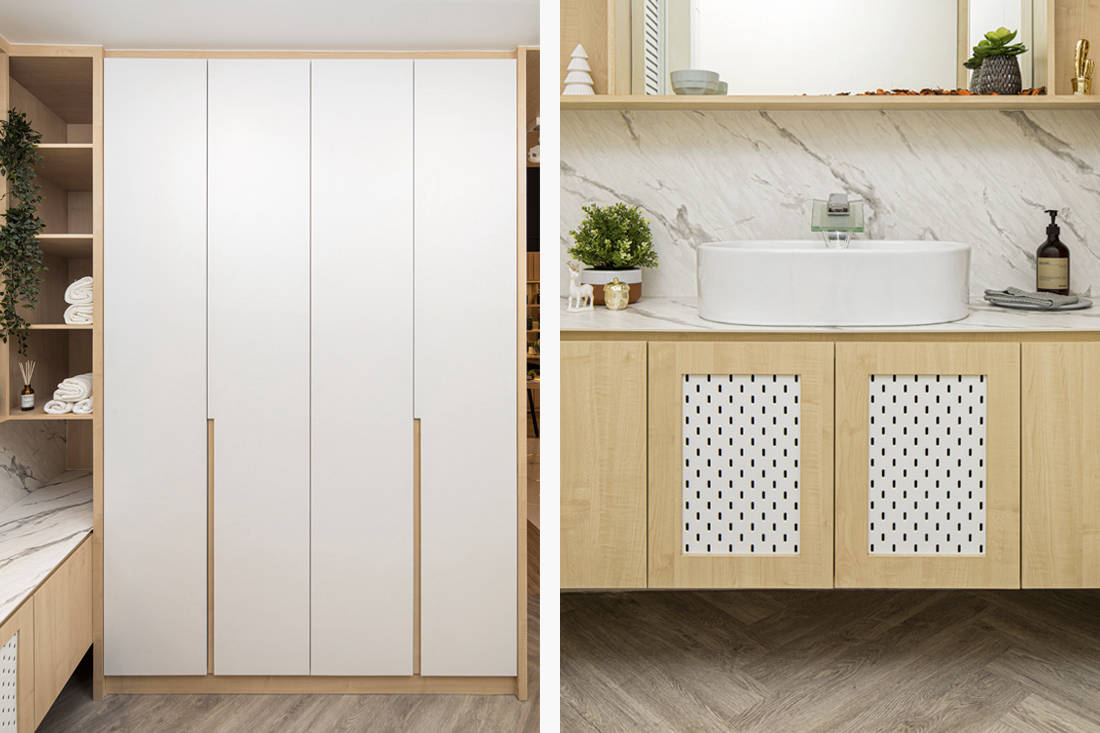 The bathroom vanity-cum-washbasin section consists of maple laminate from Avora and EDL Compact durable, double-sided panels that are resistant to impact. For a seamless feel, the vanity backsplash has the same panels while IKEA racks fashion the cabinet doors beneath the sink.
A section of the walk-in wardrobe doors that ends in the bathroom were also handcrafted. And just like those of the display cabinet, operate on BLUM Tip-on Blumotion.
AP Concept
www.apconcept.com.sg
www.facebook.com/apconceptid
We think you may also like Scandi style hits home in this HDB residence
---
---