Home Type: Semi-detached house
---
Text by Isabelle Tow
Coming from Australia, Stephen wanted his home in Singapore to be an open and light-filled space, and for his wife and kids to enjoy the closeness to the outdoors that Aussie suburban homes are known for.
Before they could move into their newly-bought resale semi-detached house in Bartley however, there was much work to be done to transform it into the quintessential Aussie family home. The 4,500-square-foot home they bought sported drab and outdated interiors that needed refreshing, and enclosed communal spaces that gave it a stuffy atmosphere. Over discussions with designers Aaron Poh and Samantha Ng of AP Concept, the owners outlined their brief: a modern home with open communal spaces and plenty of natural light.
To allow more natural light to penetrate the living area, the large French windows facing the front garden were converted into a massive single 2.7-metre-wide bay window from which the family can lounge on and gaze out from. Narrow full-height windows were created to flank the adjacent television wall, which has been sheathed in matte grey stone-effect large format tiles. A storage unit was built onto the back wall, finished in matte black laminates from Fenix NTM that are also used for the kitchen cabinetry. The fluted panelled compartment of the unit hides a structural column that would otherwise look out of place.
To create the desired open layout in this Aussie-inspired family home, the first floor of the home where the communal spaces are underwent extensive hacking and spatial reconfiguration. Once completely enclosed, the walls of the dry kitchen were torn down to open it up to the adjacent dining and living area. A peninsula bar counter has been built where a wall once stood separating the dining room from the kitchen, creating a more casual dining setting conducive for easy conversations to take place across the connected spaces.
The arched doorway in the dry kitchen leads towards a common bathroom, outdoor shower, and wet kitchen in the backyard. A rather uncommon feature, the outdoor shower was a deliberate request made by the clients. Its purpose is to allow for their daughter and son, who are in primary and secondary school respectively, to wash up conveniently after any outdoor activity before stepping into the house.
On the second floor, the master bedroom received the most dramatic changes. The bathroom en suite was given a luxe makeover – a larger window for better illumination and ventilation, marble-effect wall tiles for a sleek look, and a deep soaking standalone bathtub to replace the old-fashioned built-in one.
Housed within French doors, the walk-in wardrobe was designed to lead to the bathroom en suite for greater privacy.
Upstairs, a young feminine vibe is introduced with pink colour-blocked walls for the daughter's bedroom and bathroom.
AP Concept
www.apconcept.com.sg
www.facebook.com/apconceptid
www.instagram.com/ap.concept
Visit AP Concept's profile page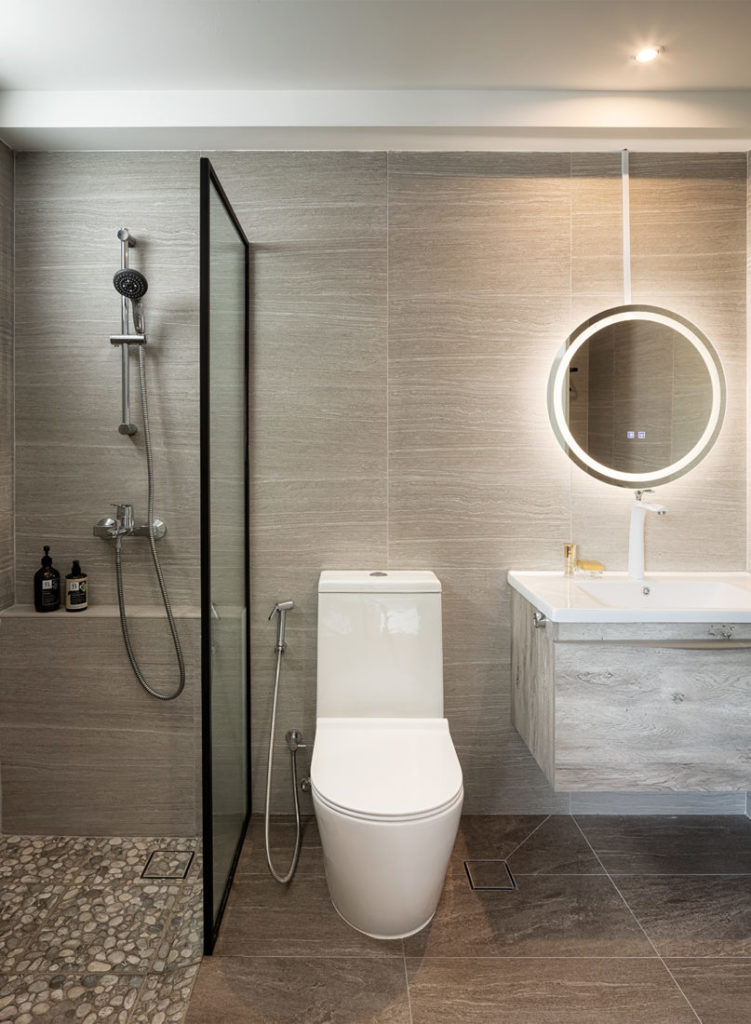 ---
---