Home Type: 4-room HDB flat
---
Text by Olha Romaniuk
This welcoming four-room flat designed by AP Concept for a young couple aims to create a warm and inviting home within its limited 1,012 square-footage while keeping the original layout of the unit largely unaltered. The concept focuses on a few key statement designs to create a sense of character and maintain the renovation within its allocated budget of $45,000. To set a humble and cosy ambiance, the design incorporates the use of woodgrain laminates for built-in cabinetry to accentuate storage and functional areas and add a touch of visual interest to the otherwise simple space.
"Rather than spending the budget on every single room, I encouraged the owners to focus on a few statement areas, like the entrance and the main bathroom," says Raymond Ho from AP Concept. "I suggested refraining from too much built-in carpentry so the flat could be easily adapted to the changing needs of the owners in the future."
Upon entering the unit, the living room sets the overall laid-back tone of the flat with its fuss-free, comfortable seating arrangement and a low television console. The use of light tones, such as warm white and soft brown, complemented by the wooden accent of the console, creates a soothing atmosphere that invites its inhabitants to pause and relax. Large windows allow natural light to flood the space, enhancing the overall sense of openness.
The original layout of the unit is thoughtfully preserved, maintaining the flow and functionality of the space. The dining area is strategically placed adjacent to the kitchen, promoting a seamless connection between the two spaces. A sleek wood and marble-patterned dining table with matching chairs becomes the centrepiece, encouraging shared meals and conversations.
The kitchen embraces a modern yet humble aesthetic. Woodgrain laminates cover the cabinet doors, complemented by sleek built-in appliances. The sizeable kitchen counter acts as a multifunctional space, serving as a workspace, a casual breakfast bar, and offering additional storage. The shelves above the countertop serve as additional storage for cooking tools and essentials, adding a touch of personalisation and warmth to the space.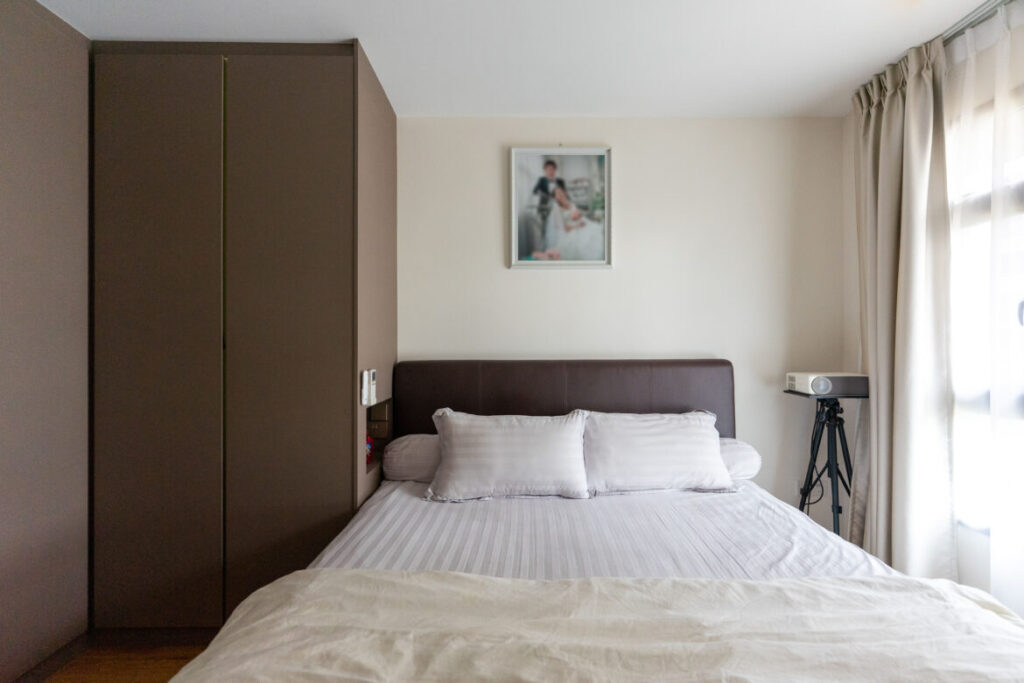 The master bedroom exudes a tranquil atmosphere with earthy brown laminate dominating the built-in wardrobe that serves as the main statement feature within a simple and functional space. In contrast, the owners' bathroom takes a slightly more maximalist approach where colourful terrazzo and brass accents create a playful and luxurious feel that make the bathroom one of the hidden highlights of the unit.
With this design, AP Concept has succeeded in turning the clients' budget constraints into an opportunity to create a timeless interior that transcends passing trends to leave a lasting impression.
AP Concept
www.apconcept.com.sg
www.facebook.com/apconceptid
www.instagram.com/ap.concept
We think you may also like A Scandinavian-style flat with a home office
---
---