Home Type: 4-bedroom condominium unit
---
Text by Angela Low
This clean-cut condominium apartment channels the best of modern design with a distinct character that makes it one-of-a-kind. Upon entering this abode for a family of five, the most striking feature you'll notice is its matte white terrazzo flooring. Though an uncommon choice, it injects a chic sense of luxury, and lends a brighter living space and focal point that makes a large impact without sacrificing an inch of lateral space.
"White is also a universal colour and easy to blend," says interior designer Marc Wong of Linear Space Concepts, who led the renovation of the residence. To capitalise on the bay windows by the entrance, the designer built shoe cabinets in matching white and a sitting area with a white marble top.
More storage features can be found in other parts of the home, including the living room with a massive TV storage unit that spans the entire length of the wall. "It was the homeowners' first priority to include as many built-in compartments as possible, as they have too many things to keep," shares Marc.
The communal areas are the neutral zones; following a muted colour palette and a clean, simple, functional and easy-to-maintain design. To create an atmosphere of cosiness in which everyone including visitors can feel at ease, the designer also incorporated soft, fabric-look laminates for the built-in furniture in the living room.
The master bedroom adopts a similarly understated decor scheme, focusing on clean lines and earthy hues. Inspired by the foliage right outside its windows, this interior features muted green accents (as seen in the design of the TV feature wall), paired with woodgrain laminates. The room also includes an extended table by the window, the couple can use it as a study desk when they decide to work from home.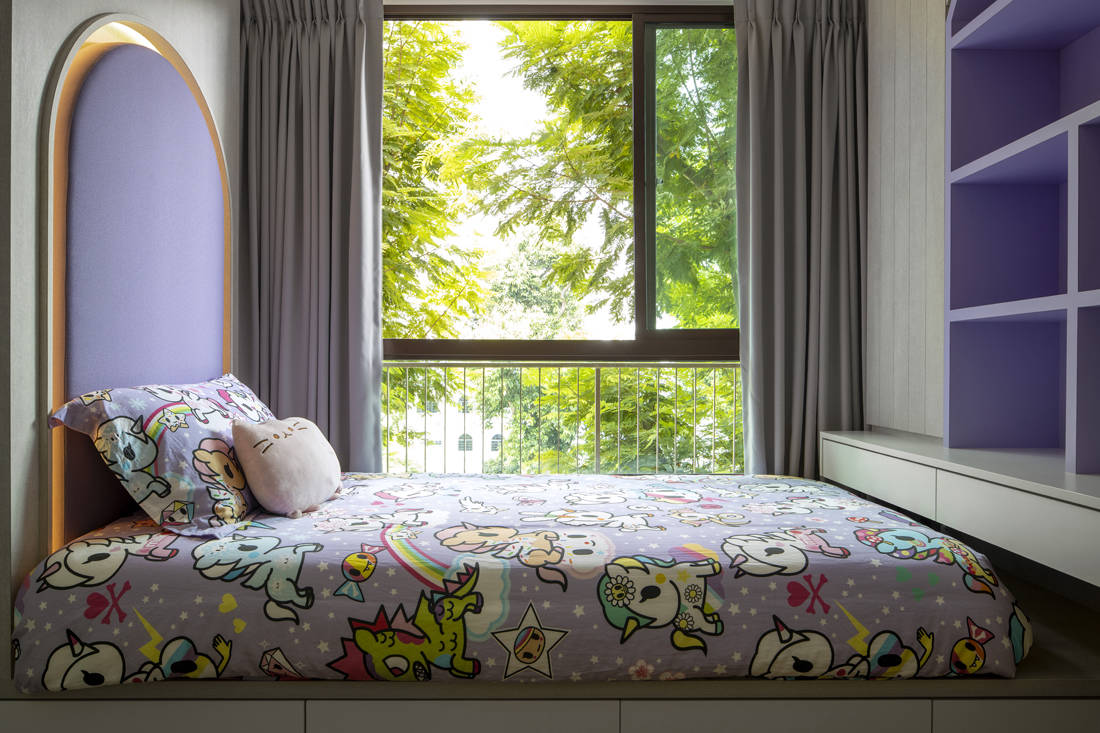 Bright splashes of colour, along with whimsical design elements, spruce up the children's bedrooms, while adding variety to the abode. Each room boasts a different look. The daughter's space features pops of purple and a pattern of curved lines in the carpentry from the headboard to the bookshelf. The treatment offers a softer appearance that matches the feminine predisposition of its occupant.
In contrast, the son's bright yellow bedroom is defined by its sharp, edgy lines, and its asymmetrical style to convey a more energetic and playful character.
The third bedroom centres around vibrant tones of blue. What unifies these interiors is the backdrop of white and grey cabinets and walls that balance out the intensity of the colours. In fact, they serve as the common denominator across the entire apartment.
Linear Space Concepts
www.linearspaceconcepts.com
www.facebook.com/linearspaceconcepts
www.instagram.com/linearspaceconcepts
We think you may also like A contemporary family home with art and collectibles
---
---