The Housing and Development Board (HDB) is the public housing authority responsible for planning, developing and building Singapore's housing estates. HDB flats house more than 80% of Singapore's resident population, and over 90% of all those living in HBD flats own their own home. So, it's understandable that there is quite a market for Singapore HDB renovation ideas.
You can renovate any HDB home you own provided that you are following the HDB renovation guidelines. Some types of renovation will require a permit from HDB as they do regulate renovations within their flats. Even works that do not require HDB's approval must be undertaken only by contractors from the Directory of Renovation Contractor (DRC). You as the homeowner are responsible for your renovations and ensuring that your contractor complies with the HDB guidelines.
The renovation restrictions will prevent anything that may compromise the building's structural integrity, affect the exterior, pose a fire hazard or public eyesore, or infringe on the lease agreement.
Examples of renovation projects that will not be permitted include: removing structural members such as reinforced concrete wall or staircases with executive maisonettes, partitioning with combustible or toxic emission materials, installing awning or other fixtures outside of the flat, plastering the ceilings, overloading the floor slab by more than 150kg/sqm, or laying floor finishes outside the entrance door without having recess area or step.
This information was pulled from the HDB gov website, which has a comprehensive outline of all of the disallowed projects for HDB renovations. Before beginning planning, you should familiarize yourself with this list and the guidelines here. Your floor plans and the dimensions of your apartment may also limit the nature of renovations you can undertake.
There are a few other things you will want to consider before beginning renovation efforts. Budget is an important thing to consider; this will determine the scale of the renovation, the materials you will be able to use, and the funds you will have for maintaining/upkeep after the renovation has been completed.
DIY is always a risky business and given the rules about using DRC's only it may be difficult to find a way to renovate your apartment without requiring their help. However, simple tasks like painting walls or even just replacing furniture are easy DIY projects that you can get behind. Many of the items on this list are affordable and have DIY alternatives.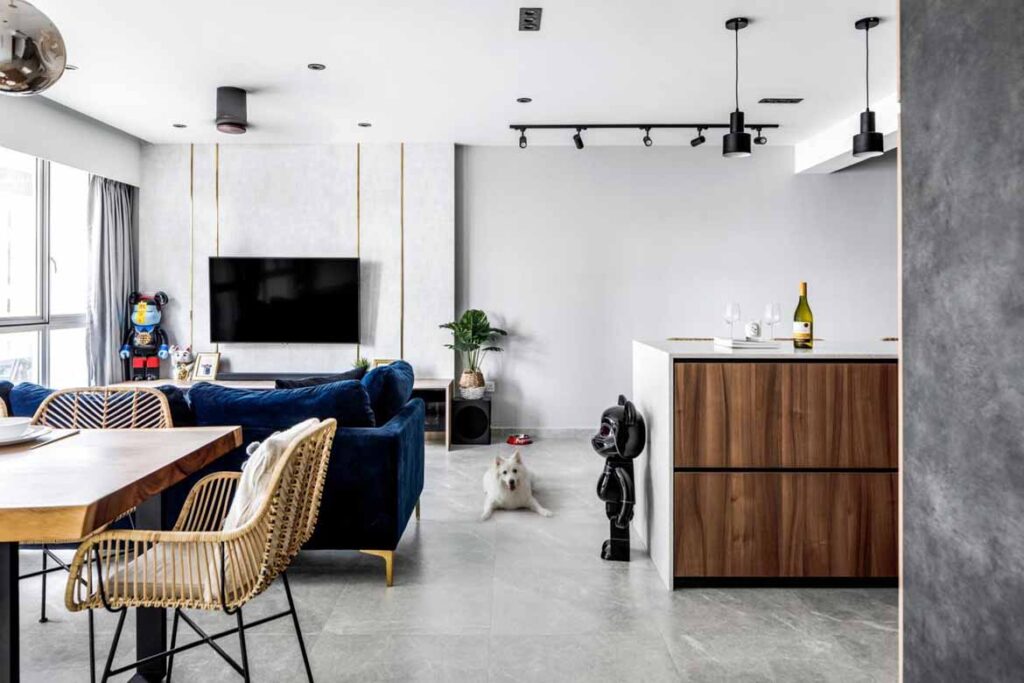 5. False ceiling
False ceilings are an excellent way to make a change in your flat without it feeling overwhelming. They bring coherency to the house and they can easily be suited to any room. They add a calming structure to the bedroom,
Texture and brightness to the living room,
And an element of sophistication to the kitchen.
False ceilings also offer benefits of soundproofing against noisy upstairs neighbours, aesthetic appeal, and better control over the lighting in your home. You can choose cove lighting, recessed lighting or even a mix of the two – giving you the freedom to tailor your lighting to your specific personal preferences.
The average price of installing a false ceiling Singapore is between $3.50 to $6.50 per square foot. Read more about false ceiling styling options for HDB flats here.
4. Kitchen
The most noticeable features of a kitchen are usually its colour scheme and the benchtop. Because kitchens are associated with cleanliness and hygiene, minimalist and cool-toned colours are a popular choice.
Kitchens which blend blue and white create a very sophisticated atmosphere. The most attractive kitchens will also mix materials to add texture in the room; this can be anything from more rustic wooden furniture
to a tiled feature wall.
Choosing a benchtop is also a pivotal part of kitchen renovations as there are many different types of materials.
The most common kitchen benchtop material is engineered stone, but benchtops can also come in laminate, timber, bamboo, polished concrete, porcelain and – for those willing to spend a little more – natural stone such as marble or granite.
The prices and characteristics of each benchtop category vary drastically, so you will want to try and find out which style suits your home and your budget the most. This guide outlines the different types of kitchen benchtops, their average price, and the pros and cons of each.
3. Bedroom
Some bedrooms take a similar approach, layering the room with shades of white accented by natural wooden. However, your bedroom should be one of the most personalized rooms in the house, and so it's worth considering: what works for you?
Lots of white will make the room feel bigger and brighter. This is a great idea for an early riser or someone who falls asleep easily – but for those who tend to wake up late or have trouble getting to sleep, a darker colour scheme will probably be more beneficial.
Darker colours will help to calm the body before you begin trying to sleep and should make it easier to block out the light in the morning.
Beds which are low to the ground are also popular with those who have trouble sleeping. Another simple trick is to keep lamps by the bedside table – this will give you control over the light in the room and help you prep for sleep.
Alternatively, a lighter colour scheme might make for a great guest room, perfect if you have a 4 room flat. This way, you will get to enjoy the beauty of the bright room most of the time, and when you have guests over they will (hopefully) wake bright and early, ready for their upcoming day with you.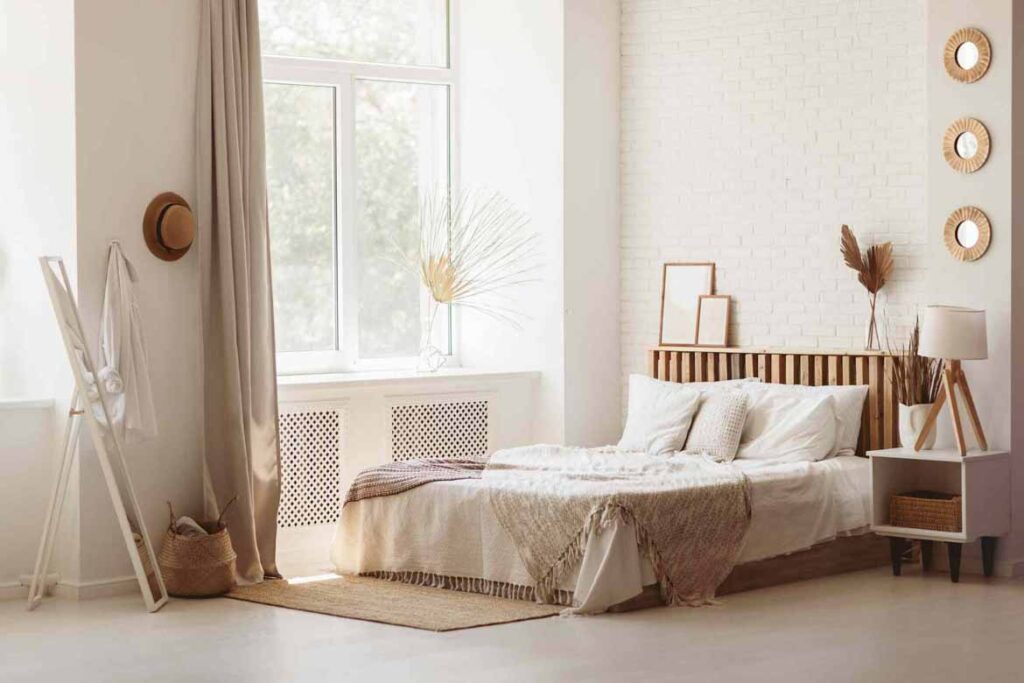 2. Bathroom
The bathroom is one of the most important rooms in the house, as it is usually shared by everyone. Whether you live in a 5 room or a 2 room house, you will almost always be sharing the bathroom with at least one person – not to mention any guests who come into the house. (If not; lucky you! Your decorating journey won't be interrupted by anyone else's pesky opinion).
Styling a bathroom can involve some tricks of interior design, especially in making a small bathroom appear larger. One popular trick is to create vertical lines using aspects of the room like a mirror or window which direct the viewer's gaze upwards and make the bathroom seem taller.
The opposite can be done with horizontal lines to make the bathroom appear longer. You can create these lines using the bath and shower, cabinets, towel rails, even the tiles themselves.
Another gorgeous renovation idea is to put in a feature wall. Feature walls add wow-factor to the bathroom. They can be set up to complement the polished porcelain of the sink and toilet
(This grey wall tile is available here)
Or to provide contrast, whether through colour or texture.
For more information on interior design principles and how to apply them in a the context of a small bathroom, see here.
1. Living room
Much like the bathroom, the design of a living room is important because of its communal nature. The living room will be the site where you spend the most time, especially when entertaining. As such, you want it to appear as welcoming and comfortable as possible. Here are some tricks to help get you started.
A popular modern design principle used in living rooms is the layout 'rule of three,' which groups furniture in the most pleasing configuration to the human eye.
Another trick is mounting your furniture on the wall to maximize the floorspace and keep the room open. This way you don't have to sacrifice storage for space. If your budget is tight and you want to avoid buying new furniture, you could always have a look for resale items.
The horizontal strategy mentioned earlier in regard to bathrooms can also work exceptionally well in a living room space, making the room appear longer and therefore larger.
For a more comprehensive account of these options and why they are so effective, see here.
---