Top image: Kitchen island using the USM Haller modular system
The kitchen island continues to be highly popular as people look to make their kitchen a part of their living space. Besides being a great spot to entertain guests or to have an extra area for food prep, it's now becoming a multi-duty space for flexi and remote work, too.
Looking for a cool and one-of-a-kind kitchen island for your flat or apartment? Check out these projects for inspiration!
#1 The modular island
The owner of this four-room flat is fond of the USM Haller modular system designed by architect Fritz Haller in 1961 for Swiss manufacturer USM.
"Once you understand how the system works, it really opens up a host of functions and forms that you can configure it into. No other type of furniture has been able to serve so many different purposes – a television console, display unit, kitchen island, storage, desk, planter, etc," he says. As a testament to its malleability, he has chosen to use it throughout his home, including as a kitchen island.
An avid cook, the wife enjoys the functionality of this system, describing how it allows her to store and organise loads of dinnerware, and that it also serves as her workbench when cooking or baking.
Design by Shed Studio. Click here for the full story
#2 A Jumbo view
As a Jumbo flat, this home has the advantage of space. In it's redesign, the kitchen is now the size of two average kitchens combined, with enough room to fit a large island. Its angular layout also stands out and makes an architectural statement, while its floor-to-ceiling glass windows maximises light penetration and enables full visual connection to the flat's common areas.
The kitchen island is connected to a raised breakfast bar. While a regular kitchen cabinet has an average height of 900mm, the bar is 1050mm, an ideal height for having a meal in comfort.
Design by Aart Boxx Interior. Click here for the full story
#3 Light and curves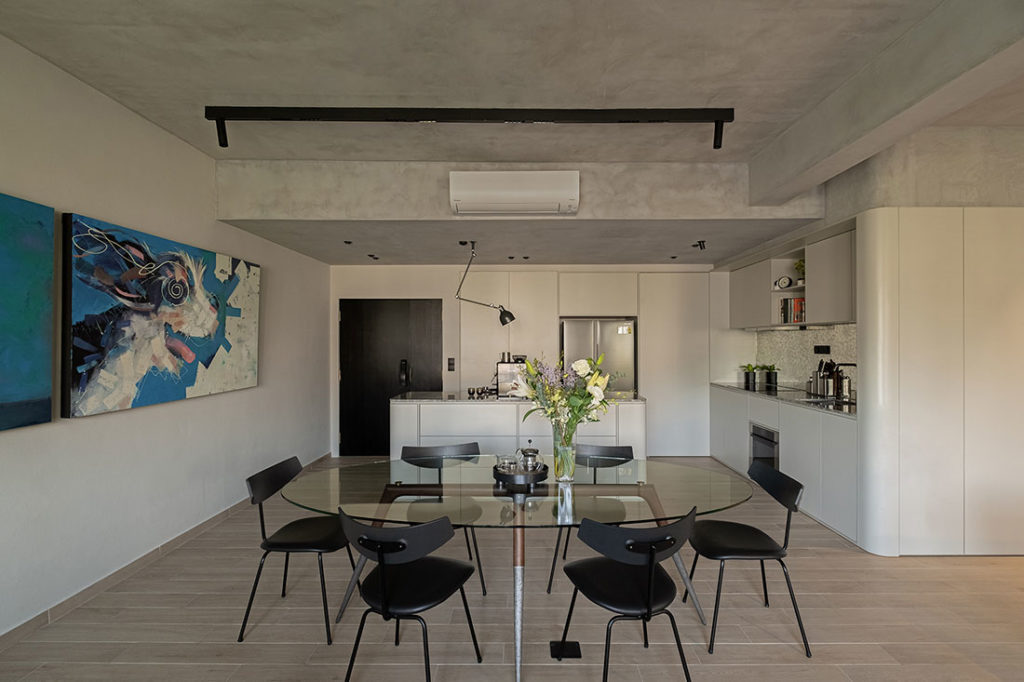 The owners of this three-bedroom apartment enjoy spending time at home and having friends over for a meal. Their formerly closed off kitchen is now an open one with an island that serves as a coffee bar. Rather than a standard pendant lamp, a large Orsjo PJ50 ceiling light gives the owners the ease and versatility to adjust and angle the light where needed as they prepare their morning brew, and to better illuminate the area for other daily tasks.
As a counterpoint to the raw and somewhat industrial style interior, the island is a softly curved design with cabinets and functions on all four sides. For example, the side closer to the fridge stores coffee making tools, while cutlery is stored on the dining-facing side for easy access during meals.
Design by Uno Interior. Click here for the full story
---
---