Text by Laura Box
Looking for increased privacy without compromising on the connection to the outdoors, a working couple contacted Iconcast to help them develop Casa de Silva in Thalahena, Malabe, an area on the outskirts of Colombo, Sri Lanka.
Eranda and Dhanushka, the parents of a young family, each commute daily to Colombo for work and were looking for a private and calming space to help them disconnect from the outside world. From this brief, Casa de Silva was born. Iconcast developed the concept of a home with an interior courtyard and striking overhead skylight.
The small courtyard sits sunk into the ground floor living room, a stunning centrepiece of greenery on the subtle cement and timber backdrop. The square skylight overhead perfectly mirrors the shape of the courtyard below and plants drape down from it into the double-height living room, ensuring a great sense of scale and proportion in the lofty room is palpable.
The courtyard, which connects the spaces with a vertical line of sight, "sets the ambience of the home," says Iconcast partner Nilooshi Eleperuma.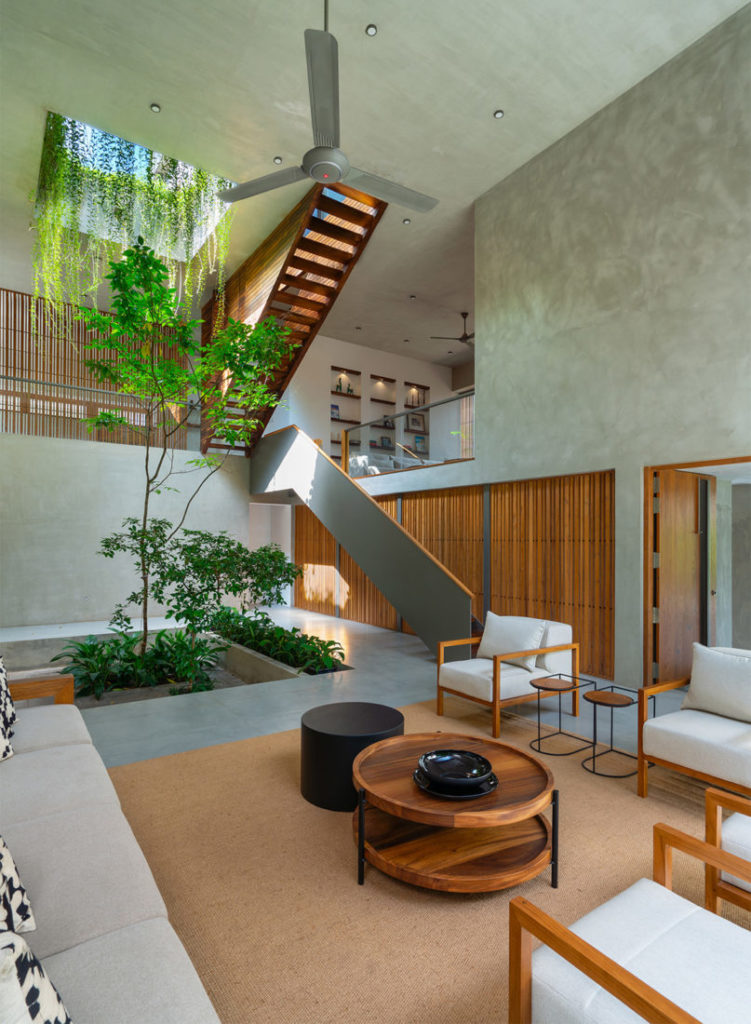 Drawing on elements of tropical modernism, the home is a proponent of wide, open spaces with double height ceilings, and copious ventilation.
"Spacious volumes inside are formed by one large hall space shared by common activities of the home; the dining, pantry and TV lounge are all open to one another," says Eleperuma. The living area spills into the garden through floor-to-ceiling glass doors, while the internal dining opens onto a timber deck for outdoor dining. What results is a "free-flowing space with the illusion of a larger area, despite the restricted footprint".
The front facade of the home, which faces west, "is screened from the road with a double skin with an external timber screen and internal glass". Responding to both solar gain and a need for privacy, this screen reduces direct sunlight and noise.
Bespoke timber features and furniture are a fundamental aspect throughout the home, including as the kitchen cabinetry, staircase, stately double front doors, ceiling of the master bedroom, and the grand ten-seater dining table.
While the social spaces of the home are located in more open and exposed areas of the home, the intimate spaces such as bedrooms and bathrooms were contained in a more solid block of the home to ensure privacy.
Spread over three floors, Casa de Silva is a spacious and private home that references both tropical minimalism and passive design principles to create a modern home considerate of its location.
Iconcast
www.iconcast.lk
We think you may also like Cloister House: An award-winning home with tropical architecture reimagined
---
---