Home Type: 5-room resale HDB flat
---
Text by Angela Low
This couple couldn't care less about following trends. Despite the mass appeal of the Scandinavian decor style, "they wanted their abode to stand out with designs that were uncommon," explains interior designer Jacky Yeo of Flo Design. They requested for a bohemian look, which Jacky incorporated with modern Scandinavian influences without being too predictable.
Simple is the operative word in the living room. Given that the homeowners don't often watch television, a space-efficient projector replaces the usual TV screen. Bereft of elaborate features, the open-plan space, which includes the dining area, is furnished with just the essentials. The original ceiling with odd niches has also been covered by a false ceiling for a streamlined aesthetic. A Persian rug breaks up the monotony of the wood-dominated setting.
Individually arranged hexagon tiles featuring eclectic motifs of leaves, woodgrain patterns and geometric lines clad an entire wall opposite the main entrance. The unique wall feature sets the stage for the flat's unorthodox decor scheme, peppered with subtle Scandinavian and bohemian influences. Formerly a dated space with awkward recesses beneath the windows, it now features wainscoting-like panels that are built flush against the living room wall to conceal the shoe cabinet and architectural flaws.
To expand the living room's footprint, the designer hacked the entrance of the kitchen, (previously a small, three-foot wide doorway) and created a semi-open space. He then played up the space with the same hexagonal tiles used near the main entrance and statement-making floor tiles with a pronounced woodgrain pattern. Together, they create a striking contrast against the simplicity of the living room.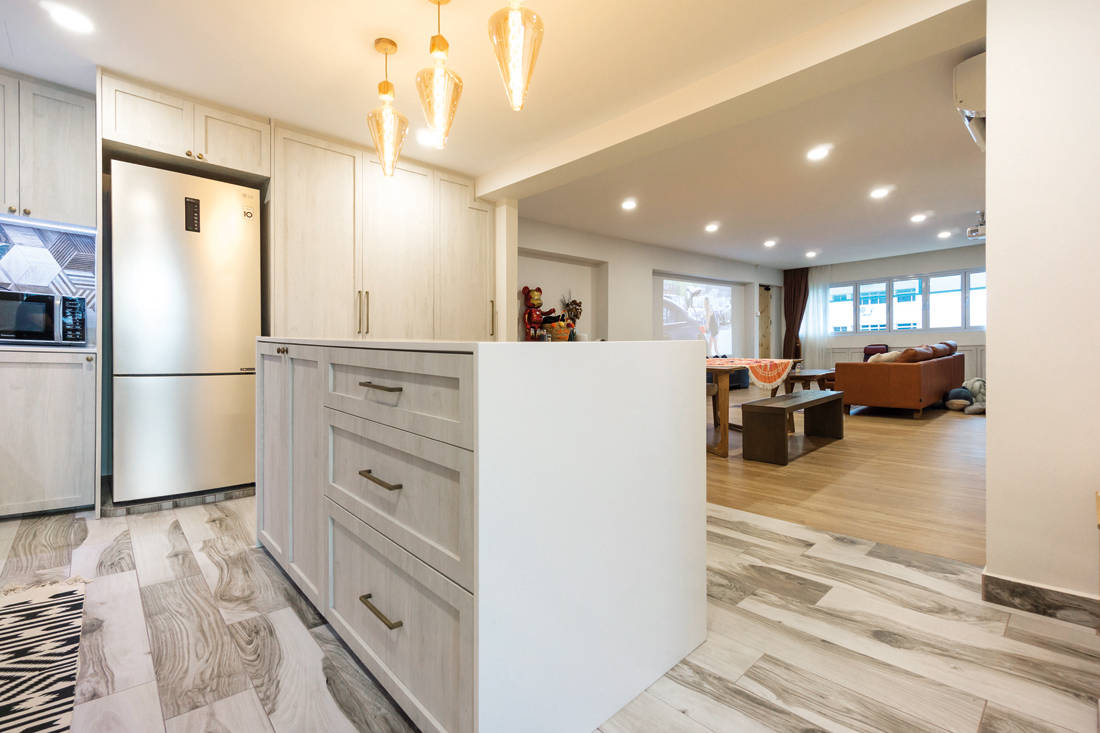 "As the couple love to cook for their guests, they wanted the kitchen to be the main focal point," says Jacky. In order to accommodate more visitors, he designed a kitchen island with a depth of 90cm and topped it with a pure white quartz surface. Still, to make sure the space isn't overwhelming, Jacky has balanced out the boldly patterned backsplash and flooring with kitchen cabinets wrapped in light wood laminates.
There's no such thing as too much space in this household. In favour of a larger master bedroom, Jacky had the wall between two adjacent bedrooms demolished. Further amplifying the spaciousness of the jumbo bedroom are the mirrored, ceiling-height wardrobes opposite the bed. Keeping the rest of the space pared-down also contributes to that. Hidden storage compartments beneath the windows keep clutter at bay while a dark green accent wall lends visual contrast.
Due to the lack of space in the lilliputian master bathroom, the washbasin is placed outside at a corner of the master bedroom just beside the L-shaped closet. Positioned strategically by the window for optimum light, it doubles as a vanity for the wife as well. To break the monotony of the neutral-toned wood-look cabinet laminates and vinyl flooring, a bohemian rug segregates the lavatory nook from the rest of the room.
Flo Design
www.flodesign.com.sg
www.facebook.com/flodesigninterior
We think you may also like 7 blissful retreat homes that you'll want to escape to
---
---