Home Type: 5-room HDB flat
---
Text by Janice Seow
The owners of this five-room HDB flat came to Third Avenue Studio with an open mind. "They definitely knew what they wanted from the get-go so it wasn't hard for us to design their home. But at the same time, they were willing to take in our suggestions and were very open to our ideas, which was great," says designer Janine Ting.
Seeing as how the young couple loved retro furniture (they sourced most of their furniture from Second Charm and Retro Colony), the design team decided build a modern-retro home that spoke to their personalities and taste.
"The husband loves the colour yellow, while the wife loves green, so we incorporated these into the overall scheme," explains Janine. The bold palette sets the tone for a cheery, retro-inspired sanctuary that brims with character without being kitsch. Herringbone-patterned wood flooring and wood furniture bring warmth to the space, while custom features inject personality.
"During our first meeting, we learned that the husband loved collecting vinyl records. While this was not their main requirement, we decided to create a display rack feature to showcase his collection," says Janine. Close by, a vinyl player sits on a repurposed console that was once the husband's mum's old sewing machine.
The couple were open to Third Avenue Studio's suggestion of an open-plan layout, and a generously-sized integrated kitchen island-dining table. The counter is a durable Dekton surface, while the combination of dark vinyl flooring and striking blue subway tiles visually demarcates this zone from the living area. To give the couple some flexibility in dining, the designers also recommended a coffee table from Spaceman (in the living room) that could transform into a dining table when desired.
Space efficiency is also well-considered. In the master bedroom, the wardrobe is inset into the adjacent common bedroom so that space in the former is not compromised. A deep teal wall lends a soothing atmosphere to this place of rest.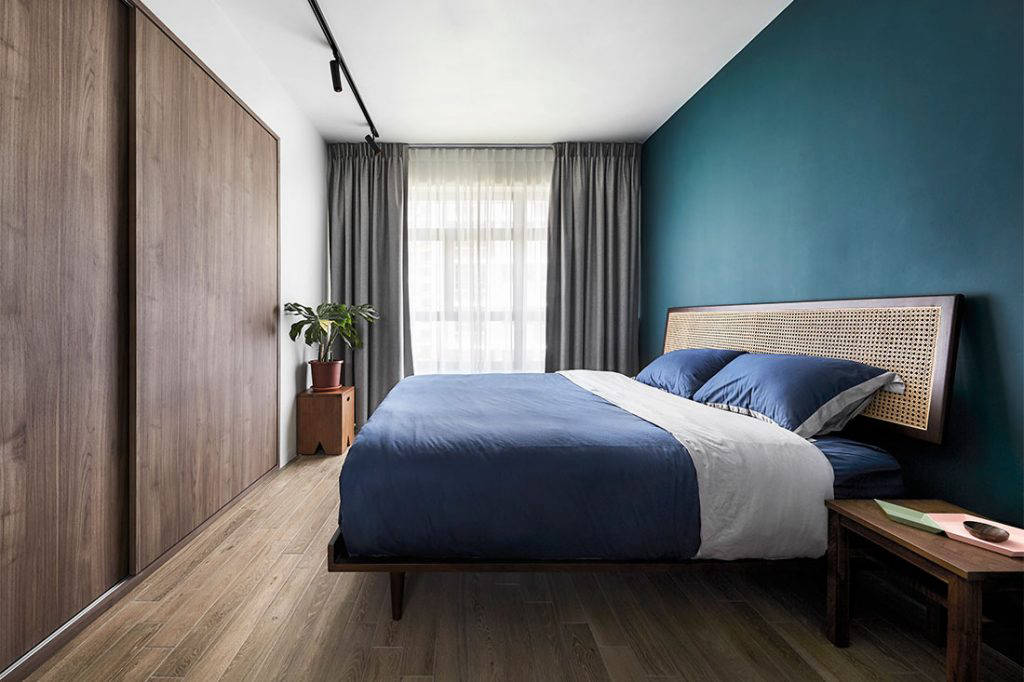 Maintaining design continuity, the common bathroom (left) and master bathroom (right) enjoy an uplifting ambience with cheery yellow tiles laid differently in each for subtle differentiation. In the common bath, too, the wooden vanity from Second Charm brings in the retro vibe.
Having kept an open mind while trusting in the proposed ideas that the designers brought to the table, the young couple living here now have a comfortable modern-retro home that warmly reflects who they are.
Third Avenue Studio
www.thirdave.sg
www.facebook.com/thirdavenuestudio
www.instagram.com/thirdavenuestudio
We think you may also like An eclectic walk-up apartment with a quirky layout.
---
---