Home Type: 4-room HDB flat
---
Text by Disa Tan
Adhering to a minimalistic design brief, Creative Director Chally Chee and her design team from Couple Abode proposed custom-designed cabinetry which now boxes up an entire corner of the communal zone. The solution provides ample storage while integrating display showcases, a full-height mirror and an altar. To further reduce visual distractions, the custom cabinetry also conceals the entrance to the household shelter.
Knocking down the boundary walls of the kitchen proved to be a good move for introducing more light and space into the home. The cookspace looks larger with its new open-concept layout, which allows for easy interactions between the dining and living zones. There is even room for an additional island counter that grants more worktop space as well as a stylish spot to entertain company.
Monochromes are the order of the day in the open-concept kitchen, and this follows the overall black-and-white colour scheme of the home. With the absence of walls, uniform material and colour palettes in the kitchen lend a streamlined and sophisticated aesthetic. Even with a darker colour scheme, the kitchen doesn't feel claustrophobic. Moreover, the high-gloss surfaces help reflect daylight for a well-lit and spacious appearance.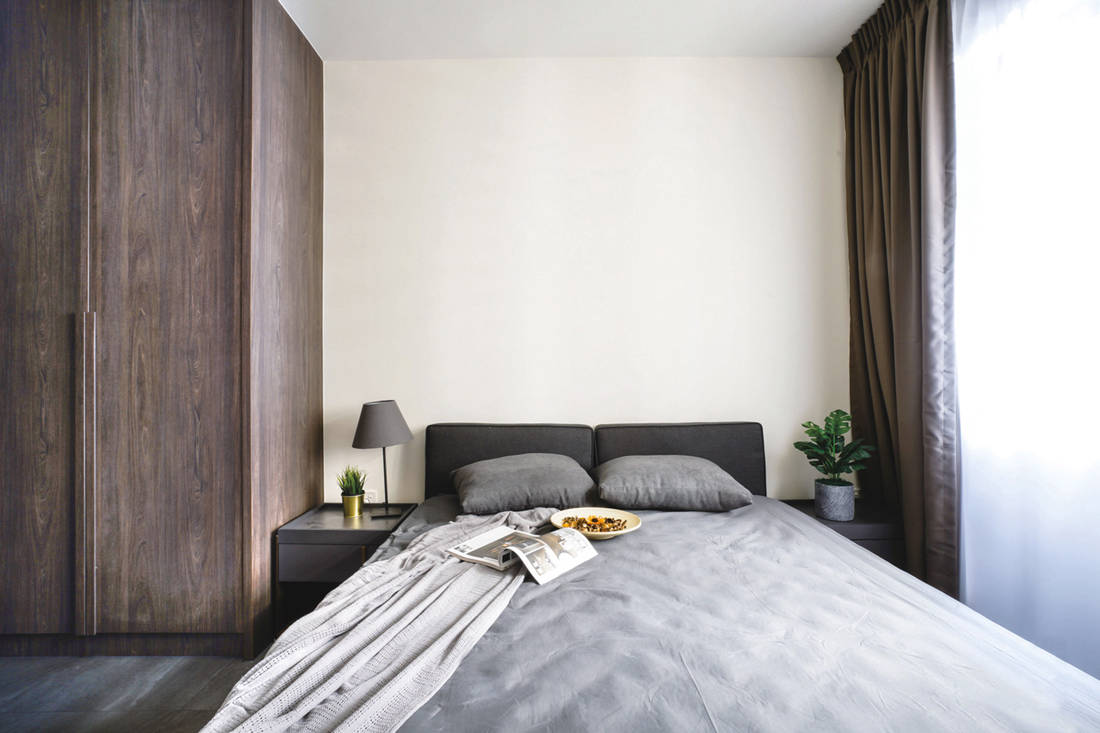 In the master bedroom, dark wood textures seen on the wardrobe and flooring imbue the room with tranquillity. This pared-back look and soothing design symmetry creates a space devoid of visual clutter – something the homeowners requested. With that, they are able to come home to a bedroom that's specially designed to shut out the hustle and bustle of city life.
For the custom-built wardrobes, Chally and her team kept the design minimal – much like the running theme of the home. The L-shaped cabinetry is embellished with single wooden strips that function as handles for the wardrobes. This simple setup also maximises the storage space of the room and draws out a style that is modern and easy to maintain.
Couple Abode
www.coupleabode.com
We think you may also like A relaxing cafe-inspired home for coffee enthusiasts
---
---