Home Type: 1-bedroom apartment
---
Text by Janice Seow
A shoebox apartment is typically defined as a home that's less than 500 square feet. Now there are various reasons why one might choose to live in such micro dwellings, such as lower cost, needing a home just for one, or even the desire to live more simply on a smaller footprint.
Single and living alone, Tom made the decision to purchase this 409-square-foot one-bedder unit. He then approached MONOCOT to build him a comfortable home for micro living, one that would make him feel like he was returning to a cosy hotel room every day (which incidentally, is roughly the same size).
"He also wanted the spaces to be fully utilised," shares designer Mikael Teh from MONOCOT. "And there had to be room for his friends to sleep over, as well as a desk for work."
No spatial reconfiguration was undertaken in this brand new apartment. Instead, concealed storage have been incorporated in all corners of this tiny home, so clutter can be kept well away to afford more breathing space, and to make room for living.
The design team chose to clad the entire apartment in warm timber KD panels to achieve a soothing and cohesive look throughout. With no extra room to house sleepover guests, the designers built a long, custom daybed that can double as a bed when needed.
Micro living is all about determining priorities, and making the most of each space. In this case, the living room is not just a place to relax, but is sufficient enough for the client to have casual meals as befits his lifestyle.
Further in, the kitchen offers plenty of storage. And next to it, the bathroom exudes quiet luxury with its choice of tiles and elegant colour pairings. "We completely redid the bathroom to give it a more spacious look by using large format tiles, which has less grout lines," says Mikael.
The bedroom is warm and cosy thanks to the continued use of timber panels. It was important to the client to have a desk for work. Within the room's tight confines, the designers' solution is a slim, cantilevered table and an integrated bench at the foot of the bedframe. The bay window houses yet more storage.
A study in micro living, this apartment doesn't just provide for the day to day; it is a calm and soothing space that suits the lifestyle of its occupant.
MONOCOT
www.monocotstudio.com
www.facebook.com/monocotstudio
www.instagram.com/themonocotstudio
Photography by Studio Periphery
Shop the Look
Ginger pendant lamp in living room, from Marset
Noguchi coffee table in living room, from Herman Miller
Wall panels throughout the apartment, from KD Panels
Bathroom tiles from RICE

We think you may also like 10 ways to fully maximise space in your home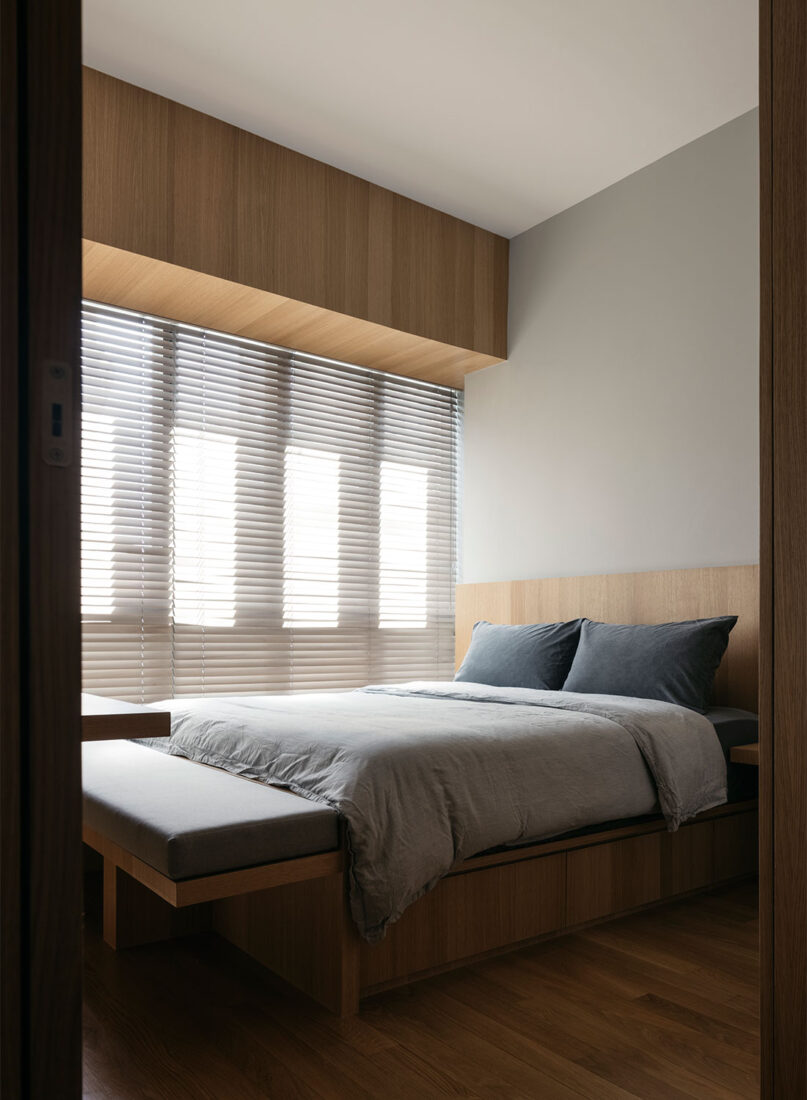 ---
---