Home Type: 4-room HDB flat
---
Text by Disa Tan
Both homeowners – a young married couple – are in the creative industry. That explains their preference for a pared-back look where less is more. They also like the industrial style. To meet their expectations, Daphne Cheng, the designer from IN-EXPAT created open-plan spaces where a simplified colour scheme sets the tone.
Teaming white walls with flooring in a woodgrain finish never looked so good. The harmonious blend is outlined by black accent tones which draw out the industrial aesthetic in the communal zones. Daphne also replaced the entrance to the study with glass panels slotted within a black frame with paned details. This marks a vast improvement in the flow of light and space in the entire unit.
With a semi-open concept adopted for the light-filled study, keeping visual clutter at bay is instrumental to retaining its room-widening effect. It helps that the designer applied the same flooring throughout to project a seamless effect. In the study itself, a curated selection of furnishings and decor ornaments in mainly monochromatic or muted tones also streamlines the overall look.
The expanse of space is made even more apparent by demolishing the boundary wall of the kitchen, thereby integrating it with the dining zone. One interesting thing to note about the new open-concept kitchen is its two-tier dish rack built right above the sink. The upsized drying rack spans 900mm in width and is covered by an opaque black tinted glass door.
Swathed in a neutral colour palette, the master bedroom has a simple but serene setting. A soothing symmetry of hanging pendant lamps flank the bed and these brass-plated lights work great as bedside lamps without taking up any tabletop space.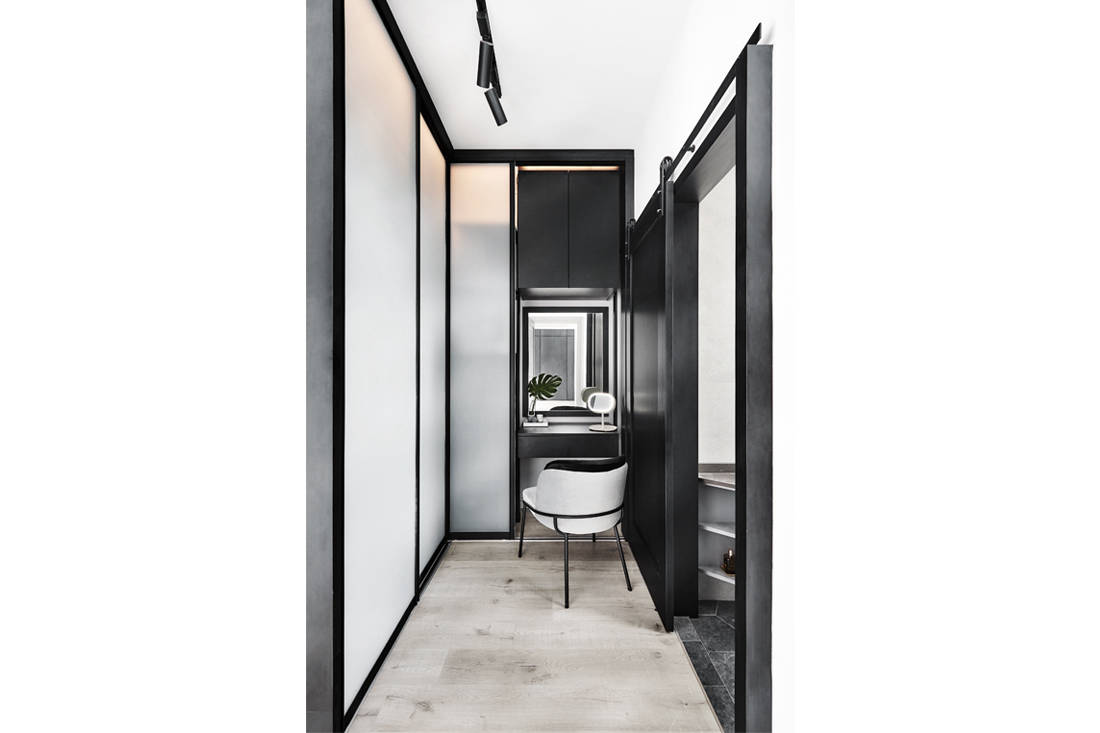 Without compromising on aesthetics or functionality, Daphne managed to fit a walk-in wardrobe into the master bedroom. "The homeowners did not want to sacrifice any space from the guestroom," she says. "They have over 200 pieces of clothing and needed a dresser. In the end, I used a pole system for the wardrobe and designed a compact dresser with a depth of only 750mm."
Like the rest of the home, the master bathroom takes on a restrained style with a minimalistic colour palette. Grey homogeneous wall tiles are overlaid over the existing ones. To create a focal point, dark hexagonal tiles scale the wall of the shower stall. The clean-lined look is kept fuss-free with a selective choice of bathroom accessories limited to matte black or brass finishes. Besides, this adds more character and brings an edgy visual twist to the minimalist look.
IN-EXPAT
www.inexpat.com.sg
We think you may also like A minimalist resale flat in black
---
---