Home Type: Duplex penthouse condominium
---
Text by Rossara Jamil
The modern city of Zhuhai in Guangdong, China, is located in the Pearl River Delta and enjoys easy access to the glitz of Macau. Blending space, culture and art, Cheng Chung Design Hong Kong drew inspiration from the city itself for its Mangrove Bay Citic Zhuhai duplex penthouse project.
That said, another interesting feature of the duplex penthouse is its quiet location in proximity to the rivers and the sea. This character is imbued into the interior design, where Cheng Chung Design emphasises calm and elegance. This mood begins in the foyer. A sculpture sits charmingly in a recess and like those seen in the rest of the home, an artwork with the colours of the sky and sea greets. The design firm also installed a fireplace, which provides a welcome respite from the cool winters of the region.
A mix of textures in a palette of warm grey, tan and white projects a serene ambience. At the same time, the attention on lines and symmetry, particularly in the dining area, bring strong focal points to the shared space. The firm customised a storage wall in the dining area so that every glass, decanter and other must-haves for socialising and entertaining has its place.
The space expands in volume, thanks to the ultra-high ceiling of the living and dining areas. Adding to the effect are the windows and sliding doors that stretch from one end to the other. The apartment opens up to a spacious curved balcony that affords the home a sweeping coastal city view.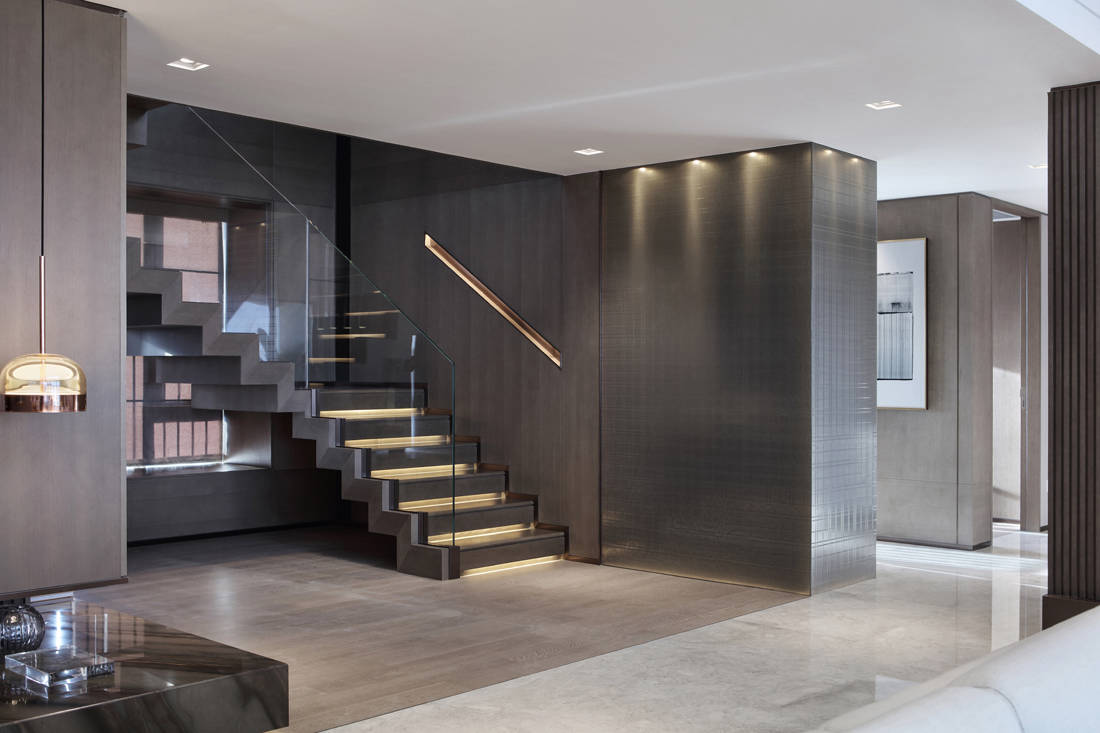 This being a sizeable home that spans close to 5,000 sqft, the firm gave the interior a layered look with partitions, slabs and strategic lighting. Many of the walls and custom solutions are clad in wood veneer, which adds warmth instantly. All of these serve to scale down spaces, where needed, for comfort. "The definition of the dream life has been elevated. The high-end house is not only concerned about the location, the size, and the material use, but also the level of comfort," says founder Joe Cheng.
As for layout, the powder room, multi-function room and guest bedrooms are located on the first floor. The homeowners enjoy privacy with the master bedroom located on the second floor. A circular entrance leads to the walk-in wardrobe, study and the master bedroom, each independent yet connected. This level also houses an entertainment space which includes a wine bar and a tea room.
In these spaces, the palette is subdued with its gorgeous greys. While each space bears unique nuances, there is consistency with the living and dining areas. Cheng Chung Design's architectural approach brings rigour and restraint to the interior, yet evokes warmth and amplifies the spatial merits with a sense of effortlessness.
Cheng Chung Design
www.ccd.com.hk
We think you may also like
---
---