Home Type: 2-storey + loft terrace house
---
Text by Redzman Rahmat
A complete renovation of this 70-year-old property allowed designer Kelvin Teo of Space Sense Studio to realise a unique interior/exterior combination for his showroom set within a home setting. Here, a narrow corridor enclosed in glass walls and ceilings forms a dedicated dining area that doubles as a light-filled work space. The glass panels also help to brighten up the house while effectively meshing the interior with the exterior.
Arguably the most eye-catching element in this house is the feature wall in the living area. Composed of scallop-shaped, felt acoustic panels, the design feature brings a sense of whimsy to the interior without weighing down the space. The wall has been treated with magnetic paint, and the panels can be attached and removed as needed.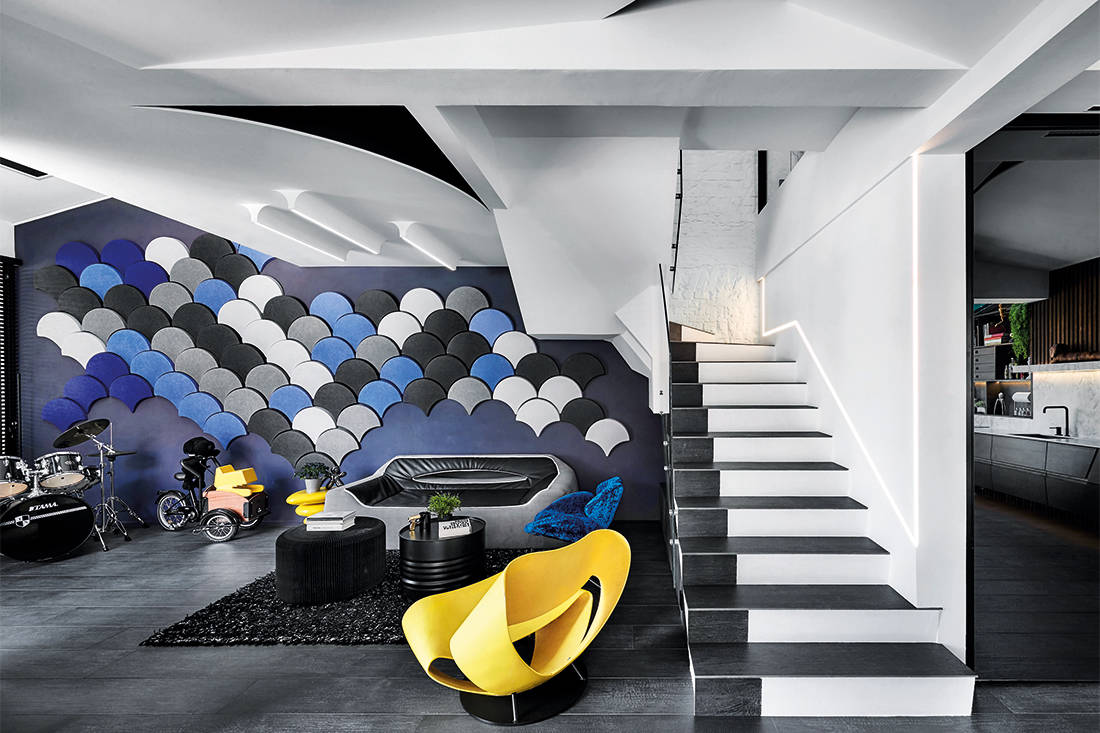 Over in the kitchen, a cantilevered island counter meets a retractable dining table, forming a convenient L-shape configuration. Wood strips form wall panels that hide the pantry, integrated fridge and the entrance to the adjoining bathroom. The full-length mirror is another concealed door that leads to the store room.
The main entrance is a wooden alcove with a large slanted door made from steel and glass. This sleek entryway complements the brick-laid facade of the house. Since the exterior of the house is swathed in neutral grey, Kelvin wanted to enhance the aesthetics with organic accents and textures.
The communal bathroom echoes the design direction of the other rooms on the ground floor. Here, a monochromatic colour scheme is complemented by a wall of greenery and a frosted skylight that filters natural light into the space. The standalone vanity island features three staggered heights for maximum usability.
In this house, Kelvin wanted to characterise each floor with its own theme and colour story. The first floor features a monochromatic scheme, with swatches of black that symbolise classiness, masculinity and a hint of luxury. Architectural lighting and interesting ceiling design lend an edgy character to the house too.
The attic is now a loft with a vaulted ceiling cladded in leftover solid wood panels from the renovation. Designed solely for rest, relaxation and the pursuit of hygge, it's a space that is kept isolated from the rest of the house, and yet, offers visual access to the other rooms. This is achieved with glass floors that overlook the rooms below.
Each level of the house serves different functions. The first level is a communal space designed for entertainment and the meeting of clients, the second level is purely used as a work space, and the loft is a resting place.
Space Sense Studio
www.spacesensestudio.com.sg
www.facebook.com/Spacesensestudio
www.instagram.com/kelvin_spacesense
Visit Space Sense Studio's profile here
---
---