Home Type: 5-room BTO flat
---
Text by Isabelle Tow
As a well-travelled duo, first-time homeowners Brenda and Alan wanted their five-room BTO flat to reflect their gutsy and worldly personas. They imagined a visual smorgasbord of expressive textures, pattern, and colour for their home, and commissioned design firm Shed Studio to realise their bold vision.
Over discussions, the designers gathered the couple's interior inclinations, of which their visits to various cafes and countries had the most influence. They noted their penchant for curved edges, as well as their request for cosy communal spaces to entertain family and friends. The consequent language that was developed for the home is eclectic yet sophisticated, composed of a bold and kaleidoscopic material palette such that at every angle one beholds a unique visual treat.
Upon entering the home, one is greeted by the surprising salmon shade that was picked out for the living room. The playful pink is contrasted by glossy indigo tiles along the television wall, with a geometric carpet and fabric sofa echoing the same rich blue hue – the layering effect of the materials cleverly balances each colour out. Lighting was kept to a minimum to highlight the main lighting feature, the artistic Planet lamp on the left of the television wall. This statement piece is one of many in the home, testaments of the owners' appreciation for iconic and well-made furnishings.
Besides the living room, the dry kitchen and dining area are perfectly conceived for hosting guests. The dining table, which is extendable, can comfortably seat a party of six. The bar stools at the island counter also offer extra seating for meals. The wet kitchen features two top hung cabinets, one concealing the dish rack, the other the cooker hood. The curved contours and teal finish of the cabinets, paired with the geometric floor tiles create a bold and unforgettable kitchen.
As with most BTO units, the common bathroom had an awkward layout and a small shower area. "We converted it into a powder room, so guests can now enjoy a long vanity that takes over the former shower space," says Sheena Sim, co-founder of Shed Studio.
To create a walk-in wardrobe, a common bedroom has merged with the master to achieve a larger suite. The layout fortuitously separates the wardrobe from the sleeping zone, and where the original master bedroom door once stood there is now a wall of glass blocks that draws light into the room. Dusky tones of navy and brown set a restful vibe for the bedroom, whilst maroon laminates sheath the wardrobes and quirky Muuto coat hooks double as door handles.
Despite the panoply of finishes in this home, the design is neither schizophrenic nor overwhelming. "We repeated patterns around the house, such as the circular shape of the lamps and the wardrobe handles, to create a consistency that ties the whole look together," says Sheena.
Shed Studio
www.shedstudio.sg
www.facebook.com/Shed-Studio
www.instagram.com/shed.studio
Photography by Studio Periphery
Shop the Look
Angle sofa by Bolia, from Danish Design
Living room wall light, Planet Lamp by PLEASE WAIT to be SEATED
Dining table, Skovby #33 from Danish Design
Cross side tables by Grado, from Commune
We think you may also like A colourful home built on life's cherished memories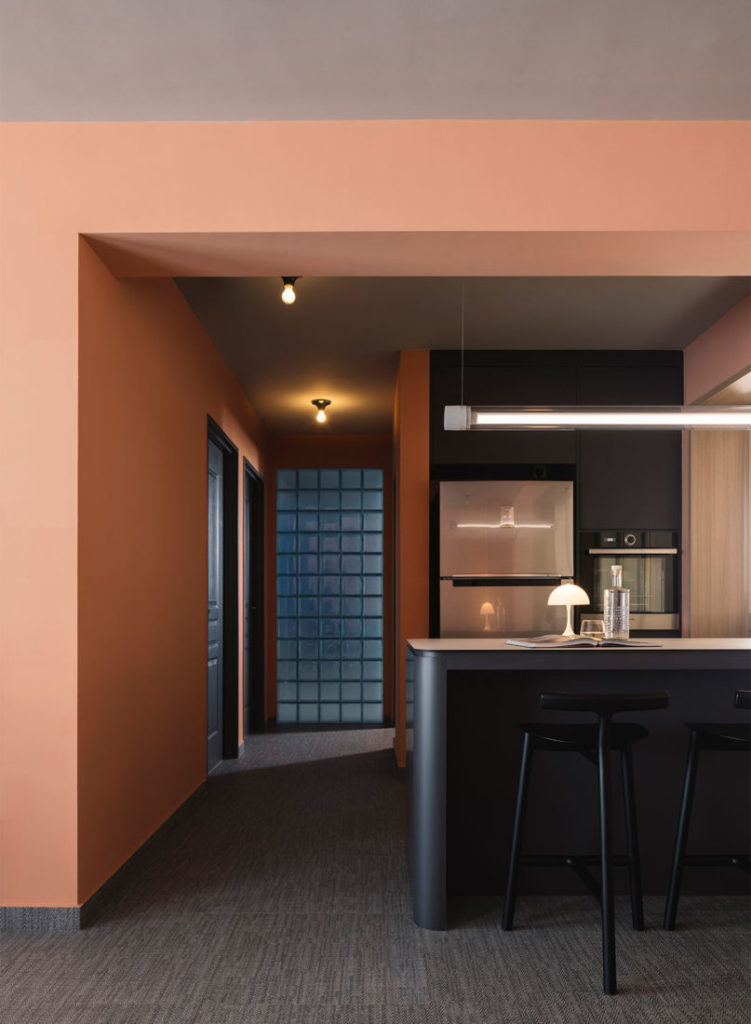 ---
---