Home Type: 5-room HDB flat
---
Text by Angela Low
What sets this HDB flat apart from others is its spacious art studio, situated at the heart of the home where the living room should have been. Instead, the living space occupies a smaller area beside the art studio. Mostly used by the wife who is a passionate painter, the art studio is zoned by floor-to-ceiling glass aluminium doors. This way, other parts of the home can also be illuminated by natural light that shines through the windows.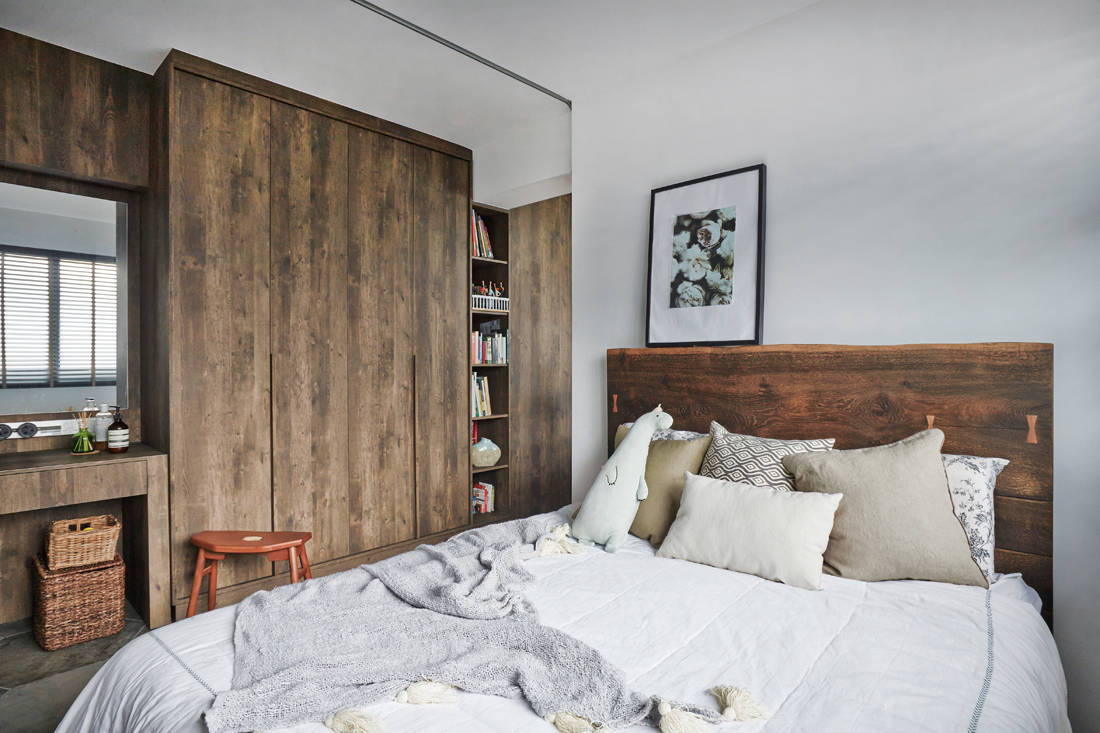 Lined up on one side of the master bedroom is a bookshelf, vanity dresser and walk-in wardrobe that stretches to the adjoining room. "The wall that once separated the two bedrooms have been taken down to accommodate this request. But it can be easily rebuilt in the future should the owners decide to turn the adjoining room into a child's bedroom," explains the design team from three-d conceptwerke.
One of the homeowners' wish list was to have an open-plan kitchen. "But we thought it might not suit the rest of the house," say the design team. "So we reversed the layout by opening up the kitchen and closing up the common spaces with glass doors." In doing so, the designers are able to highlight the quirky island counter clad with blue herringbone tiles. It is indeed a striking element that complements the hexagonal pattern of the floor tiles. Yet, it offers a warmer, livelier contrast to the rustic industrial space.
three-d conceptwerke
www.three-d-conceptwerke.com
We think you may also like three-d conceptwerke makes home personal
---
---