Home Type: 2-bedroom condominium unit
---
Text by Janice Seow
The owner of this two-bedroom apartment called on interior designer Royston Ho of Oblivion Lab to turn his brand new unit into an 'art gallery' home done in a moody, brutalist style.
"The client, who lives alone, has a good eye for unique objects, art and fashion, and aspires to have his own gallery one day," shares Royston.
Raw, unpolished and organic shapes and textures along with materials like concrete and cool metal have been used to establish the brutalist style throughout the apartment.
Monochromatic colours, clean lines, and minimalist interiors also channel the art gallery vibe so desired by the client, who has very singular taste.
"With this project, we applied materials such as stainless steel, microcement and stone textures. Unique furnishings and decor items from European designers were also incorporated into the space," says Royston.
Leather artwork on walls (T.A.S Japan) are both whimsical and mysterious. A burnt wood pendant light (WDSTCK) hangs above a custom mild steel dining table (r_r__labs). The dining chairs (Karstudio) are sculptural works of art, and the living room sofa (Studio Paulo Kobylka) is a minimalistic, upholstered bench that seemingly 'dissolves' into the cement texture painted walls (Deco Art Singapore). A raw stone-like wall (also from Deco Art Singapore) wraps the kitchen zone.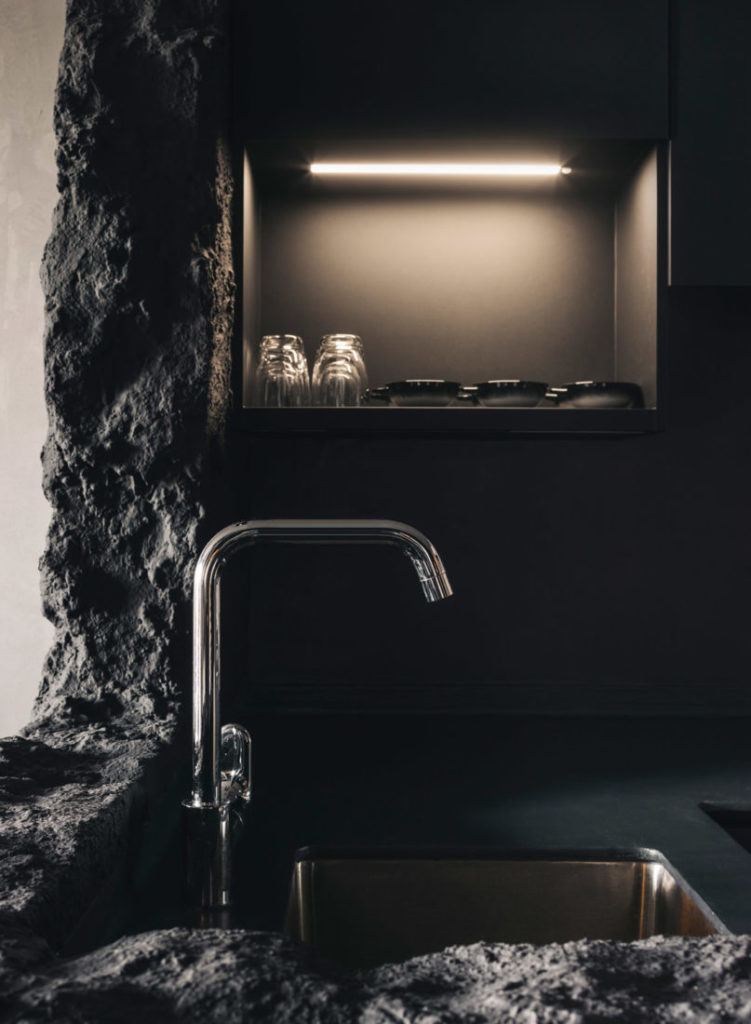 The two bedrooms have been combined to create a large master suite with a walk-in wardrobe. The latter is gallery-like with a single steel bench (Lucas Morten) from where the owner can sit and contemplate his avant-garde fashion collection. Some of these hang from a custom stainless steel clothing rack.
Says Royston, "We wanted something to display the client's collection of Carol Christian Poell clothes, and it was important it matched the grungy look of the brand. We worked with r_r__labs on the idea of a 'tree branch' made from stainless steel. These steel bars were hand-knocked and welded together."
Cool steel meets rough stone where a similar wall like the one found in the kitchen demarcates the dressing area from the sleeping quarters. The bedroom itself is a minimalist rest zone in the same palette of greys, cement and steel. And like much of what can be found in this art gallery/apartment, the bedframe and side table (Panoptikum Collections Gallery) are themselves functional art objects.
It may not be for everyone, but that's truly the point. This apartment is a singular home for a singular client.
Oblivion Lab
www.oblivionlab.com
www.facebook.com/oblivionlaboratories
www.instagram.com/oblivion.lab
Photography by Studio Periphery
We think you may also like A handsome, modern dwelling with raw touches
---
---