#1 Build for flexibility
If you live in a small apartment and work from home, then flexibility and future-proofing are key. The walls between two rooms in this four-room flat have been removed to create a shared study for a couple. Sliding and bi-fold doors can be closed for privacy and conference calls, or be left opened for companionship or to make the common area feel more spacious.
The work zones have even been individualised as his and hers, and instead of fixed storage cabinets, a versatile and lightweight wall-hung system can be reconfigured as needs evolve. What's more, the study can be converted into a guest or kid's bedroom in the future.
Design by Craftsmen Studio
#2 Work near natural light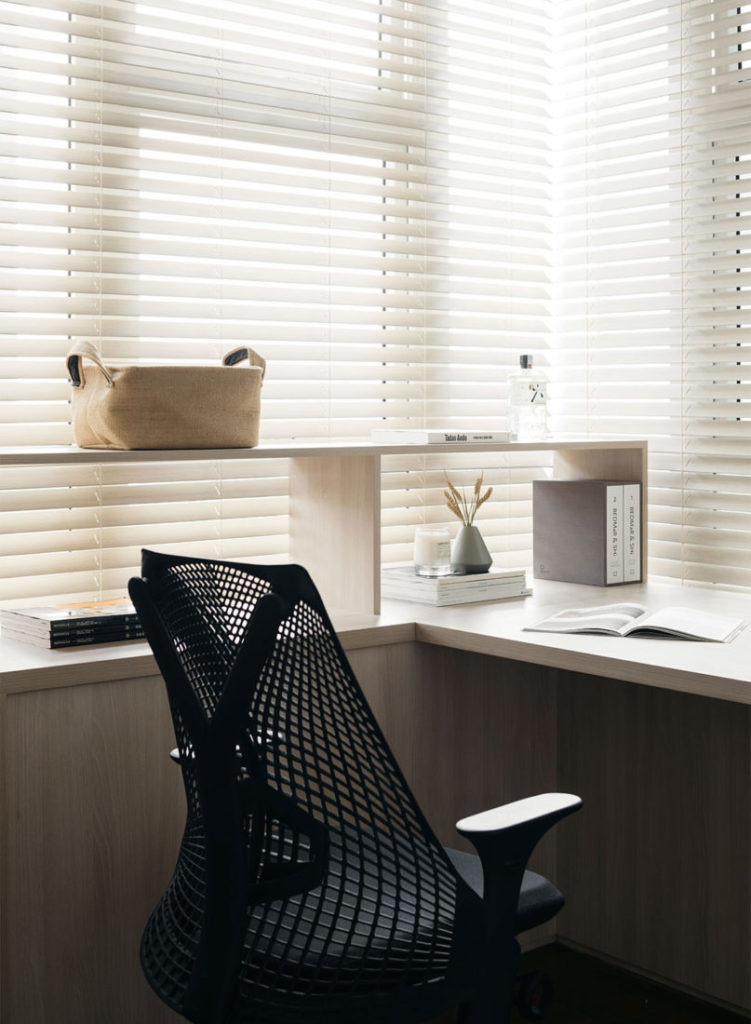 Studies show that natural light improves worker satisfaction, productivity and overall well-being. When designing your workspace, look for areas in the home with good daylight. Having a way to regulate the amount of light coming through your windows is also important, so don't forget to incorporate suitable window treatments. In this project, the design makes efficient use of a corner spot, with open shelves that let light through while keeping stuff organised. It also makes it easier to look for what you need.
Design by HEI Architects
#3 Keep cool
Having the air conditioner constantly on while you work from home is hard on the wallet and the environment. Look to a quality ceiling fan instead to circulate the air and keep the breeze constant.
Altis+ from Crestar is a smart fan that's compatible with Google Home and Alexa, and can be easily controlled via a mobile smart app or voice control. It comes in a hugger design that's perfect for Singapore homes with shorter ceiling heights. In addition, hydrographic wood prints in Walnut Wood and Maple Wood deliver a lovely and detailed organic woodgrain appearance for a design that's seamless and beautiful. Altis+ is offered in four classic options.
Altis+ fan from Crestar
#4 Spot on
Again, proper lighting is key. This is true whether you work from home or in the office. Besides ensuring that you have sufficient natural light, avoid working under the direct glare of overhead lights, and layer your lighting to fit the demands of the space and the tasks you will be doing.
The Dyson Lightcycle Morph has incredible features that put it in the super league. It has 360° manoeuvrability, and is not only a task light but provides ambient and indirect light as well. It can even be connected to the Dyson Link app where light can be calibrated according to age, task, mood and time of day.
Lightcycle Morph desk light from Dyson
#5 Sit well
Having an ergonomic chair that's well-suited to your body is fundamentally important when it comes to working well. There are many options in the market, so take the time to choose one that's right for you.
Featured here, HÅG Tion from Flokk is a sustainable and highly customisable task chair. It comes in a combination of responsibly-sourced wood, post-consumer plastic and recycled aluminium components, with or without armrests and upholstery, and in a wide range of colours, styles and finishes. It is lightweight and compact, making it easy to manoeuvre between spaces, while the HÅG inBalance® mechanism encourages movement and variations in posture. This chair is built to last and has a 10-year guarantee.
HÅG Tion task chair from Flokk
We think you may also like How to reduce stress with a feel good home
---
---