Home Type: 3-bedroom condominium unit
---
Text by Jasmine Goh
Decked out in dark tones, wood grains and black marble laminates, this three-bedroom condominium unit is a vision of sophistication. The homeowners, a couple in their thirties, engaged the designers from Nest Spatial Design to realise their vision of a posh-looking home with a cosy atmosphere.
The focal point in the living room is no doubt the full-height feature wall that doubles as a TV console. Clad in glossy black laminates and Tulio Marmo Carnico laminate from Lamitak, the feature wall sets the tone for the home as an elegant, soothing space. To ensure easy maintenance, the designers incorporated large storage compartments into the design, allowing for clutter to be easily hidden away.
Since the homeowners are avid cooks and love hosting friends and family in their home, they also wanted the communal space to be expanded whenever required. The walls of the study room just beside the dining area, were thus taken down in lieu of sliding panels. When the panels are open, the room is combined with the living and dining areas to create a larger space for guests to move and mingle.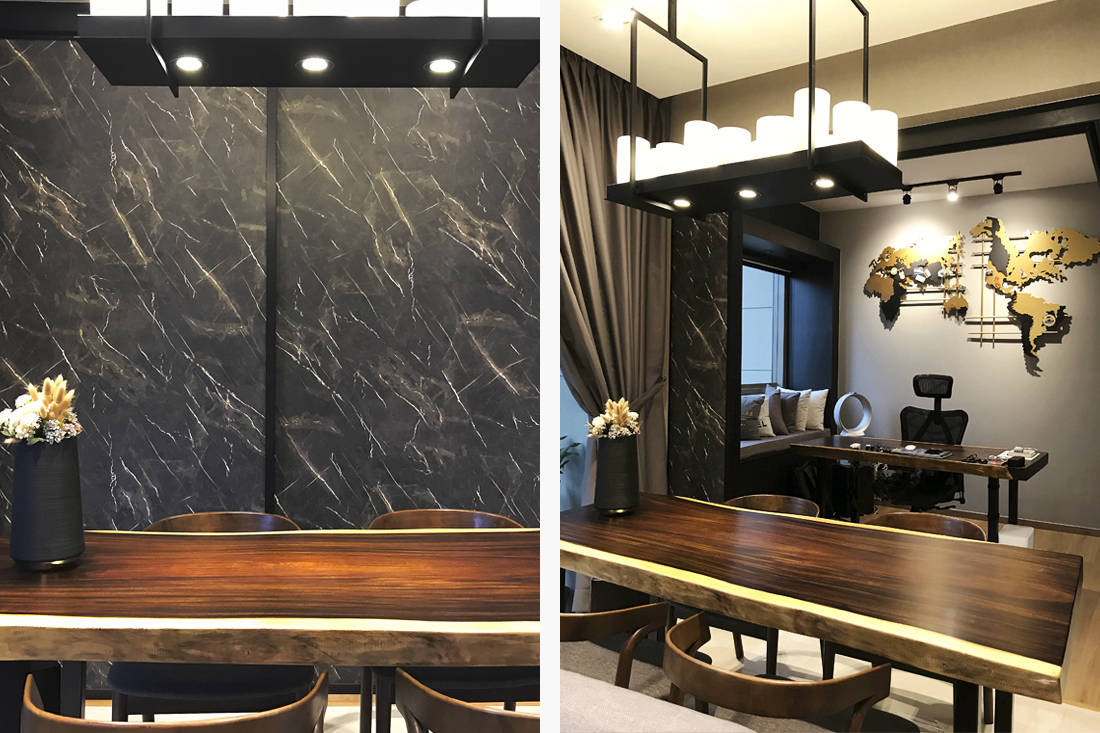 The young couple initially requested for glass doors – a common feature in many modern homes these days – to help open up the space. Instead of simply following the trend, the designers took into account the look they wanted to achieve and understood that this may not be suitable. They quickly proposed an alternative to the homeowners. "We suggested panels with a laminated finish instead, which add depth to the dining space when the doors are closed," says the design team.
Instead of glass doors where the study room would always be visible, these sliding panels, finished in the same Tulio Marmo Carnico laminate, provide a beautiful backdrop for the dining room. They also lend a posh look and feel that the homeowners requested.
Furniture pieces and soft furnishings sport dark neutral colours to maintain a consistent design language throughout the residence. Moody yet elegant and luxurious, this condominium unit is a place the young couple now call home.
Nest Spatial Design
www.nestsd.com
We think you may also like 5 ways to create more storage space in your home
---
---