Text by Janice Seow
Top image: Find a spot in your home with good natural light for a garden. Project by The Merry Men Interiors
The COVID-19 pandemic has sent the world reeling, and seen economies worldwide take a beating. As workplaces and schools close, and Singapore retreats indoors this month, it's time to look inwards to our homes, now our retreat spaces more than ever.
With that in mind, I've put together a list of easy and affordable home decor ideas and other activities that you can try this month, and all days of the year, to make your house look great and to feel good.
#1 Build a garden

(Left) Home of Tyco Tat, designer and plant enthusiast. (Right) Home of Gary Gay, a founder of The Merry Men Interiors

While we have seen a growing interest for urban and community gardens here in Singapore, this pandemic has also brought into sharper focus the country's dependency on others for its food supply. Even as the country sets its 30 per cent goal for home-grown food by 2030, now more so than ever may be the time to work on that home garden you've been thinking about. Why not take this downtime to start producing your own 'farm to table' greens?

Home decor ideas – the self-growing Smart Garden 9 is one you can place anywhere to brighten up the home
There are many innovative products out there to help even the most novice gardener. Check out the Click and Grow self-growing Smart Garden 9. Among its many features, its seedpods are biodegradable and don't contain any GMOs, herbicides or pesticides; its Grow Light is designed to offer faster germination and growth; its Smart Soil automatically releases nutrients, oxygen and water; it uses 95 per cent less water than traditional agriculture; and it enjoys low energy consumption.
#2 Get a home refresh – rearrange your furniture

This project by Artistroom is minimalist dream. See full feature here
An easy and super effective way to refresh your home and (hopefully) gain some added space (to accommodate the family's that #stayingathome) is to rearrange your furniture. You'll be surprise how simply moving pieces around can change up your interior dramatically. Best of all, it doesn't require any reno or buying new stuff, and gives you a natural workout.
Some tips:
1. Choose a focal point, be it a window, TV wall or something else, and arrange the furniture around it to give the room structure.
2. Think about the large furniture pieces first. Consider where they should be placed around the room and work the smaller items around them.
3. Ensure smooth traffic flow. Keep paths clear of obstacles and direct traffic around seating – not through it.
#3 Shop mindfully while you shop online

You don't necessarily need new when there are great designs to be given a good home. Original mid-century armchairs (set of 3) from Journey East
The practice of online shopping is here to stay, even beyond COVID-19. In these times, and with the ease of 'click purchase', it's all the more important to practice mindful shopping – to think about why you're making the purchase, about what you really need, and not let stress and emotion cloud your judgement. Shop with heightened awareness, shop responsibly, and shop for quality goods that last. It'll be good for the environment, your mental health and your wallet!

Home decor ideas – Jangneus Swedish dishcloths and tea towels from Your Sustainable Store dress up kitchens perfectly
Looking for home furnishings and accessories? Check out Journey East's webshop and current deals, and shop sustainably at stores such at Your Sustainable Store.
#4 Decorate your wall with memories

Family is… wall decal from Etsy to elevate that gallery wall

Home decor ideas – consider an alternative to traditional gallery walls, like the Clipline photo display from HipVan 
The crisis has reminded us of what's most important. Spend this time with your loved ones digging up family photos, reminisce the 'good old times', and select your favourite images for an inspiring family gallery wall.
#5 Clear clutter, get organised

RABBLA box with lid from IKEA
If you haven't already, now might be the time to try out Marie Kondo's method to keep only things that 'spark joy', and to organise by category, not location. Whether or not it works for you, the point is, clearing clutter declutters the mind, and gives you the space you never knew you had. Marie Kondo organises using her Hikidashi Boxes, but her key advice is to go for sturdy boxes with no distracting designs, which you can also get from places like IKEA. When done right, storage boxes look great placed out on open shelves.
#6 Stay fit – make a home gym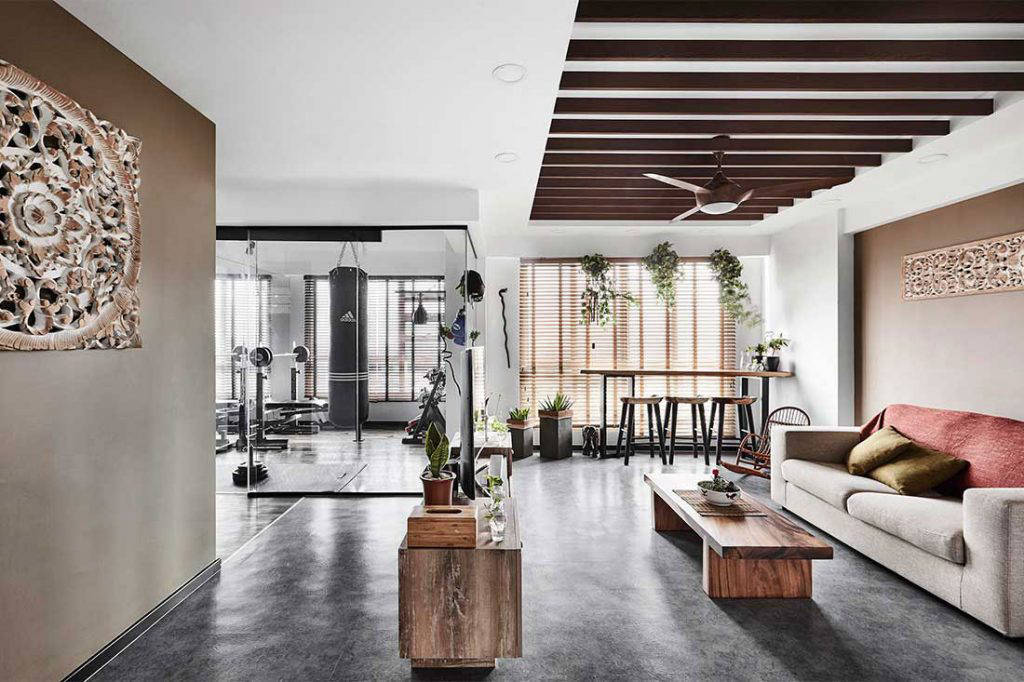 Project by Design Zage. See full feature here
So… you can't go to the gym right now. It's still important to exercise and keep fit though. I won't bore you with the physical benefits, but will like to remind that exercise can make you feel happier. For example, it is known to increase brain sensitivity for the hormones serotonin and norepinephrine, which help to relieve feelings of depression.
The lucky owners of this 4-room BTO flat got the help of Design Zage to transform one room into a home gym. Unable to create one? Fret not. If you've levelled a bedroom to enlarge your living space, consider transforming part of this extra area into 'gym zone'. Those with balconies can also convert them into exercise spaces with a view.
#7 Do a little good
COVID-19 has shaken up the world and affected all levels of society. In this climate, it's heartening to see ground-up initiatives being undertaken worldwide by individuals and organisations alike to help the most vulnerable.

The Table Guy's #WoodForGood catalog shows the measurements of each piece that's up for fundraising
In Singapore, The Table Guy has launched a #WoodForGood programme (see FAQs) to support vulnerable communities here through this time of economic uncertainty. All items in the #WoodForGood catalog (furniture pieces that don't fit The Table Guy's regular retail offering, and that can be offered to the community for repurposing) are available for purchase by private donation to The Table Guy's fundraiser campaign of the month. The April 2020 and May 2020 Campaigns aim to raise funds for Hagar Singapore, which supports vulnerable women and children. Those who simply wish to make a straightforward donation can do so here. The store's also committing a portion of its store sales to each month's fundraiser.
#8 #Stayathome with Lookbox Living
Every day, our Lookbox Living editors go in search of great home decor ideas and products to keep you inspired. We continue to do so from our own homes during this period. So follow us any time of the day, on our Website, Facebook or Instagram, for inspirational designs and practical ways to improve your home and life. And do pick up a copy of our Lookbox Annual 2020 magazine at newsstands if you can. Stay safe everyone!
We think you may also like Work from home: How to supercharge your productivity
---
---