Home Type: 3-room HDB flat
---
Text by Disa Tan
Against the odds, this small three-room flat in Bidadari has been tastefully overhauled into a much-loved family home. Art Director Chia Xue Ling of d'Phenomenal, who was commissioned to work on its renovation, says: "We were given a tight schedule of six weeks to complete the renovation with structural alterations for our clients, a married couple with two children. They are outgoing car enthusiasts who prefer things to be simple and functional."
Carefully adhering to a renovation budget of $60,000, Xue Ling proposed to hack away some non-structural walls which she felt were unneeded. That included the kitchen wall to make room for a chic eat-in kitchen.
Adding more flexibility to the open kitchen, she designed a moveable island counter with storage and power points. She says: "Whenever the homeowners need to entertain, they can move this island to another area to host more people." The curved edges of the island countertop decked in quartz is another thoughtful design consideration to make the space more child-friendly.
Xue Ling found ways to minimise visual distractions in the well-lit living room and improve on its spatial flow. She explains: "Other than hiding wiring and air-con trunking behind false walls and custom carpentry, our main challenge was to conceal a structural beam that was visible both in the living area and the adjoining room."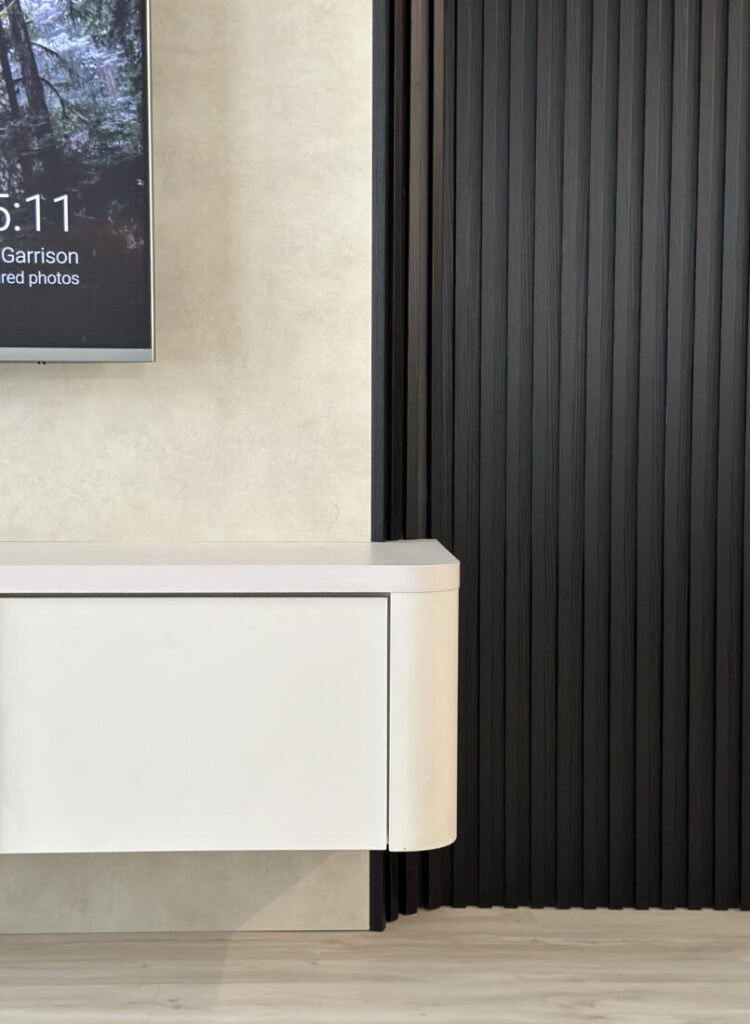 She designed a console with a curved detail and lined the wall with carpentry works bearing a fluted finish. This renders a seamless visual effect that also cleverly masks the slight difference in thickness for the walls. The entrance to the master bedroom is neatly concealed by a secret swing door behind this fluted panel.
The designer also chose to remove a wall in the master bedroom to fit an L-shaped wardrobe, which now serves as a divider to separate this space from the living area. She says: "Though there is a constraint of space in the bedroom, the homeowners wanted more storage here." The wardrobe features an integrated vanity area, and glass sliding doors reduce the visual bulk of the cabinetry.
Clad in terrazzo-inspired wall tiles, the master bathroom displays a more playful vibe than the rest of the home. This patterned backdrop is perfect to let the bathroom fittings from HERA shine in chic black.
d'Phenomenal
www.dphenomenal.sg
www.facebook.com/DPHENOMENAL1976
www.instagram.com/dphenomenal.sg
We think you may also like Turning a DBSS flat into a lifelong home
---
---