Home Type: 3-bedroom condominium
---
Text by Airis Abdullah
When it comes to home renovation, having different ideas for a shared home is more common than many of us think. That was the experience for the owners of this condominium unit in the west of Singapore. While the wife wanted a minimalist, contemporary space, the husband had a liking for plush hotel-like interiors. Their interior designer, Samantha Ng from AP Concept, aimed to connect these ideas cohesively.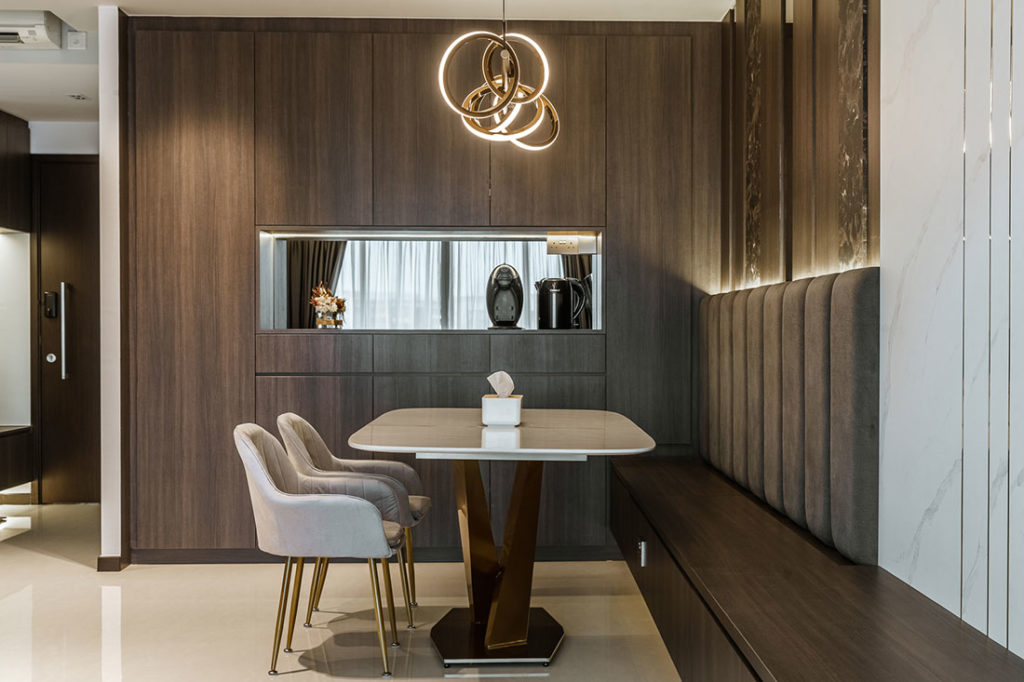 The dining area exemplifies this approach, where the furnishings are streamlined for a clean look. A customised booth seat that serves as storage lines one wall. To give the space a hotel-like ambience, dark laminates with fine woodgrains complement the padded backing and statement light.
The customised seating flows towards the living area, adjoining the console. While the dining area is dark and cosy, white marble-look laminates chosen for the television feature wall give a different vibe. That said, it retains the relaxed, warm feel with a plush leather sofa perfect for unwinding at the end of the day.
A plus of this unit is that the master bedroom is spacious enough for a sizeable wardrobe. The design team gave the L-shaped wardrobe black-tinted glass doors. The result is an elegant look that does not overpower the rest of the space. The bed area is comfortable and restful with the use of woodgrain laminates.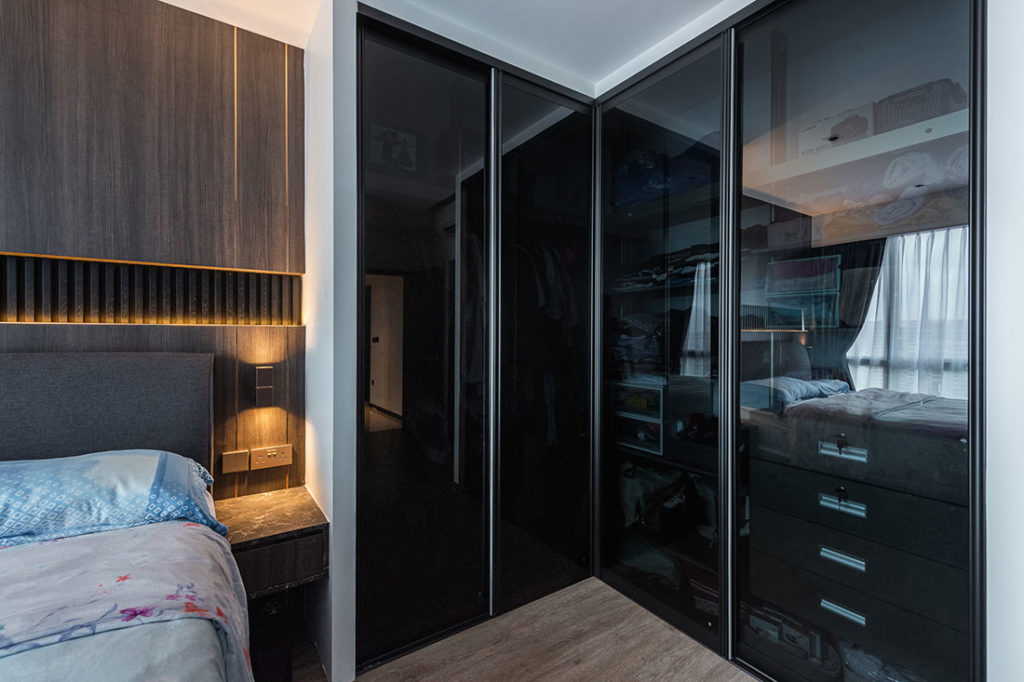 Using the same woodgrains throughout the home brings a sense of consistency, which is comforting and pleasing to the senses. Samantha was also keen to introduce depth to spaces, and she did so for the bedroom with bedside wall lights, metal inlays on the feature wall and a strip of fluted wall panels.
Not everything was overhauled in the house though. The design team kept the existing tiles and layout for the master bathroom. The bathroom now sports new fixtures and fittings, including a customised mirror with storage. Its dark patterned laminates complement the black marble wall tiles.
Overall, the home fulfils the homeowners' wish to have less furniture and more space, with the strategic choice of materials and lighting coming together to give this home an upscale touch.
AP Concept
www.apconcept.com.sg
www.facebook.com/apconceptid
www.instagram.com/ap.concept
We think you may also like Chic living near the coast
---
---