Home Type: 4-room HDB flat
---
Text by Redzman Rahmat
The young couple staying in this four-room HDB flat are easygoing, relaxed and have an affinity for nature. It was only natural that they wanted their home to reflect their personalities. The team from Ethereall complied with an interior design plan that is heavily inspired by modern tropicana.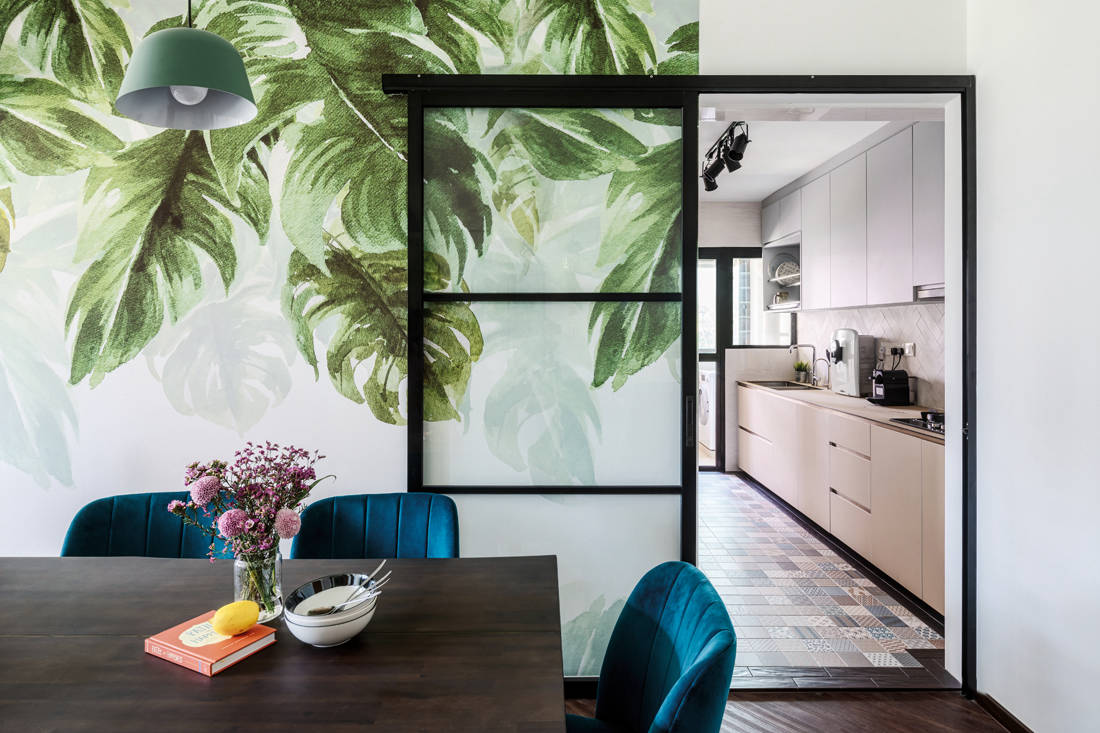 To bring across the idea of a modern tropical interior, the designers placed a mural wallpaper on the shared wall between the living and dining areas. The image of oversized leaves brings greenery into the space and accentuates the sense of space in this home, despite its tight footprint. To keep the home looking sleek, black-framed sliding glass doors separate the kitchen from the rest of the home.
The modern interpretation of the tropical look is defined by bright interiors, lush greenery and plenty of wood tones. In this home, the contemporary take on the design style results in interiors that are light, airy and inviting. Further elevating the look are dark wood herringbone floors, wood trimming on the walls and hints of greenery throughout the home.
One of the walls in this living room has a shallow alcove that breaks its wide expanse. Instead of plastering over this indentation, the designers decided to transform it into a defining feature. First, they installed half-height trimming across the wall, visually emphasising the length of the room. Then they mounted a pair of tall, arch 'windows' that are actually mirrors, and coupled these with wall sconces. The effect is immediate and this once unassuming area is now a focal point in the home.
In this compact living room, the designers played with colours, textures and built-in furniture to maximise space. A faux marble wall becomes the backdrop for the television set, and the console becomes an extension of the bay window settee. The carefully chosen material and colour palettes are more than enough to give this room its unique personality.
It's unconventional, but not impossible, to install a bathtub in an HDB flat. Here, the designers wanted to introduce a sense of luxury to the bathroom despite its small size. They specially sourced for a tub with the correct dimensions and designed the rest of the room around it. Monochromatic black and white, hints of marble and customised cabinets transform this room into a luxury space.
To make room for a walk-in wardrobe, the designers combined the master bedroom and a spare bedroom. These specially customised ceiling-high wardrobes provide more than enough room for the homeowners' clothes.
Ethereall
www.ethereall.com
www.facebook.com/Ethereallsg
www.instagram.com/ethereall__
We think you may also like Urban farmhouse in a condo
---
---