Home Type: 5-room HDB flat
---
Text by Airis Abdullah
When they purchased this five-room resale unit, the homeowners, a couple in their 20s, had a rather ambitious vision for their home. The wife did not want it to look like a typical HDB flat, and the husband added to the wish list with his request to incorporate dark and inky hues. What sounded like a rather broad brief (and one open to interpretation) became a springboard for a well-considered design concept by the team from Icon Interior.
There was little that the couple wanted to keep from the old flat. The team reconfigured the layout to create roomy and luxurious living spaces. Juxtaposed against the dark flooring is an entire wall of fluted panels that stretches across the living area. This mix of luxe finishes gives the home a timeless, upscale look. The team focused on precision, opting for a slim television console and minimal furnishings.
Discreet doors leading to the bedrooms are incorporated into this wall, giving the space a seamless feel.
Another standout feature is the wall feature with hidden lighting on one side. The result is a theatre-like space, perfect for weekend movie nights in the comforts of home.
Kitchen cabinets in matte black laminates contrast against the white marble-look quartz surfaces. Icon Interior proposed smaller upper cabinets. As a result, the work area, flanked by slim, full-height storage, looks beautifully framed. But there's more than style, as the storage solutions are planned for easy organisation.
The fluted wall panels make an appearance in the master bedroom too, for a consistent look.
The design team planned a long L-shaped seven-door wardrobe that stretches to the bedroom door. Next, they installed black glass doors and fitted it with lighting. Together with the standout fluted panel, the ambience is that of a luxurious design hotel.
There's a balance of light and dark with one corner of the room clad in white with brown accents. The team incorporated customised storage for the couple's accessories here, together with a metal frame electroplated in gold framing the marble-look laminates to create a look that spells modern luxury.
Space means luxury, which the design team wanted to create. To tackle the issue of a small bathroom, the team expanded the area by converting a corner outside the bathroom into a vanity space.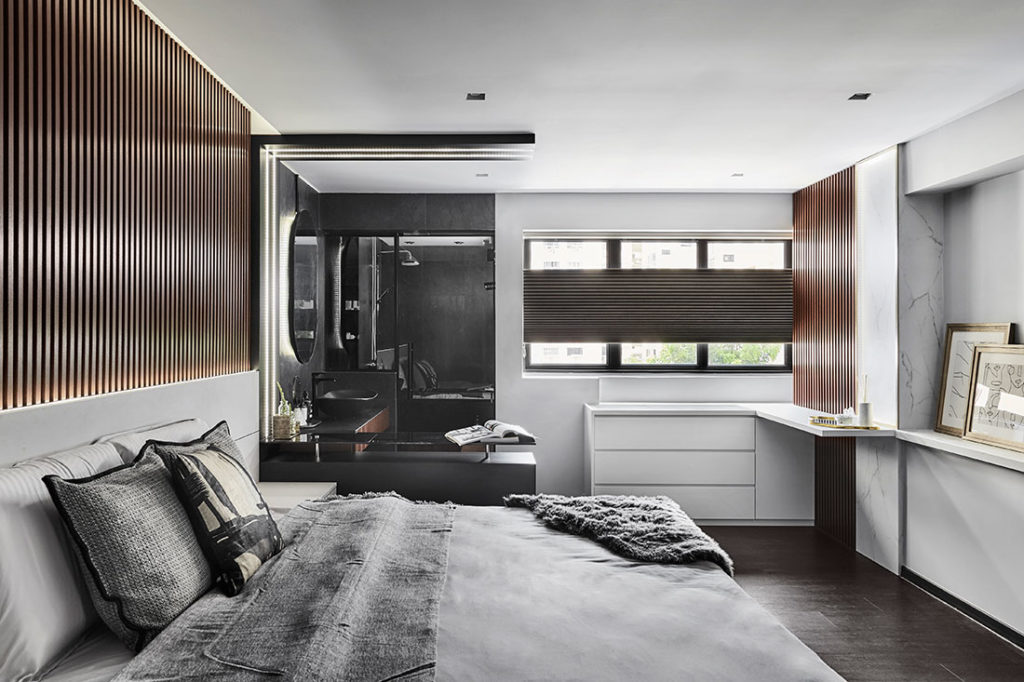 Dark walls and wood-look tiles give this bathroom its cosy resort-like ambience. A sunken floor allows the couple to enjoy a warm and luxurious foot bath, just like what one would find at a Japanese onsen.
Icon Interior
www.iconinterior.com.sg
www.facebook.com/iconinterior
www.instagram.com/iconinteriordesign
We think you may also like A dark and handsome apartment for one

---
---