Home Type: 3-bedroom walk-up apartment
---
Text by Redzman Rahmat
This light-filled walk-up is located on the top floor of an old apartment block. While it was initially in a bad state, Lawrence Puah and his team from akiHAUS Design Studio saw the hidden potential within its architectural bones.
After studying the as-built drawings and plans from BCA, Lawrence realised that this apartment had a pitched roof that could potentially be exposed and incorporated into its interior design. After much planning, he and his team decided to transform the apartment into a majestic home with a vaulted ceiling and its own solarium glass house.
Removing the existing ceiling revealed the carcass of the pitched roof. The team went ahead to repair the rafters and install new waterproofing and insulation. The result was immediate: the apartment is now airier, larger, and somewhat reminiscent of a landed home.
Lawrence then reworked the spatial flow of the home to better complement the beautifully exposed rafters. The walls of one of the bedrooms was removed, making way for an open study that's connected to the living and dining areas, as well as the open kitchen. The homeowners entertain regularly, and this inclusive space is ideal for socialising.
Another highlight of this apartment is the newly minted sitting area that runs along the length of the living and dining rooms. It's located where the balcony used to be, and is now a full-fledged solarium, an indoor space that feels like it's outdoors.
Here, Lawrence installed wall-to-wall windows to capitalise on the views outside and allow natural light to filter into the home. He also redesigned the ceiling of the solarium, using aluminium frames and mirrored panels to "evoke the spatial qualities of an actual solarium". It's an effective and well planned design feature that can easily trick the eye into believing that the space is fitted with clear glass.
The rest of the home is no less impressive. Wood panelling runs across all the walls, but stop at a height that's in proportion to the scale of the apartment's high ceiling. This helps create a seamless look that's aesthetically reassuring. Similarly, Lawrence felt that all entryways could have curved corners instead of the typical sharp, right angles. This balances out the already angular design of the vaulted ceiling while acting as transitory portals that frame the rooms in a softer light.
Plenty of forward thinking and design preparation went into the redesign of this apartment. From the spotlights that illuminate the vaulted ceiling to the well considered material palette that never overwhelms, akiHAUS successfully breathed new life into this walk-up apartment.
akiHAUS Design Studio
www.akihaus.com
www.facebook.com/akiHAUS.Design.Studio
www.instagram.com/akihaus.sg
We think you may also like A home that's made for new ways of living and working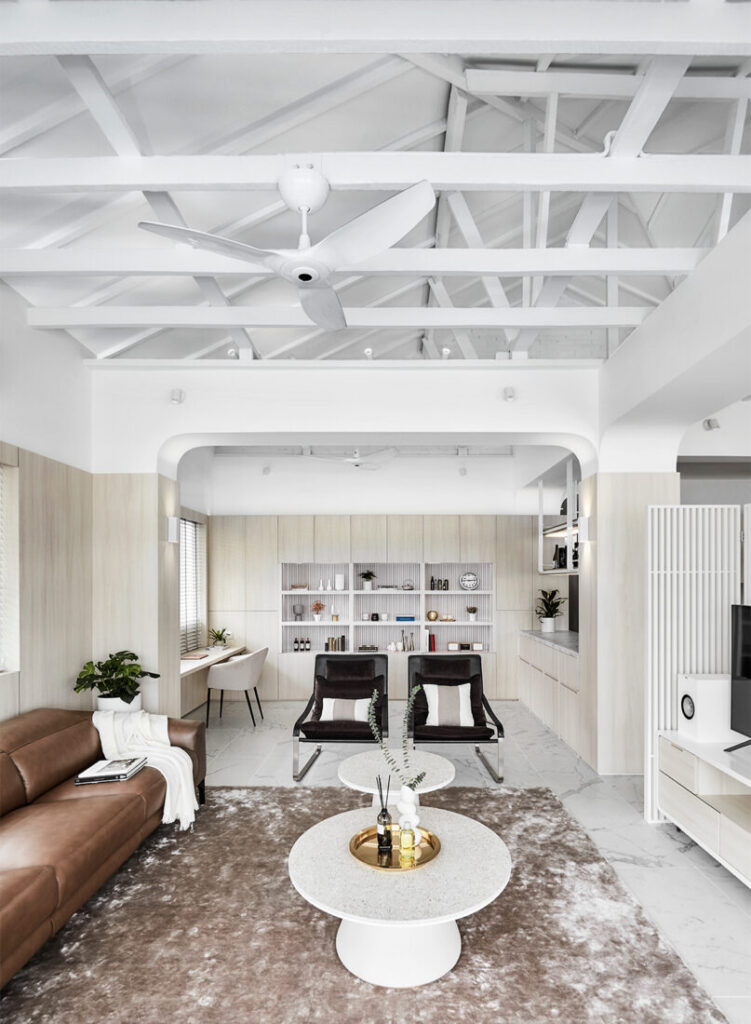 ---
---