Home Type: 5-room HDB resale flat
---
Text by Rossara Jamil
Brothers Fabio and Hendro wanted a sleek and minimalist home with distinct focal points. Joey Chia, the designer from IN-EXPAT, brought definition to the interiors by way of black 'colourblocks'. This is most clearly seen in the dining area, which sports black-painted walls, and ceiling. "For the design of this apartment, the contrasting colour has helped to create spatial highlights against the neutral backdrop," she explains.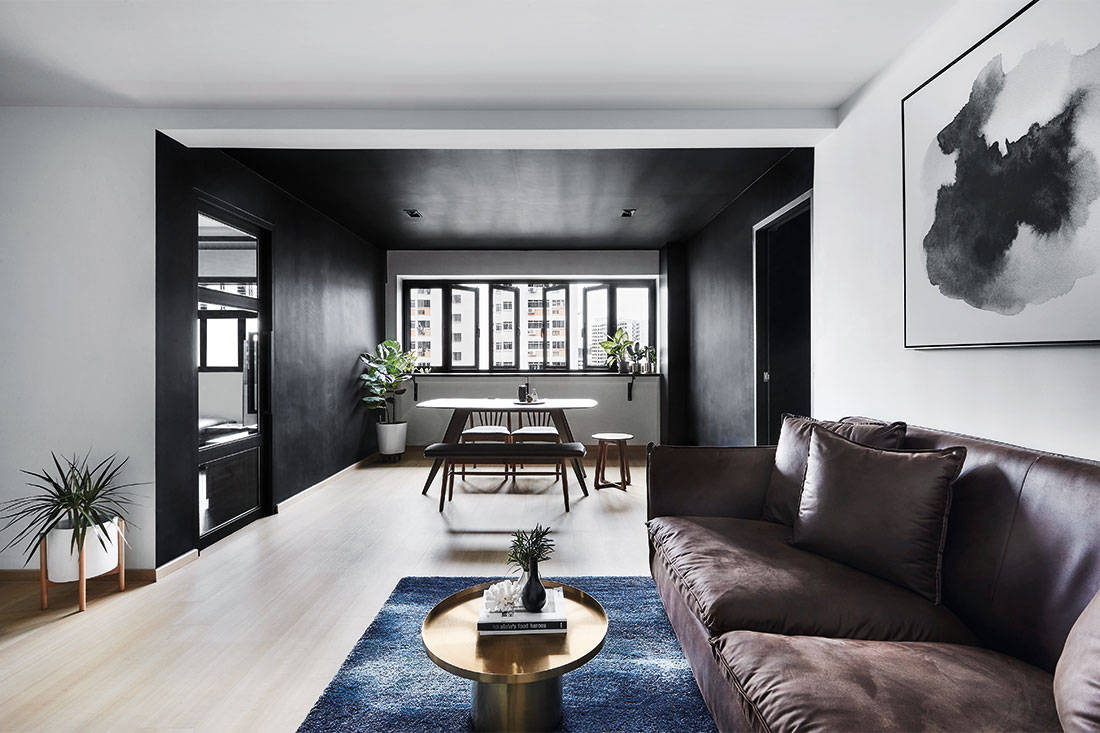 With its herringbone flooring and dark timber strip wall cladding, the foyer is home to a medley of lines and patterns. Instead of full-height storage units, Joey installed a mid-height cabinet along one wall, thus visually lengthening the space. Minimalist yet engaging, it does the job of meeting the homeowners' storage needs and conveying the style that is to come in the rest of the home.
In most cases, confined spaces like the typical kitchen wouldn't be able to manage large swathes of black. But given this kitchen's roomy layout and abundance of natural light, Joey knew that it could pull it off. One of the brothers is passionate about cooking, and requested for plenty of storage space for cooking and baking appliances. "To prevent it from looking overly cluttered, we consolidated the storage requirements into a large tower," Joey says. She also incorporated a gold coloured glass backsplash for a touch of luxe.
Every space has its pros and cons, and that is also the situation here. "There were numerous awkward structural walls and beams that were challenging to conceal or integrate into the design," says Joey. Instead of concealing them, the beams in the living area now serve to draw the eye to the lounge. Black surfaces anchor the overall concept, but Joey introduced other bold colours as well. Stretches of blue and brown, via the furnishings, add panache to the living area.
Joey was able to accommodate a spacious wardrobe area in the master bedroom. She also reconfigured the entrance to the master bedroom to make space for a vanity area located outside the original bathroom. In all, the space, with its custom-built brass-plated mirror, LED lighting and dark grey cabinets, exudes hotel-like sophistication.
"The clients were very proactive throughout the whole process. They would constantly take pictures and ask for my opinion when shopping for home decor and furniture," Joey recalls, adding that she enjoyed working on the project. The brothers' individual tastes find expression in the bedrooms. One prefers a bright and cosy look and the other, dark and mysterious. In the latter, black laminates on the wardrobe and a matching bedhead wall evoke a sensuous mood. Lastly, angled handles on the wardrobe doors add a graphic touch.
IN-EXPAT
www.inexpat.com.sg
---
---