Text Janice Seow
Ikea has been collaborating with many well-known international designers recently, and one collection that we've been looking forward to seeing is the much talked about Ypperlig collection designed by Danish design company Hay.
The affordable collection is made up of basic, everyday contemporary products, and includes larger pieces such as sofas and coffee tables all the way to smaller accessories like mirrors, and even an updated version of the iconic blue Ikea bag.
Some products worth noting!
# With the Ypperlig sofa bed, the design team wanted to achieve a product that not only looked great, but that would ensure a good night's sleep. Getting the right construction and stability was a challenge but they solved it by using a spring mattress as a seat!
# Plank tables form a big part of Scandinavian furniture tradition. Hay has created a modern take on it. Using the latest board-on-frame technique that offers extra durability, combined with solid wood legs and a metal under-frame, the outcome is a stable, white stained ash veneer table with a natural look.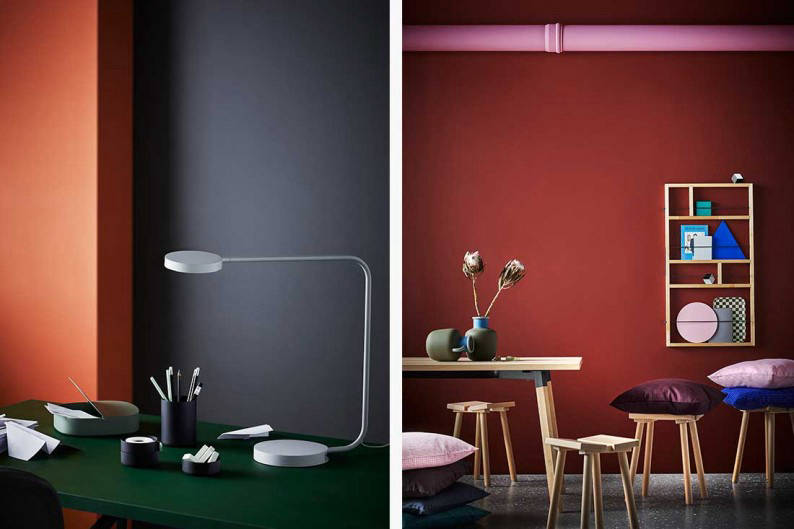 Hay's co-founder Rolf Hay tells us more about Ypperlig.
How has this collection been designed for modern day living?
This generation is always searching for new opportunities and is constantly moving. Now more than ever it is important that the furniture and the elements at home reflect this mentality. I hope when younger people are buying our product they care more about each individual piece; that is, the object should mean something to them and they should believe that they would want to live with it for many years. Then the quality of the space becomes about living in an environment where everything is a piece you care about, and that is essentially how the collection relates to modern living.
What was it like working with Ikea?
Working with Ikea means also working with some of the finest tool makers in the world, the best engineers, and the best producers. Throughout the entire process Ikea has been completely open to sharing ideas and techniques; they never said anything was a secret. The open atmosphere and constant sharing of knowledge has been something truly special and definitely one of the most exciting parts of the project, and something we hope Ikea feels the same.
We hear that the Monobloc chair is one of your favourite pieces. Tell us why.
What I like about the Monobloc chair is that it is an honest product. What you see is what you get. It is light and transparent, and paired with high comfort. You can also decide to buy an upgraded version of the chair with upholstery. So, you can look at the chair from many different angles – it can be an outdoor chair but it can also be a comfortable indoor dining chair and a lounge chair.
We also hear more from Marcus Engman, Head of Design at Ikea.  
Why did you choose to collaborate with Hay?
All of our collaborations start with a topic, something we want to change or solve. And then we team up with people who we believe we can make something good with. With Hay we felt that they are a very curious company like us. They dare to try out new things and we wanted to explore everyday basics for the home and how to use new production techniques to make things better.
What key trends do you observe in how people live today? How is Ikea responding?
There are several, but one big movement is how people look for more personalised furniture, and this is a big question for us. If we produce large scale, it will [all] be alike. If we produce things that can ́t be updated or changed, it will [all] be alike.
So to give you two examples of how Ikea is responding to this; we are look into mass produced uniqueness together with Piet Hein Eek who is a great craftsman and well known for creating uniqueness. We're working on new production techniques and ways of using material that will result in a variation.
And we [are looking] into a new way of making sofas with Tom Dixon. An open platform that offers endless possibilities as you can click things onto the frame, change the shape, size or colour [based on] your personal references or ever-changing needs. I do believe that this will prolong the life of this product a lot and thereby lead to a more sustainable solution.
---
---