Text by Janice Seow
After almost a year in the making, the new SCENE SHANG store at Raffles Arcade has opened its doors, and shopping here promises to transport you back in time.
To retain as much of the ambience of the historic building's original space as possible, the high ceilings in the SCENE SHANG store have been kept exposed. What's more, imagining what the space would have looked like if left to nature to age and take over, SCENE SHANG has collaborated with artists to create walls with an aged mossy patina, and with old Shanghai Calendar Girl posters from the owners' own collection embedded into them. Creepers, figs and ferns have also been added as decor to suggest the traces left by nature over time.
The new SCENE SHANG Raffles Hotel location sets the scene for a lovely range of limited edition, heritage-inspired furniture and furnishings that are exclusive to the store. Here, we've picked four great finds that will make a statement in your home.
#1 Heaven Earth Dining Table
With its elegant material pairing and distinctive design, the Heaven Earth Dining Table promises to be a talking point at any dinner party. The square base is made of brushed, brass-plated stainless steel, and supports a one-of-a-kind Arctic Dawn marble top, a material that's formed by mineral-laden ice and calcite over centuries. Mossy green leather wrapped chairs with black ash wood legs capped with brass completes this harmonious dining scene.
#2 MING Console Table – Double Layer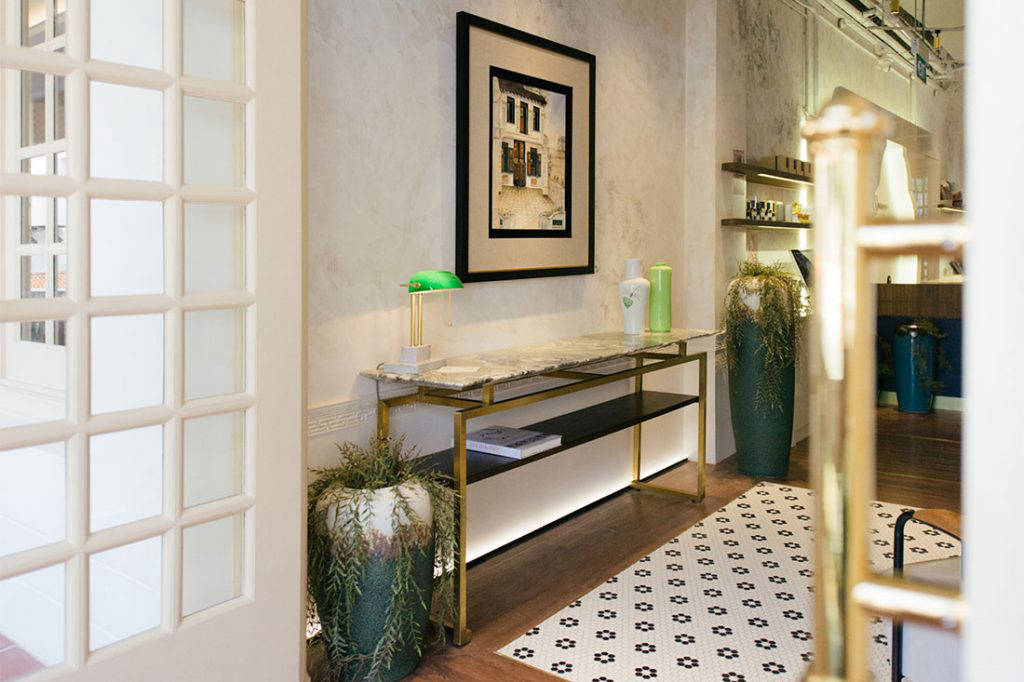 The Ming dynasty is widely regarded as the golden age of Chinese furniture. Drawing inspiration from the uplifting lines and designs of that era, the MING Collection gives it a contemporary spin through the use of exquisite materials such as brass and marble.
Showing that timeless elegance never goes out of style, the MING Console Table is a contemporary take on the Chinese Ming style writing table. It can be used as a console, a sideboard, or a writing desk – and fits well even in the tightest spaces. How relevant is that for today's modern apartments?
#3 MING Side Table
From the same collection comes this beautiful MING Side Table, a perfect piece to grace one's living area. The sharp and elegant lines, and use of exquisite marble and brass materials makes this piece a stunner, not a 'side show'!
#4 MENG Writing Desk
The handsome MENG Writing Desk invites you to spend time penning your dreams. Elegant and sleek, the desk plays on straight lines and geometric curves and features a handsome combination of walnut grain and grey oak veneer. It's lifted by brass plated stainless steel legs, and the centre drawer sports a brass plum-shaped keyhole feature – for you to store your secret manuscripts perhaps? Designed with modern lifestyles in mind, subtle slits at the back of the table also offers a neat arrangement of your cables.
Check them out personally at the new SCENE SHANG store. SCENE SHANG Raffles Hotel is located at 328 North Bridge Road #02-09, Singapore 188719.
See more on SCENE SHANG in the Lookbox Collection
---
---