Walk-in wardrobes have been around for centuries. For as long as humans have had clothes, we have also had closets. Perhaps ancient clothing storage systems might not be considered 'wardrobes' in the modern sense – such as the Egyptian reed baskets or the Greek alabaster chests – but they served the same purpose, as will the closets of the future even when they are unrecognizable from today's wardrobe designs. Walk in closets in their earliest form served more than a storage purpose; they were also a space for entertainment like art and music.
The origin of walk-in closet design actually began with Roman soldiers in the medieval period. These soldiers initially stored their weapons and armor in a plain wooden box which they would transport from location to location, but over the next few centuries these boxes would evolve into elaborate cedar chests and then eventually the armoire.
An armoir was the beginning of the freestanding wardrobe design, first originating in France during the 17th century and originally designed to store weapons, armor, or tools. This design was popularized in the 18th century and became the primary vessel for clothes storing among the wealthy. Some armoirs were built directly into the building's foundation, making them the very first walk-in closets.
Walk-in closets are certainly coveted in today's society, though they are not all that common. Walk in closets can be quite expensive and they are rarely a feature of small houses or places where space is a concern. However, homeowners with the space and finances to install a walk in closet will almost always do so. This is because walk-in closets have a huge number of benefits, not the least being their aesthetic value.
Walk in wardrobes can also serve as a dressing room because of their vast space, unlike merely built in wardrobes. They provide a huge amount of storage, and for those who are passionate about fashion some walk-in closets have been known to be larger than the actual bedroom itself.
Walk in closets allow for an extra room with which you get to experiment and play with design features. They are an opportunity to display personality through design, as they are one of the most personal rooms in the house (after all, guests are rarely going to insist their tour ends in your closet).
A good walk in wardrobe should express parts of your personality and be filled with the things you love most in the world. This usually manifests in the form of cozy furniture with a number of personal decorations like pictures, mirrors, and a space to organize your clothes/storage.
Try to match the design of your walk in closet to the rest of the house, but make it unique where you can. Modern trends with walk in wardrobes are seeing a shift towards monochromatic colour schemes and soft lighting. For more general ideas on HDB renovations, see here.
Walk in Robe Ideas: 4 designs for a small walk in robe
4. Repurpose a Bedroom
Finding space for a walk in closet is generally the hardest step. Small bedrooms generally don't have the space to squeeze a walk in closet somewhere as well. However, repurposing one of your spare rooms is a simple DIY solution that will allow you to make the most of the available space.
Now, not everyone has a room that they can (or want) to sacrifice just to have a walk in closet. Creating a multipurpose room is one way around this. A bedroom-turned-closet could easily double as a study – especially if you purchase a desk with wardrobe storage and the like. Similarly, you could keep the room as a guest bedroom through the purchase of space smart furniture such as a sofa or folding bed.
Another option might be to make your spare bed a loft bed like this one from Ikea, and store your clothes underneath. This way, you do not have to sacrifice floor space for your closet but you still have a place for guests to sleep when they come to visit.
3. Glass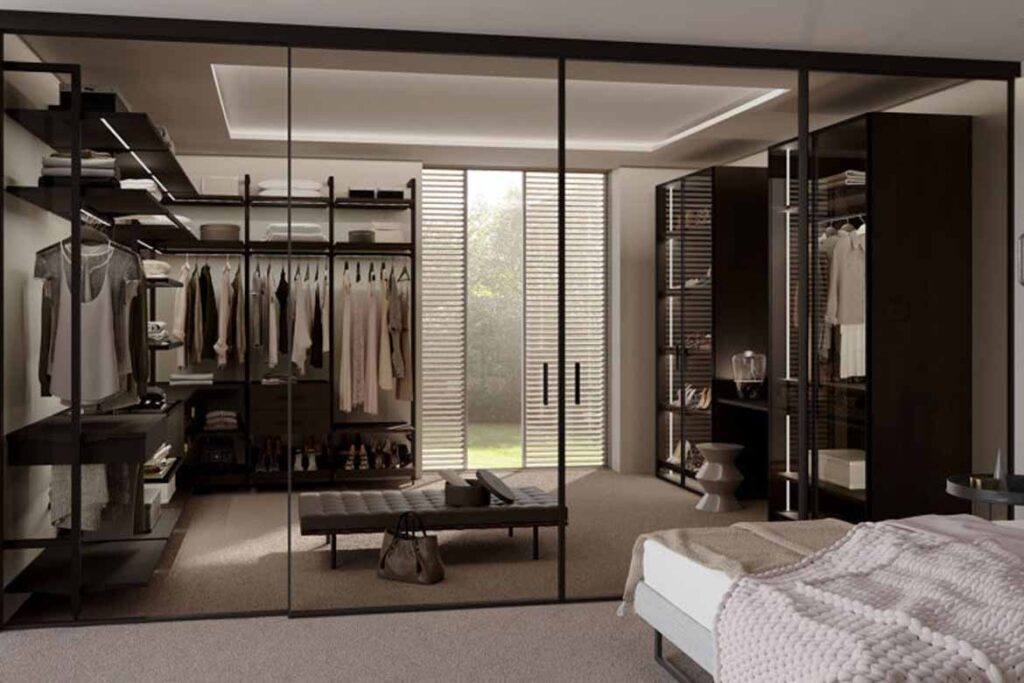 Perhaps you do not have a spare room that can be converted – don't worry, you still have ample opportunity for a walk in closet. One of the most popular modern strategies for fitting a large closet into a smaller room is the glass wardrobe design. A glass wardrobe can section off the closet area within your room without appearing bulky or cluttering up the area.about:blankImageUpload an image file, pick one from your media library, or add one with a URL.UploadMedia LibraryInsert from URL
A glass encased walk in wardrobe can actually even make the room appear bigger, because the glass will reflect the natural light around the room. This will keep the interior feeling bright and spacious. Glass has a sophisticated, industrial chic aesthetic appearance that is sure to entrance any guests. Sliding doors ensure even less space is taken up as the wardrobe is opened.
The only downside to installing a glass walk-in closet in your bedroom – you'll be able to see inside your wardrobe at all times, so you will probably have to be more mindful of keeping it organized than you would with a regular wardrobe. However, this might be a good thing! Perhaps it will motivate you to nominate a wardrobe organization system and stick to it.
2. Partition
For those who want the glass wardrobe effect but prefer something a little more substantial, consider installing a partition. A partition is best suited to larger bedrooms, as unlike a glass wardrobe it may appear bulky within the room.
For those with spacious bedrooms, a partition is a great way to divide up your space and provide you with a private walk-in closet. Partitions can be made from just about anything and are customizable to the planner's preferences, including size and style of flat packs or shelving requirements.
1. Carve a nook
Perhaps you are pressed for space, but still want to spend some money on a walk in wardrobe. Consider installing a small nook in one of your walls. Shelves can be set back into the walls and you can even install inserts or carve out a walking space depending on the structural layout of the wall.
If this idea interests you, you should speak to a registered contractor about your options and provide your home floor plans. Keep in mind the HDB renovation guidelines and requirements for remodel permits. For more ideas about renovations Singapore, see here for an overview of space-smart furniture or here for stunning false ceiling designs which would help to modernize your walk-in wardrobe.
---