Text by Janice Seow
Lentor Modern was launched just last month, and already it's been reported as the best-selling development for 2022.  The integrated private residential project by GuocoLand is set on a 1.7-hectare site in the new Lentor Hills estate in District 20, and is surrounded by parks and reservoirs. Targeted to be completed in 2026, it comprises three 25-storey residential towers above a mall, directly integrated with Lentor MRT station.
Besides being the only integrated mixed-use development in Lentor, the project is designed as a green sanctuary and pays homage to the freshwater stream that used to exist on the site. It has sky terraces and many other areas around the property catered to relaxation, exercise, entertaining and even work.
Notably, the development's Flex Room concept aims to respond to the growing desire for flexible and adaptive spaces. We find out more from Dora Chng, General Manager (Residential) of GuocoLand.
Have you observed changes to what home buyers want in private condos over the past few years?
More and more, people are looking for homes with efficient layouts and flexible designs that offer more usable and customisable spaces. For example, with hybrid, remote working, and Home-Based Learning becoming prevalent, families now give more thought to setting up a conducive workspace within the home.
There's also increasing focus on wellness, and greenery plays a big part in offering a much-needed sanctuary from the hustle and bustle of everyday life.
Accessibility to public transport and amenities has always been a key consideration among home buyers. The growing connectivity of the public transport network thus appeals to buyers.
Lentor Modern offers Flex Rooms in its 2, 3 and 4-bedroom units. How do they differ from other flex concepts out there?
While the idea of flex spaces in residential developments is not new, most were designed as a study or storeroom in other developments. Lentor Modern's Flex Room is designed to offer even greater flexibility.
Many people have developed new hobbies and interests, such as baking, yoga, gardening and crafting, as a result of spending more time at home during the COVID-19 pandemic. These changes meant that people needed more spaces at home to accommodate their work and leisure needs.
Units at Lentor Modern are designed to meet these lifestyle adjustments. Our Flex Rooms are at least 2.2m long and 1.4m wide and can fit in a single bed or a loft bed with a study area below it. These rooms also feature windows to allow natural light in.
Can you elaborate on how the permutations of these Flex Rooms support the way we live today?
Lentor Modern's Flex Rooms can take on different permutations to meet the families' changing needs through different life stages and also fulfil a variety of lifestyle demands.
We created the flex space to be versatile enough for use as a home office or even a baking or design studio for entrepreneurs
The Flex Room can easily be turned into a study or office with ample space for two workstations. Parents can also use it as a bedroom and study for their children by fitting a loft bed over a desk.
The Flex Room can be transformed into a walk-in wardrobe, hobby room or gaming studio. Young parents will also find it conducive as a baby nursery. Over time, it can be turned into the child's playroom or study.
Owners of the 4-bedroom units can choose to shift the Master Bedroom doorway further out into the hallway to contain the Flex Room within the Master Bedroom. Alternatively, the Flex Room can be kept separate with its own entrance.
Has there been an evolution in thinking about flexible spaces and flexible living?
Our design of flexible spaces today has to express improved liveability, minimal-to-zero redundancy, and thoughtful space planning.
Our units in Lentor Modern and the Flex Rooms within offer an efficient space layout that is both functional and adaptable. For example, in our 1-bedroom units, the large master bedrooms can fit a king-sized bed with either a vanity or study table. For young couples who need to work from home, they can have separate work areas – one in the master bedroom and the other in the dining area. This affords each user privacy in their own space. When the couple has a child, the master bedroom has enough space to also accommodate a baby cot and become a shared room with the child.
The design of the Flex Room in our 2- to 4-bedroom units allows one to save time and costs when adapting the spaces as needs evolve.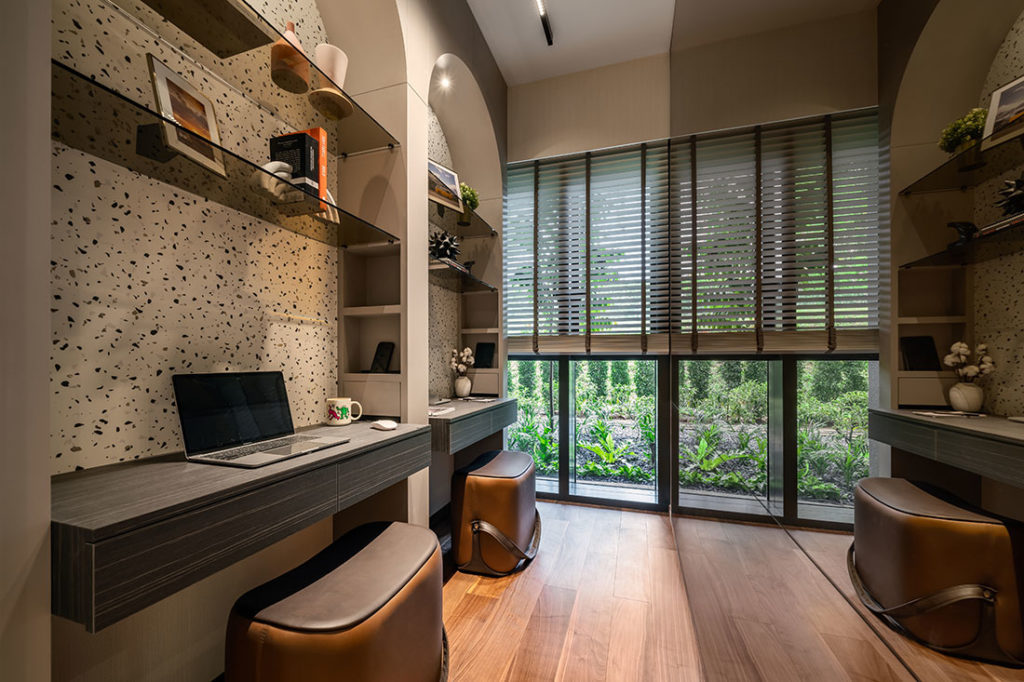 Small space living is often cited as an issue in Singapore. How is GuocoLand addressing this with its projects?
Today's home buyers recognise that with an efficient unit layout, spaces can be maximised to meet living, working and entertaining needs. This is especially important for multi-generational living. In the 4-bedroom unit at Lentor Modern, the Junior Master Bedroom is almost the same size as the Master Bedroom. This allows grandparents, for example, to enjoy their own space and privacy with an attached bathroom.
Apart from the usual facilities such as a yard, washroom, storeroom or helper's room featured in our 4-bedroom units, we have added a dry kitchen area for cooking preparation, baking or as a bar area for entertaining.
Additionally, these units have a niche area in the living room which can also be used for extra storage space, a piano, or a bar. The possibilities for these spaces are endless.
Open spaces such as balconies can also be used in a variety of ways, such as an area for pets, gardening, dining, exercise, or even as an additional WFH area.
We designed the greenery and amenities in the common areas to serve as an extension of the residents' homes. For example, at Lentor Modern, Sky Terraces offer a variety of work corners, as well as lounge areas where residents can host and entertain guests.
Being the only mixed-use development in Lentor means that amenities are just a 'one-lift-ride' away for homeowners, and this enhances the liveability of the development as a whole.
We think you may also like Designing with a difference: Homes in a new age
---
---