Text by Janice Seow
In cities around the world, the increasing focus on personal well-being has precipitated a greater appreciation for biophilic design and the desire to be close to nature.
As part of this trend, we're seeing the rise of innovative garden solutions for high-rise flats and apartments. These days, even the smallest of accommodations can enjoy a slice of the outdoors, indoors.
Just see how these homes incorporate indoor gardens with flair!
#1 Green corridor and garden as furniture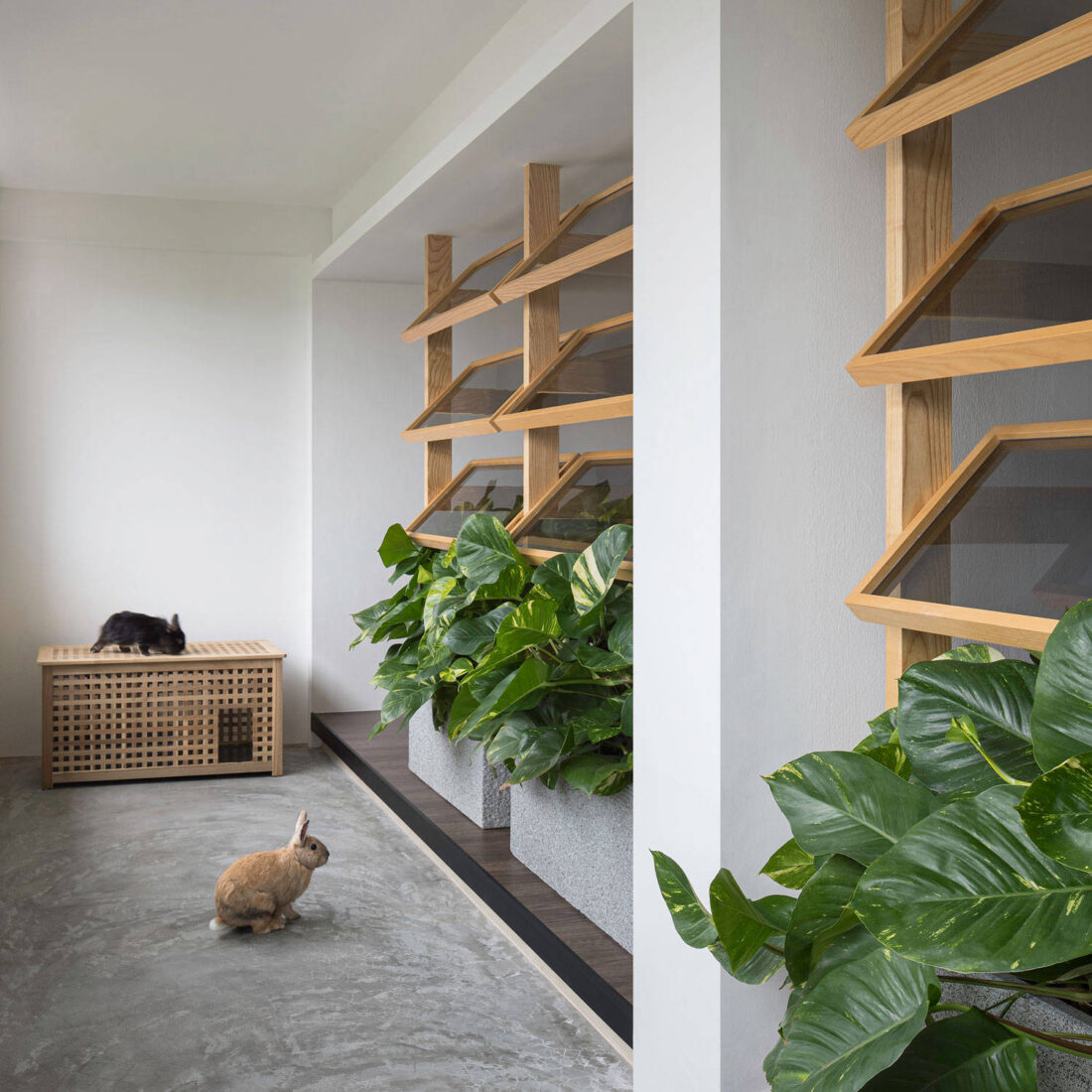 Like many HDB flats, this four-room resale unit does not have a balcony that can be given to a garden. Yet, Right Angle Studio has found unique ways to smoothly integrate greenery into the home.
"The owners wanted a designated zone for plants and room for their rabbits to roam around," shares Jay Liu from Right Angle Studio. By converting the three-bedroom unit into a one bedder, the designers have been able to insert a 'green corridor' at the entrance comprising a row of louvre suncreens paired with planter boxes. This not only 'opens' up the house further but also draws natural light deeper into the flat.
The central console in the living area is another key feature. This customised design is a sofa, work desk and dining table rolled into one, and also comes with an integrated planter.
Design by Right Angle Studio. See full feature here.
#2 Bedroom turned green passageway
When designing their own home, Lee Liting and Chow Khoon Toong of nitton architects wanted to find a way to reimagine life in an HDB flat. "Our vision was to create the character of a house in a humble flat," Liting explains. "We wanted to establish a garden space, much like what you would find in a landed home. We also wanted the place to be seamless with no clearly segregated rooms."
The couple removed every non-structural internal wall in their five-room unit to create layered and malleable spaces. Notably, part of the two bedrooms' original floor area has been given to a window-facing indoor garden (set on deck). This step-up area is also a new, sun-drenched passageway leading into the master bedroom.
This home was awarded 'Home of the Year' at the 2018 Lookbox Design Awards.
Design by nitton architects. See full feature here.
#3 Urban warehouse apartment with a balcony garden
Multidisciplinary artist Ryan Foote wanted to reinvent the nineties interior of his Melbourne warehouse apartment. He also desired a vertical garden on the balcony that would serve as a green threshold to the street below.
A large planter system spans the entire balcony, boldly dominating the space and turning it into a forest of green. Says Ryan, "I love being able to get my hands dirty, even though I live in the city – a different type of dirt to what I'm used to in the workshop." His handmade pots, in the shape of clustered root vegetables, are maintained and replanted with seasonal crops, in tune with natural cycles.
#4 Sun-lit forest kitchen
As a plant enthusiast, you would expect designer Tyco Tat's home to be brimming with plants, and his Tiong Bahru apartment doesn't disappoint.
Despite being relatively small, the kitchen is wonderfully light-filled. Given that he doesn't cook much, Tyco has turned this space into a veritable green house instead. The lack of counter space is no challenge as he has simply suspended his plants.
His advice: "Experiment with combining different sized plants depending on how subtle or dramatic you want to be. Lastly, invest in a nice pot – it can make a huge difference."
Images courtesy of Tyco Tat. Instagram: @greenvertluk
#5 A TV console that's also a planter box
Carmen Tang of design studio Wolf Woof has completely reinvented the TV console in this minimalist, one-bedroom loft apartment. By integrating a planter box, it is now a miniature garden and functional furniture combined so the owners can enjoy a bit of greenery as they lounge.
The plants are artificial so one need not worry about water drainage issues, or maintenance for that matter!
Design by Wolf Woof
#6 Hanging garden in a Japandi abode
The owners of this BTO flat enjoy hosting craft workshops. Their Japandi abode flawlessly combines the warmth of Scandinavian design and the Zen simplicity of Japanese design.
To recreate the Japandi feel while keeping the cost low, Parenthesis used hardwood ply and raw veneer for the carpentry. A casual bar counter replaces the standard dining table, and mediates the kitchen and the craft room.
Hints of nature refresh the interiors without overwhelming. Instead of dedicating large spaces to indoor gardens, plants are artfully displayed, such as on the pendant light in the dining area.
Design by Parenthesis. See full feature here.
#7 Modern resort with a DIY project
The owners wanted their five-room resale flat to look nothing like a typical HDB unit. They also wanted the look and feel of a modern resort, and turned to Design Zage to make it happen.
Game for a DIY project, the couple have taken it upon themselves to recreate a vertical garden in their balcony using artificial plants on columns and walls. "We were inspired by the green walls at the Hooga store we visited, and decided to do it ourselves to create a garden feel. It took us several weekends to finish it!" shares the wife.
Design by Design Zage. See full feature here.
Want to see more indoor gardens? We think you may also like Singapore architects' home flawlessly embraces nature
---
---