Home Type: Semi-detached house
---
Text by Janice Seow
When a couple with two teenage sons moved from a condo apartment to this 6,118 square-foot semi-detached house, they sought the help of Parenthesis to realise their vision of a home in the tropics.
The design team have opted for a modern interpretation of the 'tropical living' brief with a light and restraint colour and material palette, and clean, disciplined lines. "The design is simple. Nothing here is overstated," says Molina Hun of Parenthesis.
The foyer is warm and welcoming with a 'boxed in' washed oak laminate wall treatment. This area also serves as a gallery space to display the owners' objects d'art.
In line with the concept of tropical living, the living area enjoys generous views and light, and is a relaxed space to spend family time. "The positioning of the sofa is strategic. It's oriented to face both the TV and the pool, which means the family can easily enjoy both views," Molina shares.
Bringing the outdoors in, an indoor patio has been created in the double volume space by the stairs. "We chose black metal for both the planter and the staircase structure to create a unified look, and to break away from the warm wood feel found in most other areas of the home," says Molina.
This transitional patio area between the living and dining area/open-plan kitchen also features a brick wall that spans the height of the double-volume space. "The owners loved the idea of a brick wall, so we decided to insert this feature here," Molina explains.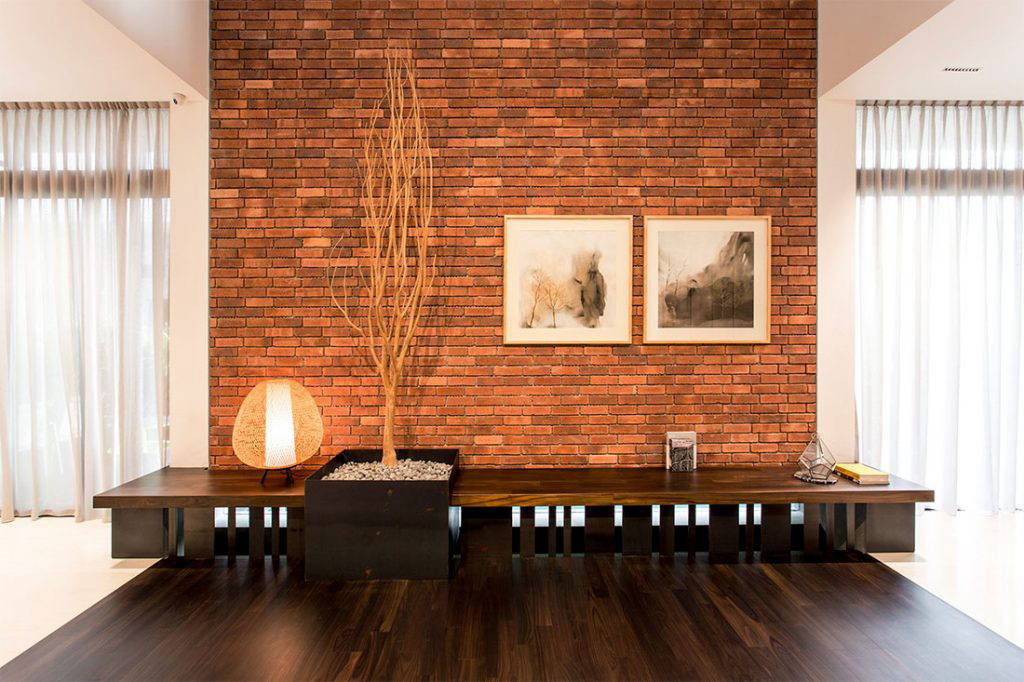 The family entertains quite often and also wanted enough space in the dry kitchen for baking. With that in mind, the designers have created a generous island to facilitate greater interactions and to accommodate their baking activities.
There's a dedicated gym on the second floor for this exercise-loving family. The mirrored walls hide ample storage space while also visually extending the space.
The study also features the rugged brick wall that the family so loves, while the desk on casters (which the owners brought over from their previous home) brings flexibility to the space.
The spacious master bedroom is a vision of relaxed tranquility. A rustic-looking pendant lamp from Million Lighting lends to the tropical vibe while a vibrant painting brings in personality. Drawing the curtains affords the couple a view of the family room that sits across, as well as the indoor patio below.
Through the walk-in wardrobe, the master bathroom is an uplifting space with a feature wall of mosaics from Mutina lending a touch of texture and sheen. Overall, this house is a study in simplicity, and a great example of modern tropical living.
Parenthesis
www.parenthesis.studio
www.facebook.com/parenthesisstudio
www.instagram.com/parenthesisstudio
We think you may also like Japandi-inspired design done right in this HDB flat
---
---