Home Type: 5-room HDB flat
---
Text by Vivian Teh
Photography by Jonathan Danker (ANSEL Media)
When it comes to showcasing collectibles in a home, most do it in a haphazard manner – finding any available space to display their prized objects or corralling them all on open shelving units without much thought in a prominent area.
But few let their passion drive the design of their homes – becoming a dominant theme even. A fitting example is this HDB flat belonging to an avid tea connoisseur and collector. Aptly named Tea Room, it has been meticulously designed by Alex Liu and Jay Liu of Right Angle Studio to honour the fine and gentle art of tea drinking.
"The idea was to conceptualise the living and dining zones as a private room to showcase the owner's collection of teaware, which are exquisitely curated over her years of travels across East-Asia," the designers share of their concept.
It was beautifully achieved by constructing a continuous portal across, framing the entertainment and exhibition areas. The latter elegantly display the owner's prized collection like a boutique store, replete with softly lit integrated lighting within the glass cabinets.
To create the well-tailored linear structure that is the continuous portal, the master bedroom which originally protruded into the dining room had to be taken in a tad bit. "By squaring off the living and dining areas, it results in a more ordered layout," says Alex of this small yet impactful spatial transformation.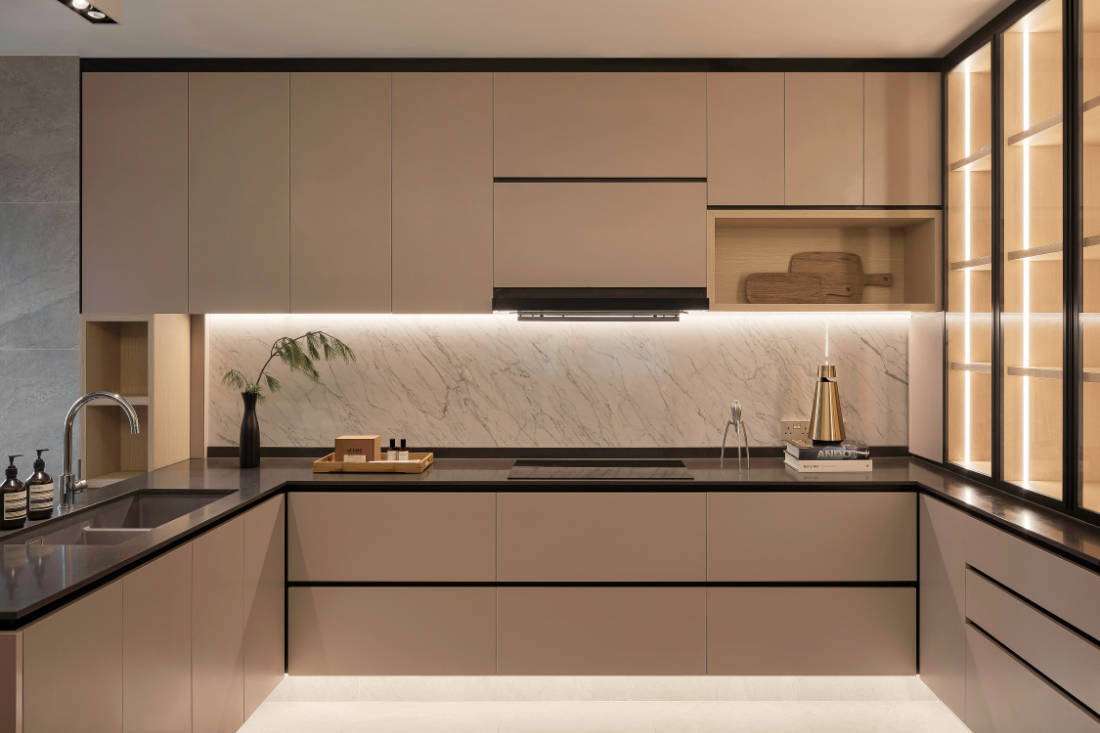 Separated by bespoke full-height shoji-inspired doors, the kitchen and back of house are kept spacious and indulgent, paying close attention between a holistic experience and personal spaces. Though divided by zones, visual connectivity remains as the kitchen display shelves echo those in the public area, "but with an elevated counter to create a feeling of lightness," Jay adds. Furthermore, white marble makes a sophisticated appearance on the backsplash, which contrasts the dark countertop beautifully.
In terms of materiality, wood elements are heavily used throughout the flat for their intrinsically calm and natural qualities. Yet when examined closely, the woodgrains and colour tones of the flooring are markedly different from the furniture and built-ins, much like the delicate beauty of the colouring of tea.
It also helps that furnishings are kept to a minimum to achieve this Zen-like quality. In fact, "the use of Chinese furniture to juxtapose with the modern and clean lines of the residence, creates an interesting collision of oriental and contemporary," Alex explains. This choice styling also imparts a lived-in aesthetic that adds to Tea Room's charm and quiet beauty.
Right Angle Studio
www.rightanglestudio.com.sg
www.facebook.com/studiorightangle
www.instagram.com/right.angle.studio
We think you may also like A high-rise garden home that's one of a kind
---
---