Home Type: 5-room HDB flat
---
Text by Stephanie Peh
It's the very definition of a modern home. In this flat, a window ledge offers an alternative corner for working or chilling, expanding the functionality of a balcony. Instead of sealing it up, HOFT thoughtfully demarcated this little nook using contrasting floor tiles, separating work and play zones without blocking out natural light and ventilation. A modern chandelier above lends charm without taking over.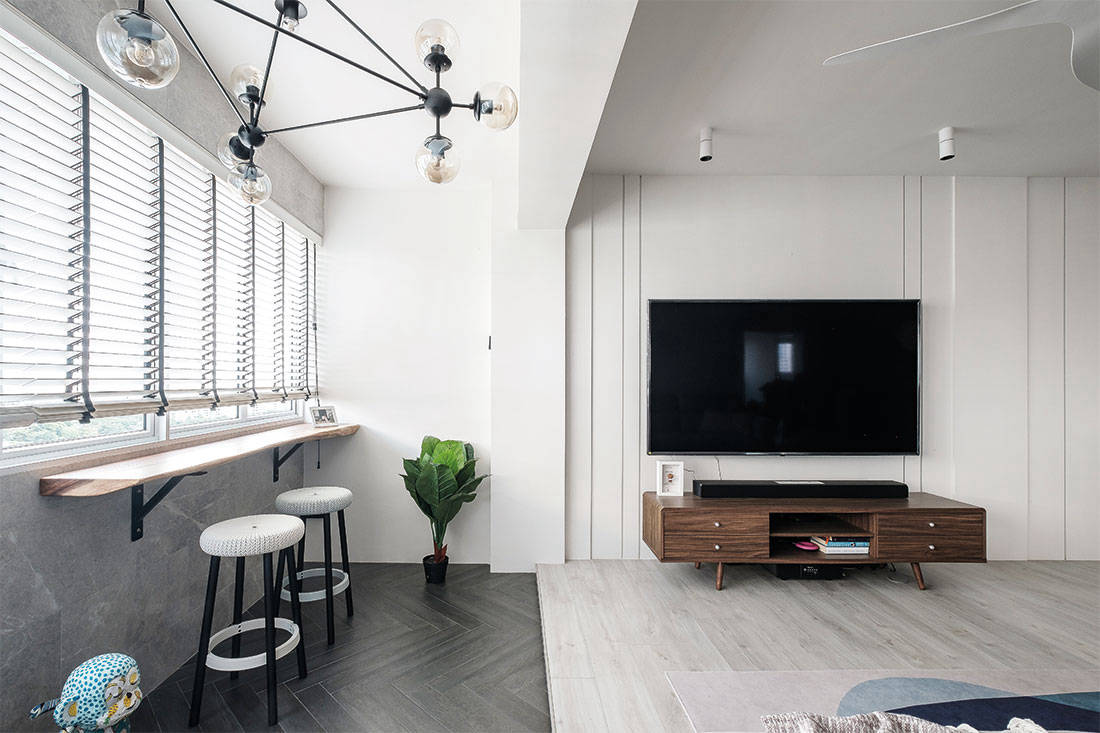 "A lot of work needed to be done to recondition such an old flat," say the design team, referring to the 40-year-old unit. For a fun and quirky young couple who enjoys hosting, there was a need for a sizeable dining table while ensuring that the flat stays spacious and uncluttered. Apart from careful layout planning, see-through doors provide the illusion of space and enable light from another room to shine through.
The overall colour scheme of this modern home was kept light with pops of colour like cerulean on an artwork depicting Hokusai's great wave. An admirable feature is the kitchen island and dining table of varying heights, designed with minimal base support without compromising on stability. Made of black KompacPlus panels, seemingly wafer-thin, these tables are as visually pleasing as they are pragmatic.
Tantalising cocoa, soothing teal and clean beige colour the kitchen carpentry. The window was kept unblock to invite natural light and air – a godsend during heavy cooking. On the other end, a see-through door enables light from the living room to enter, reducing the need for artificial lighting during the day. Instead, two minimalist moon lamps decorate and soften an otherwise linear room.
The feeling of openness and calm continues in the master bedroom with its pristine white walls and sheets. A black-framed window offers a view of the bathroom, which is decidedly darker and earthier in tone. The see-through bath ensures that one does not feel too cooped in when spending time by the vanity counter.
HOFT
www.hoft.co
www.facebook.com/hoftinterior
www.instagram.com/hoftinterior
We think you may also like A Bidadari HDB flat gets whipped into shape for a young couple
---
---