Text by Redzman Rahmat
Calculated angles, sharp lines, basic shapes and repeating patterns; there's no denying that geometry is appealing to our eyes. We see it in fashion, architecture and lifestyle, and it's no surprise that graphic geometry is a trend that's quickly finding a place in interior design as well. Whether it's a large-scale, angular design, or just a repeating symmetrical pattern, geometry is a great way to create a focal point in your home. Need some ideas? Here are a few ways you can introduce a similar aesthetic into your home.
Patterned wallpaper
Design by Priscilla Tan
Need an update to a tired-looking room? A patterned wallpaper will do the trick! If you're not one for big, bold geometric designs, a pretty wallpaper with triangular patterns will make a similar impact.
Mirrored panels
Design by D' Initial Concept
This home cleverly uses mirrored panels to create a simple shape on the wall. Take a closer look and you'll realise that the wall is made up of a combination of the mirrors and matt taupe tiles. The configuration of these alternating materials however, is what creates intriguing shapes on the wall.
Angular feature wall
Design by AC Vision Design
This feature wall is an amalgamation of three different laminate finishes, each with a different shade of wood. The designers used large pieces of laminates, cut them to carefully calculated shapes, and pieced them together to make a composite wall with triangular shapes.
Stripes and polka dots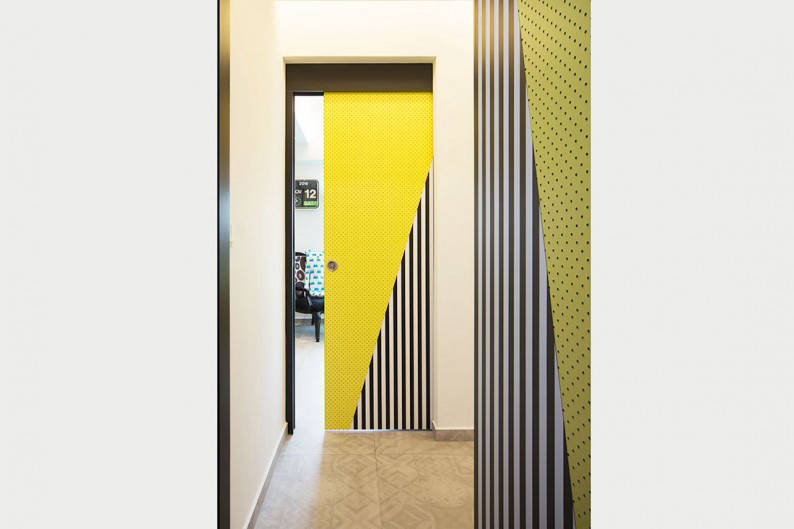 Design by Linear Space Concepts
Bold colours meet graphic patterns in this daring home. The doors (which are sliding doors that can be concealed inside a pocket niche in the wall) are adorned with an eye-catching design. Striking yellow with miniscule dots contrast against black and white stripes. Definitely a statement-making feature!
Patterned rug
Design by Linear Space Concepts
If you don't want to renovate your home just to get on the geometric bandwagon, take a page from what this home did. A simple patterned floor rug or carpet can bring a strong graphic element to your interior design.
Honeycomb tiles
Design by Aiden T
Beautiful honeycomb tiles can make a strong visual impression. Instead of sticking to a single colour, this bathroom wall features multiple colours on tiles, and when arranged together, looks like cascading drops of water.
Hexagonal features
Design by Plush Living
The hexagonal patterns on this feature wall literally pops out. Constructed in three-dimension, the shapes add definition to an otherwise plain wall. To make the shapes even more eye-catching, the designers coloured the edges in a zesty lime green.
Linear shelves
Design by Story of Us
Geometry doesn't have to be loud and in-your-face. For something a little more subtle, stick with strong, angular lines instead. In this home, the designers constructed sliding doors with pronounced edges. Although it's a simple look, the linear design is a great way to break the monotony blank doors.
---