Home Type: 5-room HDB flat
---
Text by Disa Tan
While an open-plan layout can be freeing, it requires foresight. With careful space planning, The Orange Cube designers worked out the function and location of each area based on the homeowners' lifestyles. Relaxing, entertaining and cooking can now co-exist in the shared communal zones thanks to the new open-plan layout.
Aesthetically, a contemporary monochromatic colour palette fulfils the modern and sophisticated theme the homeowners had in mind, and also visually connects the different areas in this open-plan living space.
The design team was tasked to incorporate ample storage into this home, and they did so effortlessly without affecting the floor area in the flat. Starting from the entrance, full-height cabinets line different walls. These woodgrained-textured cabinetry have display niches which minimise the visual bulk of the overall storage unit. Asymmetrical design lines in the form of the recessed lighting fill the entire home with a sleek touch of modernity.
Hosting guests is a stylish and fuss-free affair; thanks to the matching ensemble of vast seating options in the dining and living space. The eight-seater dining table is complemented by a bar counter which can easily accommodate another four to five guests. The designers also used dark laminate wall coverings to helm the bar counter-kitchen area as a form of visual demarcation.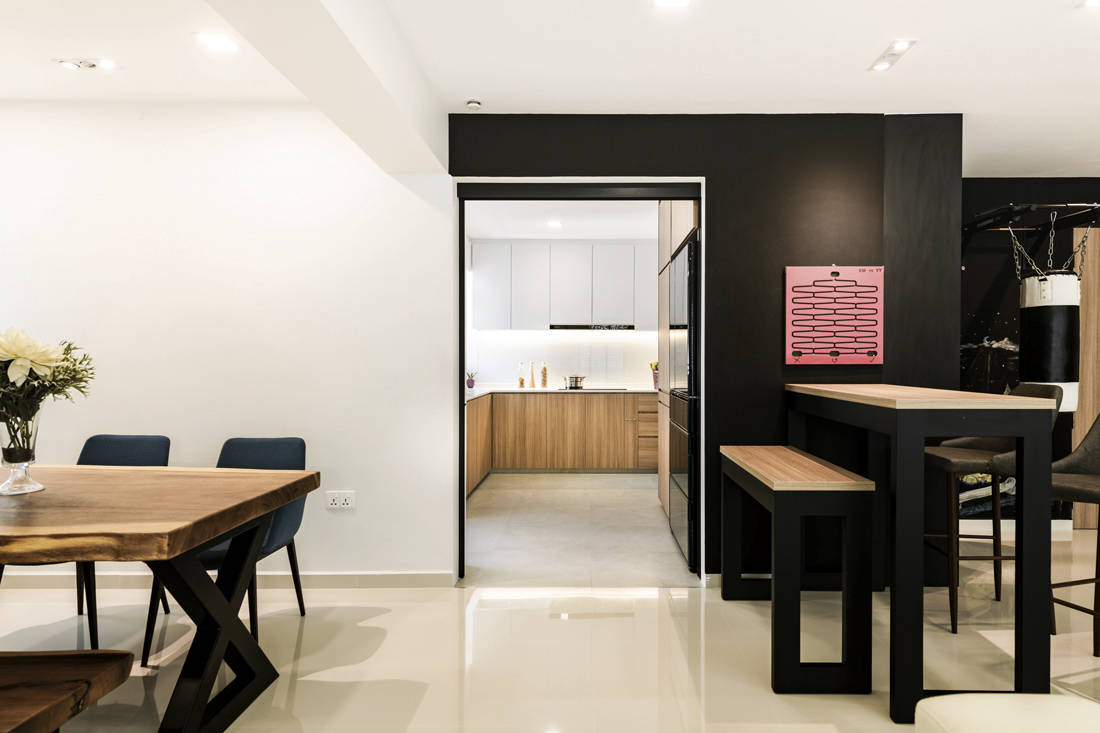 With the entrance of the kitchen altered to a sliding door, this opens up the entire cookspace and integrates it seamlessly with the rest of the communal zones. The fluid flow of light and space is immediately apparent when the sliding door is open. The use of uniformed aesthetics such as woodgrain textures also connects the kitchen with the rest of the communal areas.
A soothing material palette of white quartz worktops paired with woodgrained laminate textures sets off a spacious and inviting cookspace. The homeowners enjoy cooking so this neutral colour scheme and semi open-plan kitchen work well for their cooking and entertaining needs.
With an overlay of homogeneous marble-patterned wall tiles, the master bath suite exudes a luxurious appeal. The addition of a bathtub elevates the level of sophistication in this classy HDB bathroom. Sleek aesthetics aside, the designers added practical storage measures such as a niche above the bathtub and WC to store toiletries and other essentials.
The Orange Cube
www.theorangecube.com
We think you may also like A modern contemporary style with striking materials
---
---