Home Type: 4-room HDB flat
---
Text by Angela Low
To spruce up the mellow interiors, the designers introduced a decorative wall of Peranakan-style tiles by the kitchen's entrance. Each of these tiles from Hafary was randomly selected by the homeowners, who were also drawn to the Peranakan design. This eclectic mishmash of patterns and colours adds visual interest to the living space, which is dominated by light wood vinyl floors and a neutral backdrop.
A blue accent wall is used to establish the dining space and bring a cool, vibrant touch to the warm environment. It also lends a more playful, youthful look to the home. The open- concept dining and living space allows for a larger area to entertain guests, while retaining a sense of cosiness for those quieter nights in.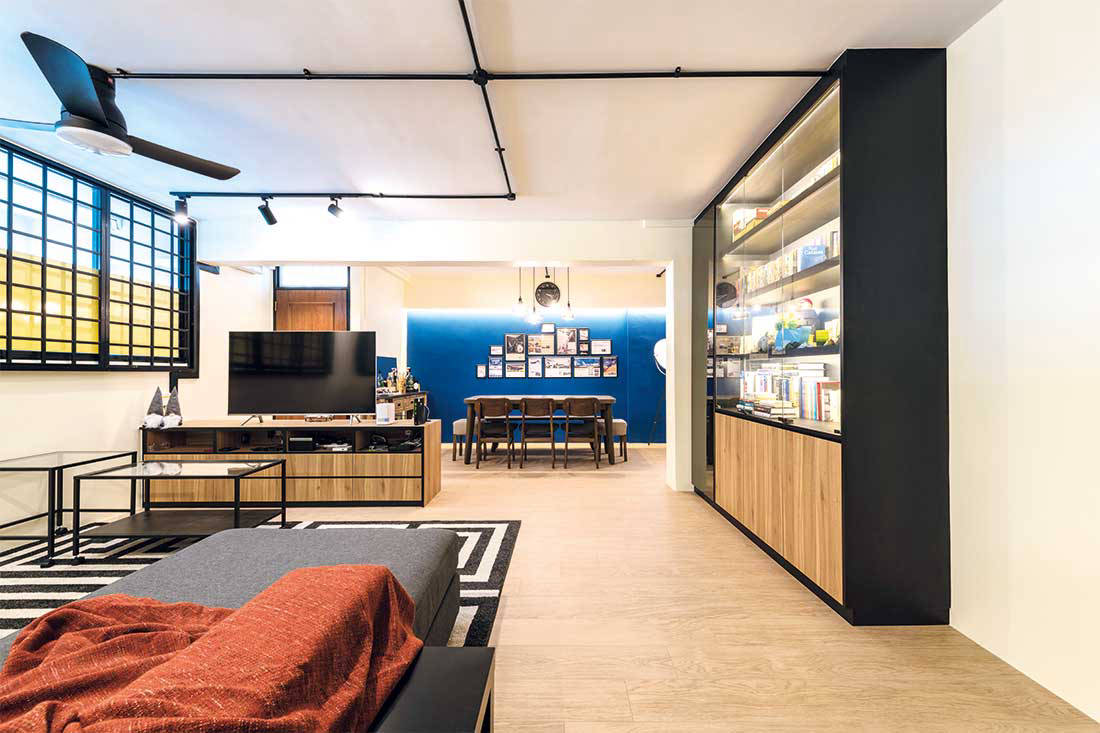 Metier Planner tore down 
the walls of the kitchen and study (the room behind the sofa) partially, and had glass partitions installed instead. It allows more sunlight to enter the apartment and visually enlarges the space. When the bi-fold windows of the study are opened, the living room looks even more spacious.
 But when closed, the study becomes a private place to relax and unwind. A custom-made bookshelf with a tinted mirrored panel in the living area also conceals the store room.
While the rest of the apartment is covered with vinyl flooring, the kitchen is designed with wood-like floor tiles that match the light wood laminates cladding the kitchen cabinets. Black quartz countertops offer a dark contrast to the light Scandinavian-style kitchen, brightening the formerly tight, light-scarce space.
The homeowners desired 
a timeless design for the bathrooms and didn't want
 the entire place to look the same. Going with a completely different decor scheme, the bathroom features monochrome mosaic wall
 tiles and white floors lined with black tiles to create matching borders. Although the process was tedious and challenging, the end result is stunning.
Metier Planner
www.metierplanner.com
Find out more about Metier Planner here
---
---