Top image: Bohemian Flame from the Le Chic collection (island and backsplash)
Text by Disa Tan
Cosentino, the Spanish global leader in premium surfaces, has added two collections to its Silestone® portfolio for the first time in two years, and this much-anticipated launch marks a pivotal moment for the brand. Upholding its design-forward focus on innovation and sustainability, the two collections, Le Chic and Urban Crush, are trend-makers in their own right and make no compromise in performance and visual appeal
That's because Silestone® is a high-performance and non-porous surface that boasts many coveted qualities such as exceptional resistance to moisture, stains, acid, scratches and impact. With that, it is able to provide show-stopping beauty in a number of applications, especially for the bathroom and kitchen.
Here's a closer look at these two additions with much to offer in terms of style and design versatility.
Le Chic redefines timeless classics
With their expressive patterns of distinctive veining and metallic accents, the designs from Le Chic are modern yet timeless. We explore how these six new offerings deliver a real wow-factor by bringing the charm of Victorian and Parisian spaces to life, and through the use of statement nature-inspired designs.
1. Versailles Ivory
With its subtle two-toned marbling and gradient effects, Versailles Ivory is the warmest tone of the collection and mesmerises at every angle. Alluring golden shimmers makes this a spectacular piece for countertops, wall features and any design in the home you wish to bring attention to.
Why we love it: The beautiful motifs bring an elegant and luxurious finish to any room.
2. Victorian Silver
Against the cool white background of Victorian Silver, silver and grey veins come together to create a soft and subtle two-tone marbled backdrop. It's a design that works beautifully alongside warm or cool tones.
Why we love it: This design gives off such calming energy.
3. Eclectic Pearl
Much like glittering diamonds on jewellery, Eclectic Pearl features a captivating stream of delicate veining, texture and metallic accents draped over its entire surface.
Why we love it: It is a versatile design that is ideal for both contemporary and more traditional settings.
4. Parisian Bleu
For a powerful impact, you can't go wrong with Parisian Blue, a deep tone with a strong design personality. This truly unique shade is inspired by famous Imperial Roman stones fused with ochre veins.
Why we love it: Its stately colour brings an old-world charm to interior spaces.
5. Bohemian Flame
Bold and beautiful, Bohemian Flame's subtle veining with metallic inlays in copper shades is inspired by the golden flow of lava that runs across volcanic soil. It's a stunning choice for countertops as well as wall features.
Why we love it: The organic beauty and tactile qualities create a striking and artful aesthetic.
6. Romantic Ash
Last but not least in the Le Chic collection, Romantic Ash symbolises the Milky Way on a clear, starry night. Grains in various sizes highlighting crystal and silver tones add depth and graceful movement to the pattern.
Why we love it: Its complex composition is the ultimate expression of understated elegance.
Urban Crush takes on eclectic with fresh perspectives
On the other side of the style spectrum is Urban Crush, which exhibits diverse textures of industrial and urban aesthetics. It is inspired by materials such as concrete, limestone, bronze and ash that emulate the feeling of a vibrant cityscape. Here's how its four new offerings can complement all types of characterful interiors.
1. Concrete Pulse
Featuring a natural raw grey tone that plays with light and shadow, and inspired by the concrete of the city, Concrete Pulse is perfect for those who desire an interior that's full of contrast.
Why we love it: There's an organic and lived-in appeal to this design.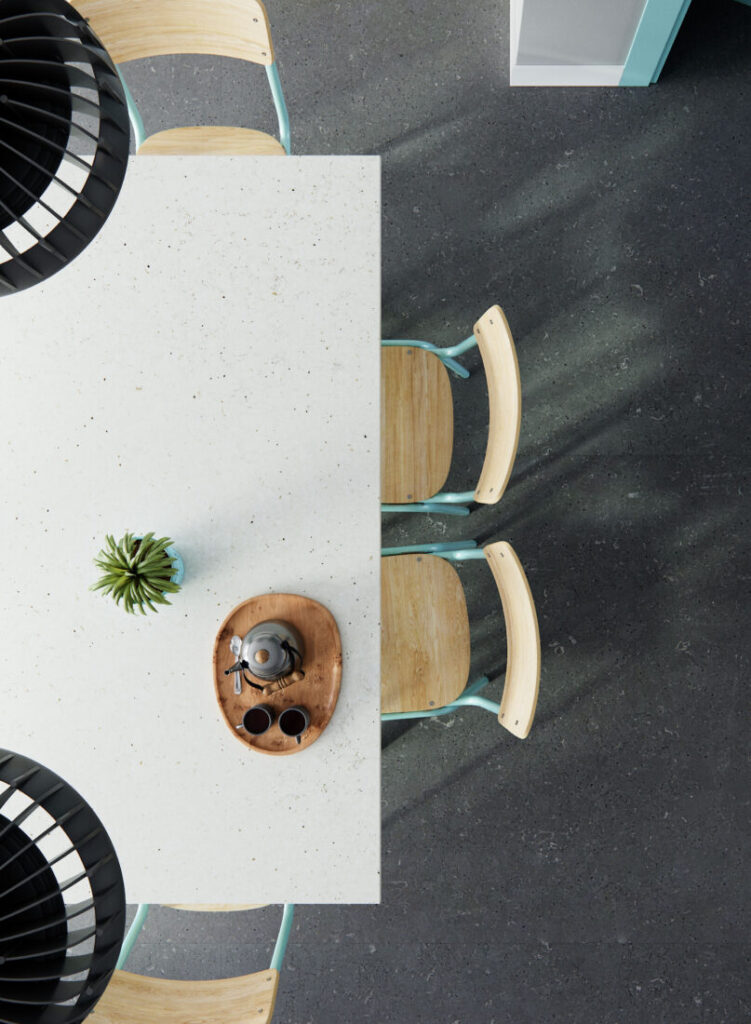 2. Lime Delight
Lime Delight captures the innate beauty and warmth of Marbella limestone with its textured beige tones.
Why we love it: This design fits easily into any modern interior.
3. Brass Relish
Resembling finely grained sandstone, Brass Relish creates statement styles for modern and vintage interiors.
Why we love it: It is edgy and sophisticated, and promises to make a statement in any space.
4. Cinder Craze
Finally, Cinder Craze is a modern reinterpretation of black sandstone and sports black speckled tones to accentuate industrial-style interiors.
Why we love it: The texture-heavy design and deep colour gives any room a good dose of character.
Like all Silestone® collections, Le Chic and Urban Crush are made with the brand's patented HybriQ+ Technology. This is an eco-friendly manufacturing process using 99 per cent reused water and 100 per cent renewable energy, while incorporating a minimum of 20 per cent recycled raw materials in its composition.
Discover more about the Le Chic and Urban Crush collections from Silestone® here
Also check out the collections at Cosentino City Singapore, 5 Straits View, Marina One The Heart (West Tower) #01-16/17, Singapore 018935
We think you may also like The raw beauty of Dekton® Pietra Kode
---
---