Text by Janice Seow
Now more than ever, there's a desire to slow down and enjoy the comforts of home. The kitchen is also becoming an extension of our living space. It's a room where we can enjoy life's everyday moments with loved ones, cook up a storm and savour a delicious meal.
With the warmth of the classic country-house style enjoying a renaissance, this time with a modern twist, German kitchen expert BLANCO has introduced a new farmhouse-style sink with contemporary appeal. The Vintera XL 9 sink is not just beautiful and highly durable, but also carries many unique features.
Here are 7 reasons why the Vintera XL 9 is set to make waves.
#1 It's made of SILGRANIT® and has a distinctive granite appearance
Made of Silgranit, Vintera XL 9 from BLANCO is the first granite composite farmhouse-style sink on the European market. It has a special granite appearance and a pleasing and distinctive silky, stone-like feel.
#2 This farmhouse-style sink is a classic reinterpreted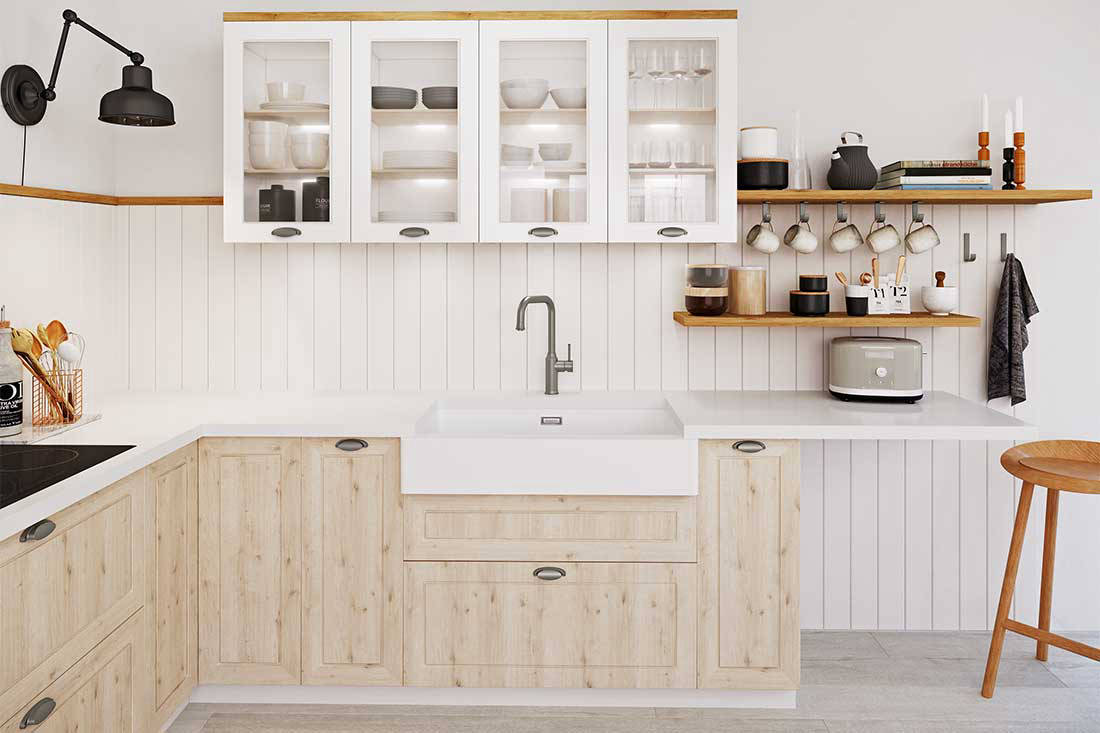 This sink is a marriage of vintage flair and timeless, modern aesthetics.
The accentuated geometries and the Silgranit material provide a complete reinterpretation of the classic farmhouse-style design. Notably, the large bowl has a rustic look thanks to the striking apron front, which appears at once minimalist and contemporary.
#3 It can be installed two different ways

Undermount design

Flushmount design
The bowl of the Vintera XL 9 offers two installation options, which is a feature unique to the market. You can choose to have it fitted almost indiscernibly beneath the worktop, as an undermount version, or flushmounted into the worktop.
#4 It gives you more space
The spacious design and the dimensions, which are precisely tailored to 90cm-wide base cabinets, create a harmonious look. Hands down, this captivating sink will be the centre of focus in your kitchen.
#5 It comes with a patented protection formula
Beyond its good looks, this Silgranit sink comes with a patented Hygiene+Plus formula that reduces bacteria growth by an average of 98 per cent.
What's more, it is acid-resistant and does not release any substances. This means that food placed on the sink won't absorb other smells or tastes.
 #6 It is highly durable
Silgranit, the material used to make the Vintera XL 9, is also known for its great robustness and resistance. Given that it is scratch-proof and repels dirt, you won't need to worry about putting pots, pans and plates down wherever you fancy in your sink. You can also splash red wine or hot coffee around with abandon. Your Silgranit sink won't mind one bit.
Rest assured too that Silgranit can deal with the usual temperatures reached on pots, pans and baking trays when preparing food. This material meets industry standards in heat resistance that assures the product can withstand the usual chores in and around the kitchen sink.
#7 There are many options to make this sink uniquely yours
There are ten different colours to choose from, which means it can be integrated harmoniously into any kitchen. Together with the wide range of tap options, the Vintera XL 9 can be adapted to your individual style.
Watch this video and see why it's so easy to fall in love with BLANCO's Vintera XL 9!
BLANCO
www.blanco.com
BLANCO is available in Singapore at Hoe Kee Hardware and Monic Resources
We think you may also like 6 cool open-concept kitchen ideas for your home
---
---