Text by Vanitha Pavapathi
Since 1974, COURTS has always been the go-to retailer in Singapore of all things electrical, IT and furniture products. Constantly innovating to improve the shopping experience, COURTS released its exciting 2019 furniture collection, just in time for the festive season ahead.
"Here at COURTS, we continually refine our furniture range to serve the evolving needs and styles of Singapore homeowners," says Ben Tan, Country CEO of COURTS Singapore.
With the new range, the leading retailer brings customisation not only to sofas, but also to every major home furnishing category including dining tables, beds and wardrobes. Each product has been painstakingly sourced to appeal to the local market with individual needs in mind. Here's why we love the new 2019 COURTS furniture collection.
#1 Customisation at no price premium
Yes, we've discussed that COURTS is upping their customisation game this time round. But did you know you don't have to pay an arm and a leg for this service? A fully customised sofa starts from $399.
#2 Short wait times for customised products
There's nothing more disappointing or upsetting when you have to wait months for your purchase to arrive. Thankfully at COURTS, waiting times start from two weeks for sofas and ten days for bedding. So if you order them now, you'll be able to receive your goods before Christmas. Don't we all love fast and seamless processes?
#3 Range refreshed with exclusive and functional pieces
While customers always had plenty of options to choose from, the new 2019 COURTS furniture collection offers over 100 new styles across the living, dining, wardrobe and bedding categories. There's over 600 leather and fabric options for seating and over 1,500 possible configurations for beds including headboards, mattresses, divan bases and bed frames.
#4 Waterproof fabric upholstery
Water-repellent fabric upholstery has been in the market for some time now but waterproof fabric upholstery is a novelty. Certified by British Standard Textiles, the latter is used for the Skyler sofa, making maintenance a breeze. Spills? No problem!
#5 Smart, powered furniture for every generation
Whether you're old or young, everybody can benefit from COURTS' power sliders outfitted in leather such as the Eliza with moveable headrest and sliding seat. The Peyton leather power lift chair particularly makes getting out of seats a cinch for the silver generation, or those with injuries. Some models are even outfitted with built-in USB charging ports for mobile devices. You don't even need to get out of your seat to charge your devices.
What to expect from COURTS in the coming months
During the launch of the 2019 COURTS furniture collection, we chatted with Norizan Sani, Head of Furniture Buying of COURTS Singapore who shared more exciting news that shoppers could look forward to.
Will COURTS introduce more products to the 2019 collection?
We are actually working on personalised blinds now and should be made available next year.
What else is in the works?
Most of our sofas are already customisable in terms of colours, height of headrest and upholstery options. We want to take it one step further by fully customising the lengths of the sofas up to the centimetres, which has not been possible so far. Also, when I was at the China International Furniture Fair recently, I spotted this shoe cabinet that automatically deodorises footwear, which we would like to introduce to the Singapore market as soon as possible. So we're looking into it at the moment.
Any expansion plans for the JYSK line?
JYSK is something that we're really proud of and want to continue growing. At the moment we have a lot of accessories from this line but there are plans to include JYSK branded furniture. We've already started to bring in the tables, so we're expanding our range much more.
Apart from sourcing furniture from your supplier, is COURTS looking into manufacturing its own products?
This is actually on the drawing board at some stage. But to be very honest, it's still in the early stages. We will discuss it in further details with the management, but it's definitely something that is worth considering for sure, now that we have presence in Singapore, Malaysia and Indonesia.
Limited edition personalisation, for limited time only at COURTS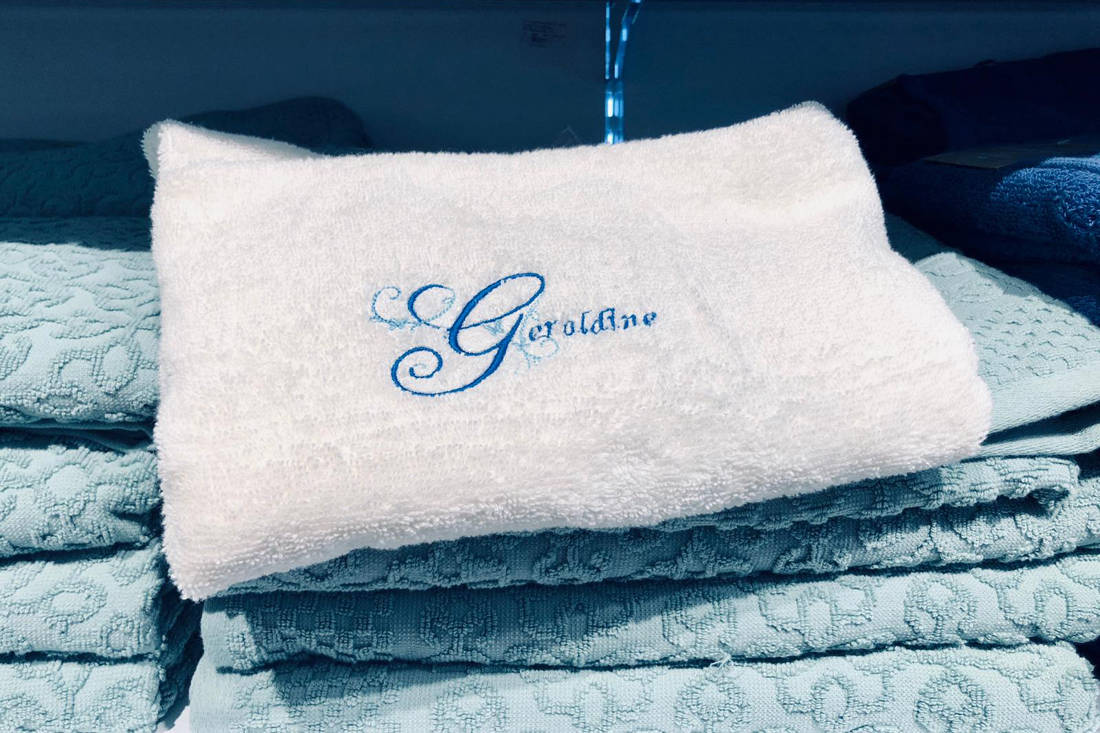 COURTS is offering a limited edition offer on all bath towels at its Tampines Megastore from now till 31 December 2018, where customers can embroider their newly purchased towels as part of a complimentary year-end promotion. After the first letter, every subsequent letter is charged at $1. These personalised towels are perfect for year-end gifting.
COURTS
www.courts.com.sg
We think you may also like 5 beautiful homeware you need to get your hands on
---
---